Miko 3 is the new robot that brings fun and learning together. It's powered by deep learning AI, so it knows how to connect with kids. Miko is curious, expressive, and surprisingly empathetic.
As you'll see in this Miko 3 review, the little robot toy makes learning fun and easy with its super-powered brain and supportive personality. Kids can learn about a huge range of academic topics from math to science to history through engaging games on their tablets or smartphones. Plus, Mikode gives kids access to coding lessons that teach them how to write their own programs for the robot!
What's more, the Miko Parent App captures and tracks kids' time usage so you know how they are benefiting from Miko.
However, be sure to temper your expectations as it's not quite what you see in their advertising.
Want to know more? Well, keep reading to learn more about the STEM learning toy from the future!
*The product links in this post are affiliate links, which means that if you purchase after following one, I make a small commission from the sale at no additional cost to you. Please see our disclosure page for more information.
At a glance
Toy figure type
Interactive Gaming Figure
Speakers
Dual High Performance Speakers
Coding apps + Unlimited Games
Wide-Angle HD IPS Display
Toy figure type
Interactive Gaming Figure
Speakers
Dual High Performance Speakers
Coding apps + Unlimited Games
Wide-Angle HD IPS Display
Last update on 2023-05-12 / Affiliate links / Images from Amazon Product Advertising API
1-Minute Review
Miko 3 is a playful learning robot for kids, it's designed to entertain, engage and inspire interactive learning experiences. Powered by deep learning AI and an advanced emotional intelligence machine, Miko 3 has the ability to understand kids and express different emotions, every interaction with kids builds confidence and positively impacts young learners. 
Miko 3 is equipped with a wide-angle HD camera and hi-tech sensors to map distance and edges and move. It also has an expansive touchscreen for interactive learning experiences, and to take your child's attention away from phones and tablets. With Miko 3, kids can enjoy a wide range of free and paid content including 50,000 hours of audio-video libraries.
It has 1000+ games, educational videos, stories, puzzles, music, coding, yoga, storytelling, etc. Miko 3 is 100% child-safe with age-appropriate content and profanity filters, plus strict data encryption and privacy policy.
However, while there are plenty of good points, do not be misled by the marketing videos.
The features are all there, but the way they sell them in the adverts is bordering on deceit. The robot WILL NOT play hide and seek or venture around the house on its own as it seems to in the adverts. The movements are limited to responses from inputs.
Also, and while it utilizes A.I, it's not like an Alexa or Siri that will use the internet to find what you need, it has a list (a long one) of pre-loaded responses that are updated via the app.
While at first, this may seem like a limitation, it is a necessary control to keep your child from being able to find many things online that maybe they shouldn't.
One final point, there is a Miko Max subscription required to unlock many of the advanced features. It's not compulsory, but the robot will be slightly limited without it.
Overall this is still a great toy that kids will enjoy, but just temper expectations if you have been following the adverts from the company.

Excellent build quality
Good battery life
Video call enabled over internet
Age-appropriate content
Great navigation sensors
Very pricey product and require a subscription to reach full potentail
Poor customer support
Doesn't play hide and seek as seemingly advertised
Can struggle to recognise child elocution
Miko 3 AI-Powered Smart Robot for Kids
Miko 3 AI-Powered Smart Robot for Kids, STEM Learning & Educational Robot Interactive Robot with Coding apps, Unlimited Games, programmable, Birthday Gift for Girls & Boys Aged 5-12, On stand-by mode, it lasts for 12 hours.
Last update on 2023-05-12 / Affiliate links / Images from Amazon Product Advertising API
Let's take a closer look
Key Features of the iconic playful learning robot
Miko has a unique personality
What makes Miko 3 a really smart robot and exciting for kids is its unique personality, it's witty and can tell funny jokes to kids. Miko 3 has dozens of emotions, it can sense a child's mood and give appropriate responses. It's curious, expressive and empathetic to kids, and it interacts with every child differently. It calls each child by their name and treats them as unique individuals. 
Miko can be your kid's study buddy
Miko is a playmate and also a sturdy buddy, it's built to understand the developmental phases of kids in order to help them enjoy the learning process. Interactions with Miko are geared towards encouraging creative interactions, building confidence and emotional development in kids. Miko grows with your child, with plenty of new content automatically added every month to excite young minds and keep them learning. 
Miko is secure and protected
To ensure that your child's data is secure and protected, Miko 3 has a robust privacy policy and enhanced end-to-end encryption. It also gives parents complete control over their kids' playtime. Through the user-friendly app, parents can customize Miko's settings to limit their kid's playtime. They can also receive real-time insights about the robot's engagement with their kids.
See more on this great YouTube review.
How it works
Miko 3 is an impressive little robot companion for kids, it can initiate conversations, detect mood, tell jokes, and adapt to different environments. Fun, witty, adaptive, smart, and empathetic are all adjectives that describe Miko 3. And to express these qualities, Miko 3 was developed with advanced AI engineering. Its qualities revolve around for core pillars; personality, platform, progress and privacy. 
To connect with kids on a highly personal level and facilitate learning, Miko 3 was built around proprietary emotional intelligence; a complex conversational and multilingual ai framework; edge and hybrid speech and vision recognition; and an active learning and behavioral analysis engine. 
This smart robot toy features an autonomous navigation system with an integrated wide-angle HD camera and odometric sensors to measure distances and detect edges.  
Miko 3 also has a touchscreen that kids can use to improve learning experiences and connect with the family, parents can video chat with their kids. Miko 3 needs to stay connected to Wi-Fi to give kids access to amazing games and educational content. Kids can talk to their smart bot, ask questions and get answers. 
Performance
Miko 3 has a very exciting and entertaining personality, and kids love that. It's a playful little robot that captivates and captures the attention of kids for seriously fun learning, it keeps them engaged with so many apps.
With Miko, your kids will be playing, having fun, and learning something new all at once. Miko 3 is designed to bond with your kid, positively impact young learners, and adapt to a learning environment.
It can speak up to eight languages, which means that it can interact with your kid in your native language, or you can explore other languages. The languages include English, European Spanish, Latin American Spanish, Chinese, Italian, German, French, and Arabic.
There is also Mikode, which provides coding lessons and allows kids to write programs to control the robot. Miko's screen enables video chat between parents and children and enables live learning.
Limitations
Miko has a set-up process that is fairly easy, but it can be a difficult task for some non-techy parents. But, if you find the set-up process to be hard, you can always contact the customer support team for help, or check out the Miko website or watch videos on YouTube for detailed instructions. 
It's also good to know that this smart bot performs best on flat and hard surfaces. Thick carpets, glass, water, and wet surfaces should be avoided.
One of the major issues many buyers are finding is that the advertising is very misleading. There are a number of things the robot is shown doing in the adverts, that it doesn't do in real life, such as autonomous movement and responding to speech.
You do need to activate the robot to talk to it, also, it will not move on its own, it needs to be coded.
It kind of has the feel of still being an early release beta version rather than a fully polished product. However, a lot of this can be (and has been said to be) addressed with future updates.
One final point to mention is the price. It's not cheap, but it's a smart, AI companion, so that is to be expected.
Ease of set up and use
Miko 3 comes as an already put-together robot, it comes with a manual and USB/USB-C charging cable. But it doesn't work right out of the box. It has to be set-up and connected to Wi-Fi to get it started.
To get started with Miko 3, you will have to download the parent mobile app, this is important to help you keep track of your kid's engagement with Miko.
After you download the app, next you'll need to use the app and your phone's Bluetooth to share Wi-Fi details with Miko.
Miko 3 has to be connected to your Wi-Fi to work, once the connection is made, your kids can start interacting with their new robot friend. They can ask Miko 3 to perform a range of activities, like dance, tell a joke, solve math and spelling problems, sing a song, etc.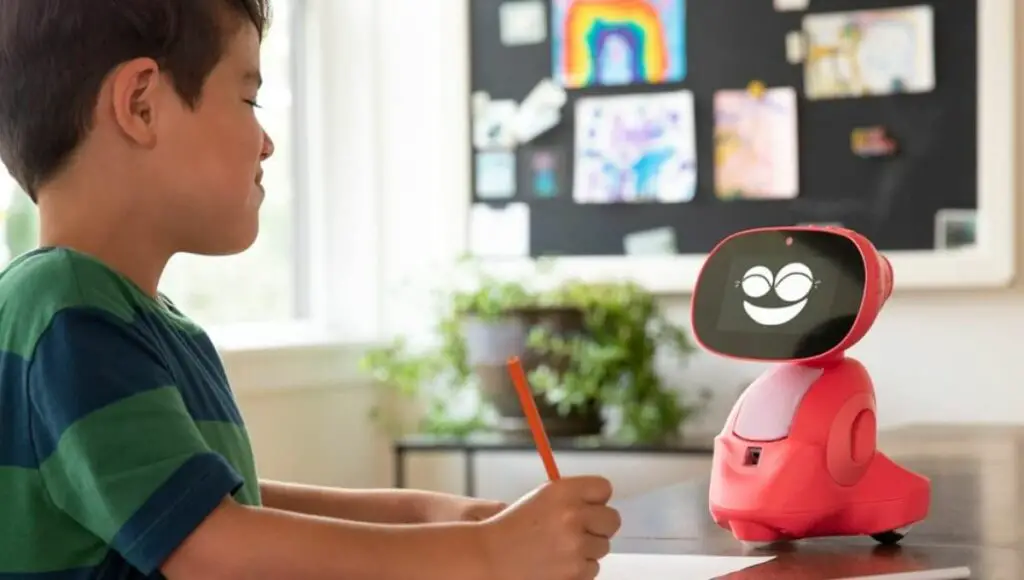 Reliability
As a kid's play toy, it only makes sense that it should be built to be tough and withstand some abuse. Miko 3, fortunately, meets this criterion.
It has a shell of ABS polymer, which has excellent stress resistance. Miko 3 is certainly tougher than it looks and can take a lot of abuse, it's impact-resistant shell is also non-toxic to kids. 
Miko 3 also comes with 1-year warranty to cover for any manufacturing defects, and a 30-day money-back guarantee. 
Miko 3 vs Miko 2
Miko 2 and Miko 3 are conversational AI robots for kids within the same age group; 5 to 10 years. These sister robots are playful STEM learning toys for kids, however, Miko 3 is the latest innovation from Miko, world-leading educators, with highly advanced engineering. It has more advanced artificial intelligence to engage, entertain and educate kids.
Besides the tech aspect of these robots, the major upgrade can be seen in the list of languages, battery life, storage options, and more educational and game apps.
Miko 2 has a shortlist of languages; English, Spanish, Hindu and Arabic. While Miko 3 has up to eight languages for users to choose from. This is a good upgrade for users who prefer more languages. 
Miko 2 also has poorer battery life. The battery lasts for just about 90 mins on a full charge, which is barely 2 hours and hardly enough for a kid's playtime. Miko 3 on the other hand has improved in this section, it comes with a battery that lasts for up to 5 hours for active gameplay and 12 hours on stand-by mode. 
Miko 3 also has 32 GB internal storage size which is expandable with an SD card, while Miko 2 has no option for a memory card.
You can read more in our Miko 2 review here. It may still be a great value choice as the price has dropped since the launch of Miko 3.
Extra Purchases and ongoing costs
Miko 3 comes as a complete robot, but it does have a premium offering which subscription-based. Miko max subscription provides unlimited access to premium content, and you can choose from a quarterly and annual plan.
With Miko max, you will get access to 50,000 hours of audio-video libraries and content from companies like Da Vinci Kids, Cosmic Kids, Kidoland, etc. This premium plan also unlocks Miko's unique capabilities such as Mikonnect, Miko moments, Multilingual capabilities, and one-year extended warranty.
A couple of alternatives to consider
While Miko 3 is a good interactive robot for kids, it may not appeal to every parent, especially if you want something that's more budget-friendly. That's why we have some great alternatives for you. If Miko is too pricey for you, then we recommend the Roybi robot.
Roybi is an excellent STEM and language-learning robot for kids. It's designed to help young children quickly pick up speech and social skills. Roybi teaches languages (English, Spanish, Chinese), and introduces kids to Math, Science and Tech. 
The second alternative is a coding robot kit built with cutting-edge AI technologies and exciting personalities; Clicbot coding robot. This one is actually a pricey robot, but it's an amazing tool for introducing the concept of coding and programming to young creatives. Clicbot is fully programmable and can be put together in 3 minutes, with a user-friendly drag-and-drop coding interface. It's excellent for stimulating young minds and encouraging creative interactions and hands-on creativity.
FAQs
Can Miko teach your child a language?
Miko 3 has multi-linguistic abilities and can converse with kids in different languages. But it doesn't teach them to speak a new language.
Is Miko 3 programmable?
Yes, Miko 3 is a programmable robot. It uses the Mikode app to teach kids how to code using shapes, objects, and colors. Kids can also write their own code to control the robot.
How much is the Mikomax subscription fee?
The RRP for MikoMax costs $49 USD per quarter or $99 USD per year. It gives you unlimited access to premium content for seriously fun learning and also includes a one-year extended warranty.
Will my kids have access to apps without the premium plan?
Yes, Miko 3 has both free and paid apps, with new content added every month. Without a premium plan, you only get access to child-focused free apps.
Does it need to be controlled by an app?
No, it doesn't. The parent mobile app is only required during the initial set-up, after that, your kids will keep using the robot without an app. The parent mobile app is for parents to monitor their child's learning progress with the robot, unlock new apps, install premium content, control kids' playtime, video chat with their kids, customize Miko's settings, and generally control the robot's interaction with kids.
Is my child's data safe with Miko 3?
Yes, The Miko global technology company insists that they implemented a closed system with end-to-end enhanced encryption to protect every byte of user data. In their own words, "We do not store/sell personally identified data on our server or cloud. The parent is in full control of their child's data."
Does Miko 3 play hide and seek?
No. While the adverts certainly make this look like a feature of the robot toy, Miko 3 does not play hide and seek. It does have facial recognition and can move, but it must be told what to do, it doesn't do it autonomously.
Final thoughts
This iconic playful learning robot will make a great STEM-learning tool for kids, it helps in both learning and emotional development, and offers an unlimited variety of game and learning apps. With Miko 3,  kids will learn science, nature, literature, and coding. We certainly do recommend this as an excellent gift for any child but understand the limitations above before you do make your purchase.
Emma Marie is a valued writer at the Little Robot Shop. She studied robotics and deeply understands technology, which shows in her writing.  She consistently produces high-quality content, making her a perfect fit for the Little Robot Shop team.
While not writing, Emma works in a popular electronics retail chain. Emma also enjoys running and has two dogs with whom she loves spending time.