Are you a parent who wants to improve the all-round abilities of their children? Or maybe a teacher who wants to make your classes enjoyable for little kids. Well, our list of the best robot toys for kids could be just what you need if you are looking for something that will help you to make learning enjoyable while providing playing simultaneously.
As you must have already realized, in this post, we will share some cool robot toys that will help you with your choice. It is easier than ever to combine learning and play and keep your kids entertained. The toys suggested in this list are a refreshing way to evolve the process of brain development, with many of them winning awards and based on STEM principles.
In this post, we will discuss some best children's robot toys according to each age group. You might want to buy these products for your child, as a gift or even for your classroom. We've made sure that these products are the best and serve the needs!
So scroll over and get set reading!
Rough Price Guide
As the price on Amazon is often changing, I have used the ? symbol as a guide:
? – Up to $25
?? – Around $25 to $50
??? – between $50 and $100
???? – From $100 – $200
????? – Over $200
*The links in this page are affiliate links, that means that if you purchase after following one, I make a small commission from the sale at no additional cost to yourself. Take a look at our About Us page for more info on this.
Little Robot Shop top Picks
For Toddlers
Fisher Price Code-A-Pillar
For Kids
For Teens
Robots for babies and toddlers – up to age 4
It is said that the process of rational analysis and development begins right when the child starts crawling. There are some fantastic robot toys for babies and we'll start out list focussing on some top-rated robots for kids up to four years of age in the following list.
If you would like to know a little more about what makes a great robot toy, you can read our post about how robots help with kids development journey.
Remoking Stem Robot Toy – ??
Does your child get bored quickly? We can assure you that with this robot toy you will not have to intervene in their entertainment again. This smart robot comes with phone Attica recognition technology. This means that it can sing dance and even imitate your voice on your command. It can also respond to touch interaction, which will result in making him turn left, right, and move forward or backward.
With this robot, your child would love to continue playing with it. It can also talkback, which provides it with an exciting feature. If you tell him goodbye or sleep, it will turn itself off to. All these features will be of great interest to your child. Moreover, the material by which this is built is very safe and complies to the US norms. This toy will be your child's personal Alexa, which will only help him to grow more!
Fisher Price Code-a-Pillar – ???
*Editor's top 5 pick
This little robot comes in the shape of an exotic animal, the caterpillar. Not just the shape but the very working of this robot will contribute to your child's interest. Kids will be able to program a path for the Fisher Price code-a-pillar and decide the area where it will move. No, it's not as difficult as it sounds! Kids only have to arrange the sequence on little separable blocks and analyze the path that the toy will cover. How great is that?
This fun toy will not only help to build the problem-solving skills of your child but also develop his critical thinking. It comes with a head that is motorized and eight subsequent segments which your child can connect in a variety of different ways. Moreover, the colorful lights make each section very attractive and will keep your child busy.
Magic Inductive Robot Track Puzzle Race Game – ??
Does your child love fantasy & magical worlds? No, we won't suggest anything that has to do with wands, that can take someone's eye out. The magic Inductive Robot can follow a path that your child draws with the magic pen. It is a beautiful game that can be original and new every time it is played. Moreover, your child won't be able to get bored with it that easily, as the lines can be unique every time he draws them!
This little toy will portray your child's inner competition attitude by blocking the paths of the robot and guiding it in a direction that'll make him win. Isn't that amazing? They can play this cool game with their friends and challenge each other to reach the middle first. If you would like to teach the sense of healthy competition and quick thinking in your kid, this robot will be your best investment. It doesn't cost a lot and is available easily at Amazon.
Fisher Price Think and Learn Teach n Tag Movi – ??
If you're thinking to develop the movement of your toddler, then definitely consider Teach n Tag. This fun little robot will help your toddler to move according to the instructions by the robot. It is a fascinating little toy that will give commands like Movi says and show lights in colors of red and green. Preschoolers can practice their listening skills very quickly with the help of this inexpensive toy.
It also asks your kid to imagine specific shapes and interacts with them accordingly. This helps in the development of critical thinking as well as response. You can also use this little toy at any dance party to get maximum kids involved because it will undoubtedly fascinate all the toddlers equally. It will also encourage your child to get creative and communicate more easily. Many issues, one solution!
If you want to see a much more comprehensive list of toys for toddlers, check out out post 14 Robot Toys Toddlers will Adore
Best robot toys for kids – 5 to 8 years old
You must know that not all robots will fit all age groups. This is why in this list, we have included the best robots for kids that are 5 to 8 years old.
Robolink 4 in 1 block robot Kit – ??
It is crucial to provide your child with ample space so that his creative functioning improves. This is why this block robot will be a great gift in case your child's birthday is near. The module of a robot is such that it will help your child make robots while rearranging the blocks. It comes with an easy to follow manual that the child can even carry to school and play with his friends.
What's more interesting is that it also comes with assorted pieces in different colors that will make the final outcome very eye-catching. Children can expand their collections by buying multiple of these because it is a great pass time. Some very quirky animal shapes can be made with one set. But if you wish to make more animals than you will have to buy more. Isn't that interesting?
WEECOC Gesture and Remote Control Robot Toy – ??
*Editor's top 5 pick
This remote control robot toy will be great for children that are 5+ years old. It is an interactive toy that boasts of gesture control. Kids can command the robot to go in a particular direction, and it will magically move. It can sing, dance, and it is also programmed intellectually. There are some very eye-catching LED lights to entertain them as well. Users can also input commands for the robot, and it will follow.
If you check out the buyer reviews on Amazon, you will see why we consider this as one of the best robot toys for kids.
The product is crafted out of non-toxic plastic, which is safe for kids. It also comes with a rechargeable battery, which means never-ending fun for your child.
Boxer Interactive AI Robot Toy – ???
Yes, you are right artificial intelligence has finally reached the world of playing. The little Boxer Interactive AI Robot Toy will be your child's best friend. It can make silly noises, funny expressions, and do creative stunts and wheelies to make anyone laugh. It can also roll over and scan ten-game activity cards for a hilarious round of soccer or even laser Tank. It does not need to be assembled and can be directly switched on.
This little robot also comes with an easy to use remote control. It has infrared sensing which comes with speedy balancing motors. It can be easily driven around the house and will provide a different adventure every time.
Kids Labz Tin Can Robot – ?
Does your child like The Wizard of the Oz?. If yes then he can have his own tin friend with the help of this robot. This little robot is made of aluminum, and it can walk, wobble, and become bogeyed. The most exciting thing is that you will need a can which will be available at your house itself.
The kit comes with all the parts required to make this one of the best value robots for kids to make. It offers a great opportunity for you to bond with your child and help him create a robot out of a tin can that can be easily found out in any household.
Wonder Workshop Dash Coding Robot for kids – ????
*Editor's top 5 pick
This Wonder Workshop product is packed with little technological surprises for whoever uses it. The programming on this robot will help your kid to prepare for middle school while simultaneously improving its critical thinking. You would be delighted to know that this product has won many awards. It is also utilized in many schools to assist children in developing their problem-solving skills by working on the picture-based coding language.
What's more, is that it comes with five free apps which your child can utilize in his free time instead of social media. It is widely known to be one of the best programmable robots for kids.
Hbudz Robot Toy – ???
If you are looking for a robot that responds to voice command, this should be your choice. It can respond to simple questions and greetings which your child would love to ask over and over again. It complies with the safety standards of the United States in its manufacturing materials. It can also play five melodies and five dancing music for the entertainment of your child as well. Moreover, there is a recording and message function, which will be of huge interest to your children.
The robot comes in a size that is appropriate for children. It does not need to be assembled and can be recharged effortlessly through the USB cable provided.
ECHEERS Dance Robot Toy for Kids – ??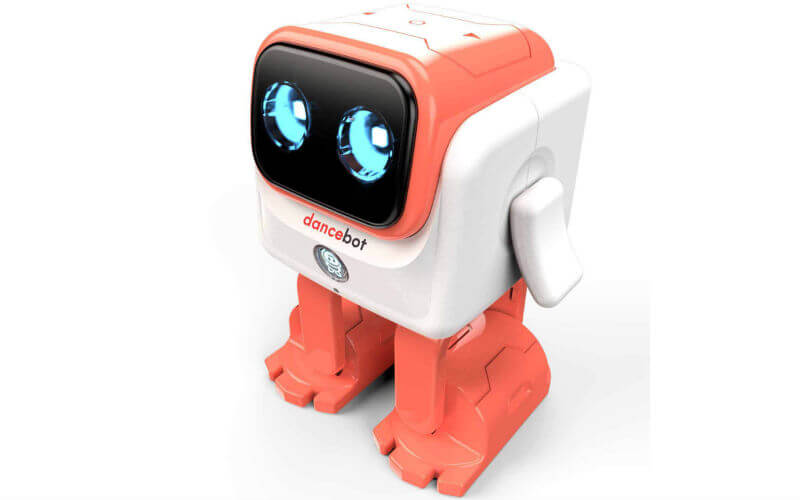 Have you noticed that your kid has a thing for dance? If yes, then we have an appropriate product for you. This little robot toy can be easily turned on or off at the press of a button. It has a fantastic sound and good music quality, which can easily convince the child to get up and dance. It is an excellent device for stress reduction and entertainment. Adults can carry this to keep their child busy.
Another exciting feature is that it can calculate the best dance move that corresponds to the music that is being played. It also has an adorable expression of the song, and as such, it will be the best thing that you can give your child.
Makeblock Codey Rocky Programmable Robot – ???
This MakeBlock Codey Rocky is another perfect toy in case you would like to teach some coding skills to your child. It is certainly considered among the top robot toys for kids. It does not require any assembly and can be used just out of the box. It can connect to the M Block app on your device. The programming in this one is straightforward, and as such, your kid will be able to understand quickly. It can be done in the form of games, movements, songs, and actions as well.
To keep your child involved, it has an LED display, light and voice sensors, speakers, and a gyroscope which will never let your child get bored! So what are you waiting for? Go get it!
Learning Resources Botley- The Coding Robot Activity Set – ???
Parents need to realize that teaching STEM skills does not require a particular age. As such, as early as possible is suitable for your child to learn STEM. Botley, from Learning Resources, activity set is an excellent gift for your child if you want a screen-free toy. This means that no phone or tablet will be incorporated into the coding process. The robot comes with smart logic which enables it to detect objects in front of it. It will be a lot of fun when your child sees the robot jumping and following the black line paths. For these reasons, Botley is widely regarded as one of the top programmable robots for kids.
The kit comes with a 77 piece activity set which includes a remote programmer, detachable robot arms, 40 coding cards, 27 obstacle building pieces along with six double-sided tiles. You will be delighted to know that this robot was the winner of The Toy of The Year 2019 Awards. Wouldn't you want to invest in such an award-winning invention?
Contixo Puppy Smart Interactive Robot Pet Toy for kids – ???
Gone are the days when we would invest in teddy bears and dog-shaped plushy toys. This is because now, with the help of artificial intelligence, you can buy an AI puppy. This toy robot dog is fun for kids for all the ages because it is effortless to play with. It has an interactive voice-activated command function, which will teach kids how to speak clearly. It can also prove to be a fantastic educational toy for your students as well.
Looking for a robo-pup? Check out our run down of the ultimate robot dog toys and find your perfect mess free dog.
There are certain app-controlled features which can be easily downloaded on both iOS and Android. Some programmable combinations will be able to control whatever the puppy does. Your kid can also feed this dog based on various options. You can also connect Bluetooth on this little robot and play your favorite song. The smart puppy will dance to the rhythm, and this will keep your child involved all day long.
Moreover, it will also show nutrition and energy levels once you feed it, and you can agree to the fact that your child will have a little bit of his own input, thanks to the technology. It also has infrared motion sensors which support some defensive poses as well. Different type of touch commands will result in various kinds of actions. Isn't that cool?
Best robot toys for tweens – 9 to 12 years of age
Wouldn't be incorrect to say that as children grow up, their choices also change. As such, a child of 10 years old would not be interested in some of the aforementioned robots. they are looking for something to test their brain, be a bit more engaging and a bit of a challenge. This is precisely the reason why we have some other recommendations which are in the list as follows:-
GJS Robot- GEIO Gaming Robot – ?????
This programmable robot toy is one of the very first toys to have an intelligent recognition system along with a high-speed motion system. It can bring your child the most immersive robot gaming experience and as such, comes with a higher price. There are AI emotions and electronic scoring system along with an infrared attack system. Moreover, there are multiple games plays so that your child does not get bored while playing.
You would be delighted to know that there are scanning totems by which the robot acquires specific skills and this enriches the games. There are different modes which include, the solo mode, the rest mode, the explorer mode, the drive mode, the battle mode, the night mode, etc. It will be an ideal robot for your child if you need to teach imagination as well as creativity. The overall look of this robot is also very enticing and will be a perfect addition to your child's toy rack.
Ozobot Evo Educator Entry Kit – ???
This is one of the most top-rated products on Amazon, and as such we couldn't have forgotten it in our list. This educating robot is for all grades and subjects. It is desk-friendly, and there is a programming editor which is screen-free. This robot is compatible with both an iOS or Android tablet. If you buy this robot, you will be able to access a free education app and a lesson library which has hundreds of interactive lessons for your child.
This robot comes with programmable proximity centers, motor, optical sensors, speaker, LEDs, and a rechargeable LIPO battery. It provides both on-screen coding methods, and these methods are elementary and straightforward. The robot will help in creativity improvement communication as well as critical reasoning in your child.
Sphero SPRK+ App-Enabled Robot – ????
*Editor's top 5 pick
If you are looking for a robot that teaches your child more than just programming, then this product will be the right choice for you. You will be delighted to know that this Sphero app-enabled robot is one of the best-rated robots on Amazon. It is powered by the Edu app where your child can code spark plus using the JavaScript.
The programmable sensors included in this robot are motor encoders, accelerometer, gyroscope along with LED lights. It has a one-hour battery life, and it also connects to Bluetooth Smart. It is scratch-resistant, waterproof, and charges inductively. Your kids can quickly learn to program through hands-on activities and share their results with the community as well. We recommend this robot for children that are aged between 5 to 14 years.
Anki Cozmo Educational Toy Robot – ????
Next in the list is this educational Anki Cozmo robot, which has been enjoyed by thousands of buyers. It is of an appropriate size. It uses artificial intelligence to express lots of emotions, recognizing you, and remembering your name as well. It is made up of 300+ parts, And as such, you can get involved with your kid to spend that quality together time.
Cozmo has an interactive personality, and it is a playing machine. This is because you can play a variety of games on it. If you turn on the explorer mode, you will be able to guide him as well. You can also learn to code in the code lab. The coding that is taught at Cosmo has a beginner as well as advanced levels.
Pai Technology Augmented Reality Coding Robot – ???
We have to agree that this is perhaps the coolest robot in our list. We say so because this robot allows the kids to create their own augmented reality situations through coding. It certainly includes many uses that are designed to educate, entertain as well as involve. You can also add music to create unique experiences.
It is one of the premier apps that has incorporated augmented reality technology. Moreover, it comes with certain educational apps as well, which can be utilized by your child to learn necessary coding. It helps children to improve their imagination and nurture creativity while working on critical thinking and problem-solving skills simultaneously.
Due to the brilliant technology that this robot incorporates it has been recognized and awarded with the Innovation Award, Creative Child Award in the category of Top Toy of The Year, Top Holiday Toy, Toy of The Year, Academics Choice Award Winner: Brain Toy.
If you settle for this coding robot, then you will be teaching the knowledge of coding along with imagination and creativity in your child. Isn't that awesome?
MU Space Bot Robot Design Kit – ???
If you want to introduce artificial intelligence to your child, then we highly recommend this programmable robot toy. If your children do not know anything about artificial intelligence, this robot will educate them about the skills that are necessary for the job of making an AI robot along with its basic knowledge. Moreover, space bot is also a perfect tool that parents can use for the children in the form of supplements for school study.
There is ample scope for creativity because children will be able to design the shape of the robot in hundreds of ways. They will get to determine the body, clothing, hairstyle, eye, and even voices of the robot. Moreover, the kid will also be able to program the onboard artificial intelligence to be able to respond with warm greetings, expressions, etc. via servo motion.
If you are an environment enthusiast, then this product will be an excellent purchase. This is because the circuit boards from the robot sensor can be reused in other projects as well. Also, 80% of the whole material of this robot is made of biodegradable substances, which is excellent for the earth. We also love the vintage robot toy look.
Best robot toys for teenagers
Yes, it is certainly possible to keep your teenagers hooked to artificial intelligence. We say so because nowadays teenagers are always on their phone screens. Many studies have shown that teenagers waste a lot of the time on social media and as such, their brain development does not take place aptly. We have come up with another list for teenagers which might help in better time utilization.
If you want a more comprehensive list of recommendations for teenagers, be sure to read our other post: Programmable Robots for Teenagers
Makeblock DIY Unlimited Robot Kit – ?????
If you are looking at robots for kids to make, this is certainly one of the best. Usually, when kids are in their teens, they develop their taste for science as well as engineering. If you find your kid doing the same, then this robot will be a perfect option. This is because the product is excellent for learning robotics, graphical programming, and electronics too. Moreover, python programming can also be introduced to your child through this robot. The building of the robot is made easy by anodized 6061 aluminum mechanical parts which have threaded slots.
You also have the option of connecting your smart devices to the store-bought through Bluetooth. You can feel every step of this robot because of the presence of three powerful encoding motors. Also, it is a 10 in one robot kit, and as such, your child will not get bored of building these forms quickly. Isn't that super cool?
CCinaCiao Robotic Science Kits – ?
We consider this Robotic Science Kit a perfect purchase because it is lower in price but will provide the same interest and entertainment to your child. Moreover, you can also use this get in your child's science fair as this is a very unique idea. Kids can build their own robotic kids and develop early STEM and critical thinking skills. It is an excellent DIY electronic kit for teachers as well to make learning useful and enjoyable.
We strongly support growth that is provided with hands-on experience, and this science kit will do exactly that. It will ignite curiosity in your child's mind, and as such, he would be excited to build a robot like this. This way, you can teach scientific thought while providing a stable platform to your child or your students.
Yahboom-maker Robotics Starter Robot Car Kit – ??
*Editor's top 5 pick
I suggest you this robot car kit if your child has a thing for engineering and building. Even if you do not have these interests, you might want to teach some knowledge of coding, and as such, this product proves multi-purposeful. The building of this robot is quite simple as the majority of the parts are designed with the role of inserting sockets. Once built, this robot looks exquisite. Moreover, the robot can be directly charged and Is safety compliant.
Kids can write programs for smart cars based on the level of understanding ranging from beginner to advanced. The robot can be controlled by remote control, and there is an option of Bluetooth connectivity only for android devices. Bluetooth APP will switch the mode status. It supports C language programming along with graphical programming. We recommend this robot for a child who is eight years and above.
The robot is nicely built but will give a bad appearance. The vehicle adopts high-quality rubber tires along with an ultrasonic sensor. Your child is sure to have a great experience while playing. We say so because if you plan to buy the store-bought, you will purchase critical reasoning, education, and training as well as personal learning for your child. So what are you waiting for? Go ahead!
Final Thoughts
We hope this list of the best robot toys for kids was able to help you with finding a suitable robot! Robots are an excellent way to incorporate the mind as well as the body in performing a task. This is why robots have begun to play a substantial role in brain development.
Have you got anything else to recommend, robot toys kids will love? Be sure to let us know in the comments.