Are you looking for a gift for your tween? I know how hard it is to find the perfect gift, especially when they're in their tweens. They are so picky and have such specific interests that finding something they will love can be challenging. But I'm here to help!
In this post, we'll explore some of the best robots for 10-year-olds and coding gifts for tweens. You won't want to miss out on these awesome gifts!
You may also enjoy:
So why robot toys?
Robots are cool; they help your children to learn STEM skills quickly; they are great fun!
As you know, this era relies solely on technology. If your kids are hooked on their screens, then you shouldn't be surprised. But why not teach them some coding and programming while they're at it!
I have split the list into two sections, the first is specific to the best robot toys that also have programming and coding elements. The second part is more coding stem kit sets and in-depth projects for tweens that have shown an interest in coding.
Features to look for in gifts for tweens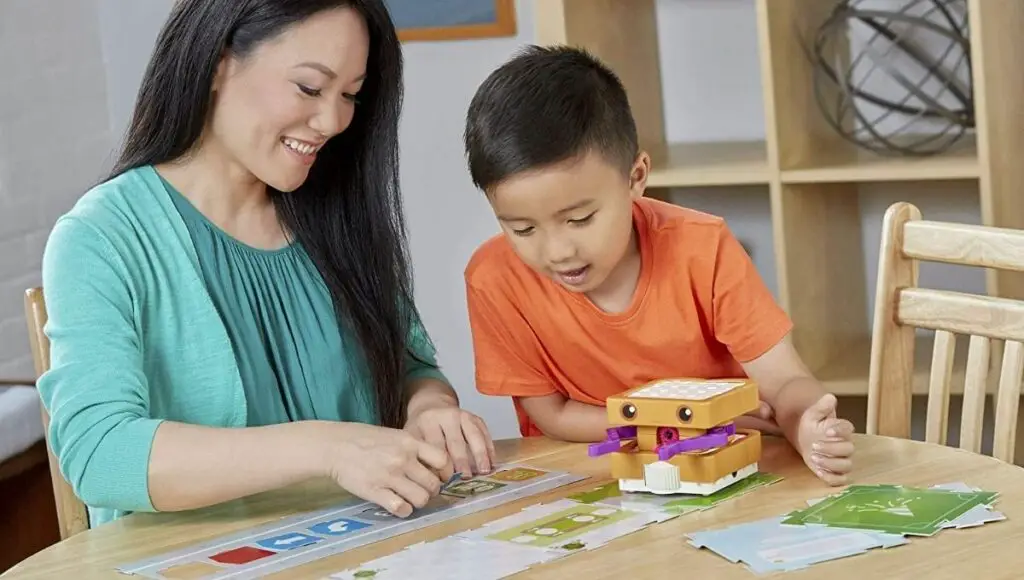 Most kids will transition into their tween-age years around 9 or 10, some as young as 8, and it can be really hard to adjust to. Your little one is starting to grow up crossing that bridge from dependency to a more independent teen. They will be ready to learn more advanced skills and rise to more complex challenges.
Let's before getting onto our list, let's take a quick look at some of the key elements a great gift should have.
Computer programming languages
A coding gift must be capable of teaching basic and more advanced programming skills. Basic coding concepts must always be tackled such as problem-solving, basic calculations, scientific concepts, logic-making, as well as brainstorming. If all of these tenets are touched, then the coding gift is a great one and you should consider buying it.
Check out this post to find out more about the different programming languages you can expect.
Multi-platform
Well-created coders are those that have support for multiple platforms. Some of these platforms include PC, smartphone apps, or even tablets and separate screen interfaces. This will greatly widen the knowledge of the user in terms of other devices and will test proficiency in compatibilities.
Design
We all know that those ages 10 to 13 are very particular about the looks of their things. Thus, you must also consider the aesthetics and overall design of the product that you will buy. It is a good thing if the coding gift is educational and easy to the eyes since it will make the whole coding process easier. Furthermore, design can also refer to the internal system or architecture of the coding robot.
Optimization
When buying a coding robot, you need to make sure that it meets standards in terms of efficiency. The whole platform must be free of bugs or glitches that might ruin the user experience. Only go for products that are proven to be optimized and 100% working by other users as their reviews will help you gauge the general capabilities of the coder.
So let's get started with our list, shall we?
Top Picks
Last update on 2023-09-29 / Affiliate links / Images from Amazon Product Advertising API
*The product links in this post are affiliate links, which means that if you purchase after following one, I make a small commission from the sale at no additional cost to you. Please see our disclosure page for more information.
Best Robotics kits for Tweens
Special edition battle-worn BB8
Wonder Workshop Cue
Marty The Robot V2
UBTECH Marvel Avengers: Endgame Iron Man MK50 Robot kit
Sphero SPRK+: App-enabled robotic ball and programmable best robot toys
JIMU Robot Mythical Series Robot kit
LEGO MINDSTORMS robot kit with remote control robot toys for kids
3-in-1 STEM Toys Remote Control Building robotics Kit Tracked Car
Anki Cozmo
Elenco Teach Tech Mech-5
Sillbird STEM 12-in-1 education solar robot toy
Robobloq Q-Scout DIY mechanical building robotic kit
1. Special edition battle-worn BB8
This is a great option if you're looking for a Star Wars-inspired droid.
The Special edition battle-worn BB8 droid is composed of a polycarbonate shell, which means that it won't break very easily while overcoming resistance.
It can also be propelled gyroscopically. This is possible through Bluetooth which can be enabled in this droid. If you charge it thoroughly, then it can be used for an entire hour. How cool is that?
Not only this, but this super cool robot is app-enabled. This means that it can entirely be controlled by your smart device. It also comes with voice command features which will keep your child super involved!
Last update on 2023-09-29 / Affiliate links / Images from Amazon Product Advertising API
2. Wonder Workshop Cue – Coding Robot
With multiple levels of coding fun, Cue Robot is a great companion for those who are new to the concept or kids that have a little bit of experience already.
The robot is an advanced version of Wonder Workshop's Dash that has proved to be a massive hit with kids from 5 years old. It is a more advanced robot that will engage your kids with games and critical thinking problems.
The free Cue app teaches kids real-life Microsoft make code language with both block-based and text-based code. Kids can learn coding from scratch and watch their newly learned skills transfer to real-world challenges.
With a vocabulary of over 170,000 words and more than 30, 000 unique text responses, it can actively engage in chat with real responses right out of the box.
Progression is also great as the problem solving skills get harder as they become more experienced.
With both Bluetooth and voice commands, as well as proximity sensors, microphones, a speaker, and LEDs, there are many ways to interact with this little robot.
It has a rechargeable ion battery, so the STEM learning can continue for 30+ hours on a 1-hour charge.
Overall, if your child has a bit of an interest in exploring the world of code or robotics, this is a fantastic toy that is fun and super educational, without being obvious about it.
Last update on 2023-09-29 / Affiliate links / Images from Amazon Product Advertising API
3. Marty The Robot V2
As parents, we want the best for our children. Marty the Robot V2 not only engages and challenges kids as they learn but also introduces foundational concepts such as sequencing, storytelling, and how instructions translate to operations – building their creativity, problem-solving capability, and computational thinking skills in the process.
However, Marty has much more than just excellent robotic capabilities! It also teaches coding through a series of interactive lessons that have been designed with teachers' needs at heart – meaning they can better plan lessons, assess learners' understanding more effectively, and ensure learners are achieving success criteria across all curricula areas.
Each lesson is guided by clear learning objectives so that everyone is on track with what they are supposed to be doing before moving on to the next step. If you're worried about your little one getting bored, don't be! There is a myriad of stickers that can be used to decorate their Marty. And if you're worried about the cost of buying books alongside your purchase, don't panic – there are also guides for teachers to properly assess your children's understanding as they move through V2's levels so all learners.
4. UBTECH Marvel Avengers: Endgame Iron Man MK50 Robot
If your little one is a Marvel fan, they will love this MK50 suited Iron Man from UBTECH.
The super-detailed, walking talking Iron Man suit syncs with a free application through which players control the robot's motors, lights, and sounds and can also undertake augmented reality missions and play through a series of Nanotech weapon field tests.
Under the helmet you can see Tony Stark's face on the in-builts screen or, if you prefer, upload your own. You can even record your own voice and set it in patrol mode to ward intruders away when you are out of the house.
Finally, there is also an awesome coding element to this little machine I have to mention. The custom protocol mode uses a visual drag-n-drop programming editor to create simple custom scripts. The best bit, you don't even need a background of programming knowledge to enjoy this feature.
This is one that kids and parents will enjoy.
Last update on 2023-09-29 / Affiliate links / Images from Amazon Product Advertising API
5. Sphero SPRK+: App-enabled robotic ball and programmable robot
As we had already mentioned, a majority of these robots are for teaching STEM skills in your children.
This robotic ball also complies with the given fact. Your kids can use JavaScript to code in this robot with spark+.
They will also be able to share what they have created with the community quickly. How amazing, isn't it? There are several programmable sensors, including motor encoders, gyroscopes, and accelerometers. 
Some additional features include a battery life of 60 minutes, inductive charging, scratch and water resistance, etc. It also connects to Bluetooth Smart.
This robot will be an excellent deal for imparting some coding knowledge to whoever you buy this product for. This is because the hands-on experience required for learning is very apt in this robot.
Last update on 2023-09-29 / Affiliate links / Images from Amazon Product Advertising API
6. JIMU Robot Mythical Series
This legendary FireBot kit has everything kids need to create a buildable, codable robot or invent your own. 
The fun is extended with the Blockly coding platform, allowing kids to build and code this epic creature. Fire up your imagination with FireBot and tame your own dragon.
With this robot, you can ignite your child's passion for robotics and STEM learning with the newest robot in the mythical series.
Use Blockly code to program the LED light in FireBot's snout to glow a fiery red or an icy cold blue. Activate the touch sensor on FireBot's chest and program magical actions with its wings.
Last update on 2023-09-29 / Affiliate links / Images from Amazon Product Advertising API
7. LEGO MINDSTORMS robot kit with remote control for kids
This is another robot idea for kids above ten years of age who love coding and programming. There are multiple things that the LEGO MINDSTORMS robot can do and it includes walking, talking, etc.
To control the robot, you have to download the free app, which is available online. It is a 601-piece robot kit and comes with different types of sensors, including infrared sensors.
Not only this, there is an instruction leaflet for up to 17 designs that can be built. The good thing is that all these toys are compatible with Lego construction robotics kits.
So if you want to enhance your experience of the original building, then you can certainly do it! Thus, the building would be fun, along with some essential STEM learning!
Last update on 2023-09-29 / Affiliate links / Images from Amazon Product Advertising API
8. 3-in-1 STEM Toys Remote Control Building Kit Tracked Car
Guess what's better than a robot? If you intend to make engineering more fun for your child, then you can go for this robot.
The RC car building kit comes with a simple remote control design that makes it easier to move in all directions, forward or backward, left or right, and makes 360° turns while driving over obstacles with ease! 
Together with different frequencies, which enable kids to race their masterpiece with others. While kids build and play with the RC robot kits indoors and can also run and race outdoor.
Children would take it anywhere when the holiday comes, build and race alone to enjoy focus time, or play fun with friends as a team.
Last update on 2023-09-29 / Affiliate links / Images from Amazon Product Advertising API
9. Anki Cozmo
No products found.
Kids will love No products found., a little robot with a mind of his own and many tricks up his sleeve. Thanks to the inbuilt AI, he will recognize your child and remember their name. He is also able to express hundreds of emotions on the cute front panel. But even more, over time he learns and evolves his personality to become a real one-of-a-kind sidekick for your kids.
There are multiple ways to play with Cozmo. Out of the box you can play games such as keep away or memory problems, but the fun is not limited to what comes pre-built.
Using scratch coding techniques you can teach new games to Cozmo with no limits to what can be created. The interface is super friendly for beginners, but also progressive with both a sandbox and constructor mode. Even if your kids are just learning the concepts behind coding, it will be a breeze.
While all the technology on offer here means this is definitely not a cheap toy, it is one that your kids will learn from, have fun with and cherish for a long time.
No products found.
10. Elenco Teach Tech Mech-5
This is a great value robot that is mechanically coded. Unlike the others, this toy is not meant for short use, it is a grower. As the coding skills of your child get better, the complexity in the actions of the robot increase. 
Apart from STEM, it is also essential that users learn the importance of conserving nature. This is why introducing them to green products at a young age is a wonderful idea.
Best of all the price, it is one of the cheapest on this list so parents can snag a bargain!
Last update on 2023-09-29 / Affiliate links / Images from Amazon Product Advertising API
11. Sillbird STEM 12-in-1 education solar robot toy
Again, for people who like to have the fun of two or more things in one, this robot toy will be ideal. The robot kits come with twelve ultra-cool designs that can walk on both land and water. How fascinating! Continuing with the green theme, this robot is also solar-powered. This means that no batteries are required for charging and it runs on the sun's energy!
Now, imagine how cool it would be for your child to build a robot that works on solar energy. If not leisure, then this robot can also be used as a Science Fair assignment. Moreover, the components of the robot are made of non-toxic and harmless plastic but are also very thick and sturdy! 
Last update on 2023-09-29 / Affiliate links / Images from Amazon Product Advertising API
12. Robobloq Q-Scout DIY mechanical building robotic coding kit
This little droid is a very cool way to teach programming for your kids. This is because the programming is based on simple drag and drop ambiance. It is compatible with a majority of building block pieces and can also play music. It can be controlled by remote control along with an app which can be downloaded on any smart device. Additional features include obstacle avoidance and line tracking!
It is a great learning gift for your child because he or she can share it with their friends and even learn some science while playing. As such, we strongly recommend it!
Last update on 2023-09-29 / Affiliate links / Images from Amazon Product Advertising API
Now we have covered the robots, let's check out some more awesome robotics toy for tweens.
Best Coding Toys for Tweens
Educational Insights Artie 3000 Coding Robot
Playz My First Coding & Computer Science Kit
Avengers Hero Inventor Kit
Sphero SPRK+ Robot Ball Coding Gift
Boolean Box Build a Computer Science Kit for Tweens
Piper Computer Kit
The Thames & Kosmos Kids First Coding & Robotics
Kano Computer Kit
Wonder Workshop Dash
Intelino J-1 Smart Train Starter Set
13. Educational Insights Artie 3000 Coding Robot
The Educational Insights Artie 3000 Coding Robot is a drawing robot that can be programmed to do specific shapes, lines, and curves. It has support for multiple languages, making it very suitable for kids of various ages. What I like about this robot is that it is very to use and there are levels of proficiency available.
Last update on 2023-09-29 / Affiliate links / Images from Amazon Product Advertising API
14. Playz My First Coding & Computer Science Kit
The Playz My First Coding & Computer Science Kit is a coding educational tool that can function without a physical computer. It uses a puzzle-based system to help kids learn the basic skills needed to code. It has tons of games that are available suitable for kids aged 6 up to 12.
Last update on 2023-09-29 / Affiliate links / Images from Amazon Product Advertising API
15. Avengers Hero Inventor Kit
The Avengers Hero Inventor Kit is one of the most fun stem toys based on the popular superhero comics by Marvel. This is a gauntlet-based gear in which kids will be able to code the gauntlet for more than 10 sound effects and battle cry. It comes with different colors and modules that can be customized, as well as an app with block-based coding capabilities. It is a great coding toy for those that maybe don't show a massive interest given the superhero guise.
Last update on 2023-09-29 / Affiliate links / Images from Amazon Product Advertising API
16. Boolean Box Build a Computer Science Kit for Tweens
The Boolean Box Build a Computer Science Kit is a powerful educational toy that combines both the concepts of basic electronics and programming. It features several input and output devices as well as a Raspberry Pi processor. By combining the contents of the kit, kids will be able to create different games, animate events, and even make stories on the DIY computer. Great for developing those critical thinking skills.
Last update on 2023-09-29 / Affiliate links / Images from Amazon Product Advertising API
17. Piper Computer Kit
The Piper Computer Kit is a critically acclaimed DIY PC and electronics kit suitable for kids aged 8 onwards. It runs through Raspberry Pi, and users can code, create, and design their own games in it. The building process of the PC is also presented as a story mode, helping it to be a very engaging learning material for young learners and advanced coders.
Last update on 2023-09-29 / Affiliate links / Images from Amazon Product Advertising API
18. The Thames & Kosmos Kids First Coding & Robotics
The Thames & Kosmos Kids First Coding & Robotics is a set of tools designed to introduce kids to basic programming language. This includes loops, conditions, events, and even sequences. The toy has gained many awards over the years due to the benefits and foundational coding concepts that it brings to the users.
Last update on 2023-09-29 / Affiliate links / Images from Amazon Product Advertising API
19. Kano Computer Kit
The Kano Computer Kit is a DIY PC that can be built by kids and tweens. It is run by Raspberry Pi, LED lights, and a power button for operation. It also has an input device in the form of a touchpad and mouse. The PC allows kids to create games and do activities, or even modify their Minecraft games.
Last update on 2023-09-29 / Affiliate links / Images from Amazon Product Advertising API
20. Wonder Workshop Dash
The Wonder Workshop Dash is a fun and interactive robot that can navigate objects, follow commands, and trigger events. The robot can be coded using the Blockly app for customization. The best part about this robot is that you can install or snap LEGO blocks for full customization!
Last update on 2023-09-29 / Affiliate links / Images from Amazon Product Advertising API
21. Intelino J-1 Smart Train Starter Set
The Intelino J-1 Smart Train Starter Set is a cool-looking, train-based robot that has multiple engines, wagons, tracks, snaps, and decals included in it. Movement can be manipulated through a Blockly platform, and this helps in customizing the robot. Not only that, but the device is also highly interactive and intelligent.
Last update on 2023-09-29 / Affiliate links / Images from Amazon Product Advertising API
Buyer Guide & FAQs
Why learn to code?
Code is a basic skill that every future computer programmer should learn. But it's more than that. As the world becomes more tech-forward and data-driven, having a basic understanding of code will be a massive advantage in any role.
For those just starting out, there are many resources available on the internet for beginners to use when they want to learn. Code.org has developed a program called Hour of Code that is designed to teach students the basics of coding in one hour or less. The website contains tutorials for over 20 different languages including HTML, JavaScript, Python, and Swift.
Code is also a great way for young people to express their creativity. Kids can build robots that walk, talk, and even do backflips. These robots are designed to teach kids about the basics of coding while also demonstrating how they work.
These are just some of the many reasons why young people should learn basic computer programming skills.
Different types of coding robots and coding toys
Different robots have different purposes. Some belong to manufacturing, and some are built for enjoyment. Let us look at some types of robot gifts that can surely be enjoyed.
Coding Toys
These kits are meant for enjoyment, and they usually involve a physical object that represents something. They can take the form of robotic balls, dogs, trains, or even humanoids. The coding part of toys is mainly concerned with specifying movements and gestures. Thus, it involves the manipulation of locomotive behaviors as well as the data gathering of sensors while utilizing coding basics.
DIY PC
DIY PCs are build-it-yourself computers that are composed of a chip, i/o device, as well as a case. The programming or coding part of these materials mainly tackles software and platforms that are inside the computer. They can also be a good introduction to electronics and electrical systems.
Raspberry Pi Robot toys
The Raspberry Pi is a credit-card-sized computer that plugs into your TV and a keyboard. It can be used for many of the things that your PC does, like spreadsheets, word-processing, and games, and is often used as an interface for coding toys and games.
The best thing about Raspberry Pi is that it's not just for Computer Scientists and Electronics Fanatics – it's a small computer that you can use for everyday tasks and is perfect for learning programming.
Sphero Edu
Sphero is a robotic ball that moves in the direction your smart device (Android or iOS) instructs it to go. The more you tilt, swipe, and drive the greater speed Sphero will achieve. It is programmed via the Sphero Edu app, a Scratch-based drag and drop programming interface. By writing code, you can create Sphero behaviors that range from delightfully playful to incredibly useful in the classroom.
Lego Mindstorms
The Lego Mindstorms robotics kit brings the fun of Lego to your projects. A USB connection with a PC allows you to download and upload programs from your computer to the robot via drag-and-drop programming software.
Key points for consideration before buying?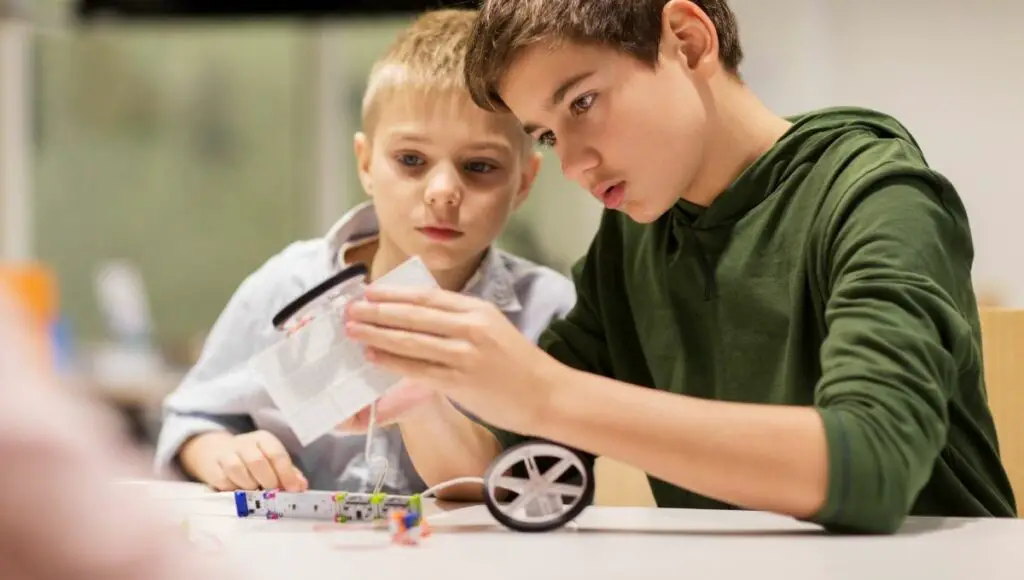 Build quality
When choosing a gift for tweens, you must also consider build quality. This refers to the materials that are used in the creation of the coder, and longevity and durability deeply rely on this factor.
Complexity
Coding gifts for tweens should have a fair amount of complexity so that they are inspired to take up the challenge. If a coding gift is too easy, they might easily get bored and drop the material. If your tween has not had too much experience, look for something that aims to introduce programming with progressive levels such as a robotics kit. 
Repurposing
A product having multiple functions and capabilities is a must since you can still use it after you have mastered the basics of coding.
Coding Skills Improvement
Every coding tool must be able to introduce basic concepts of programming, add valuable skills in coding, and improve problem-solving capabilities.
FAQ Section
Final Thoughts
Robots and Coding gifts are perfect for tweens since they will help them get acquainted with possible hobbies or even careers in the future. As someone with a background in Electronics, I prefer the Piper Computer Kit since it is a stand-alone DIY computer with a screen.
However, all the options mentioned in this list are ultra amazing. Not only will they enhance your child's general stem abilities but will also provide them with the opportunity to use technology judiciously. With so many excellent options, what are you waiting for? Buy em' already!
Last update on 2023-09-29 / Affiliate links / Images from Amazon Product Advertising API