Finding the perfect robot vacuum for your home can be a tiring task. The challenge becomes a lot bigger especially if you are looking at variants of a certain model. Luckily, there are robot experts like me who know the ins and outs of robot vacuums, and I am ready to help you with your journey in choosing the best one.
In this article and guide, we will take a look at two products that seem the same but are different. We will pit the Roborock S6 vs S6 Pure to see which of them wins in terms of quality, features, and overall functionality. By the end, you should have an idea of which specific product to choose.
*The product links in this post are affiliate links, which means that if you purchase after following one, I make a small commission from the sale at no additional cost to you. Please see our disclosure page for more information.
You may also enjoy:
At a glance
Virtual no-go zone & barriers
Virtual no-go zone & barriers
Virtual no-go zone & barriers
Last update on 2023-09-29 / Affiliate links / Images from Amazon Product Advertising API
The quick answer
Both the Roborock S6 and S6 Pure are great tools to help you in your daily cleaning routines. They only have few differences in features, and they look the same. Thus, choosing one greatly depends on your needs and how you want your house to be cleaned. The Roborock S6 robot vacuum is meant to be used for medium-sized houses. On the other hand, the larger water tank of the Roborock S6 Pure means that it is more than suitable for larger homes.
One drawback of the Roborock S6 Pure is that it has a smaller dust compartment. However, this can easily be compensated by the fact that it is known to provide a better level of overall cleaning on surfaces. The price is also not far from each other, with only a $10 difference between the S6 and S6 Pure.
If you want to benefit from a larger water tank, meaning that your overall cleanliness is focused more on mopping, then the S6 Pure is perfect for you. Great if your home is mainly hardwood or tiles.
On the other hand, for those that rely more on sheer vacuuming power, maybe you have much more carpet, then the Roborock S6 will prove to be an efficient partner due to its far larger dust bin.
Other than that, no major differences exist between the two, and they are great for anyone who wants to cut time in cleaning.
Product Overviews
Here is a general overview of both products.
Roborock S6
The Roborock S6 is an intelligent home robot vacuum that is capable of cleaning, mopping, and vacuuming at the same time. It uses Adaptive Routing for movement as well as Floor-Mapping to navigate through different spaces.
One thing that the Roborock S6 excels at is its good suction power and pick-up capabilities. It can easily lift off particles present on the floor, making it amazing against various contaminants. You can even set zones of concern in this tiny robot to customize the cleaning process. 
Roborock S6 Robotic Vacuum Cleaner
Roborock S6 Robot Vacuum, Robotic Vacuum Cleaner and Mop with Adaptive Routing, Multi-floor Mapping, Selective Room Cleaning, Super Strong Suction, and Extra Long Battery Life, Works with Alexa(black).
Last update on 2023-09-29 / Affiliate links / Images from Amazon Product Advertising API
Roborock S6 Pure
The Roborock S6 Pure can be considered as the twin of the Roborock S6 robot vacuum since both have many similar features. It is a device that uses Light Detection and Ranging to detect obstacles and map the entire room surface. With this given map, it navigates through multi-floor mapping and zone selection that is specified by the user.
Using 2000 Pascals of sheer suction power, nothing can escape the grasps of this tiny robot. It does not matter whether you're dealing with gunk, fur, dust, pet hair, or hair since the S6 Pure can easily take care of it. App control and voice control for the robot are available, making it a very flexible tool.
Roborock S6 Pure Robot Vacuum
Roborock S6 Pure Robot Vacuum and Mop, Multi-Floor Mapping, Lidar Navigation, No-go Zones, Selective Room Cleaning, 2000Pa Suction Robotic Vacuum Cleaner, Wi-Fi Connected, Alexa Voice Control.
Last update on 2023-09-29 / Affiliate links / Images from Amazon Product Advertising API
Roborock S6 Maxv – While the S6 and the S6 Pure may be twins, the S6 MaxV is more of a grown-up sibling. Be sure to check out our comparison of the three to get more details on this excellent cleaning machine.
Side by side comparison
Let us look at some major similar features that both products have to offer.
Both the Roborock S6 and S6 Pure's navigation capabilities are handled by true Light Detection Ranging Scanners that are situated on top of the devices. These scanners emit and receive thousands of light pulses every second to determine the coordinates of various objects in a house. Thus, they provide real-time information regarding the location of obstacles as well as the robots themselves. With LiDAR scanners, accurate and precise movements can be made. 
Docking 
Another thing that is similar in both robots is their docking mechanisms. Once the S6 and S6 Pure energy reserves get depleted, they automatically return to their home base to recharge. No need to pick the robot up and plug them in, as they are capable of self-navigation towards their docking device. This removes a user's need to worry about stopped operations since the vacuums can operate 24/7.
Filter
Another common feature of the two devices is that they include HEPA filters to protect against allergens and irritants. These filters are installed as a safety measure in the vacuums so that no harm may come to you, your children, and even pets. HEPA filters are very useful if you have cats and dogs in your house since these animals are known to shed. For many different users especially those with respiratory allergies or sinusitis, this function is very beneficial. 
App Control and Wi-Fi
The Roborock S6 and S6 Pure have amazing controls that can be accessed both in the interface of the robots or in smartphones. With a Wi-Fi connection as the main medium, any user can easily set up the robots if a working internet is available. This can be done by pressing the button on the robot and simultaneously pairing it with your handheld mobile. The Roborock App contains multiple features such as No-Go Zones, Scheduling, Invisible Walls, Virtual Map, and many more.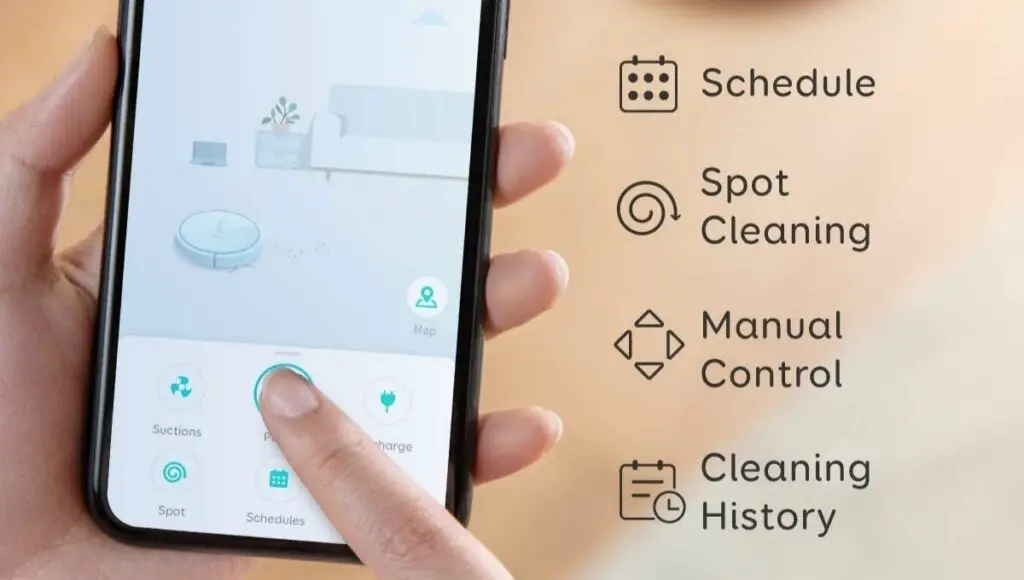 Simultaneous Clean and Selective Room Cleaning
Something that I love most about these two devices is that they are capable of simultaneous cleaning. This means that they can execute mopping and vacuuming at the same time, making both processes very efficient. Not only that but the most optimal paths are taken, meaning that the path they take is not random. Logical rows are followed to make sure that every nook and cranny is covered.
Warranty
The S6 and S6 Pure each have 2 years' worth of warranty, and this implies that they will be able to last if you take care of them properly. If you want more protection for the robots, this warranty can be extended by transacting with the company.
Battery Life
Battery Life is a feature that the Roborock brand focuses on. instead of having an energy pack that needs constant recharging, both S6 and S6 Pure have a whopping 5200mAh battery capacity, making them very suitable for long-term cleaning. These are rated at 58 W, giving the robot vacuums unparalleled power in terms of vacuuming and mopping. However, there is no need to worry as both robots are good at conserving energy meaning that you'll have more savings in the long run.
Key Differences of Robot Vacuum Cleaner
Here are the differences that separate both robots from each other. These are the things that you must focus on in choosing the vacuum that fits your need.
Dust Capacity
Dust capacity refers to a robot vacuum's ability to hold collected dust, debris, or even hair particles that are picked up by the vacuum. It is important to know the capacity since it will also determine the frequency of emptying up the bin. The dust bin size of the S6 is large at 480 ml. On the other hand, the S6 Pure has a reduced one rated at just around 460 ml.
While 20 ml of capacity might seem a bit small, remember that dust can be compacted even in tiny spaces. Thus, it should still be considered when purchasing.
Water Capacity of Robot Vacuum
Similar to dust capacity, water capacity is a robot vacuum's ability to hold water for mopping purposes. This is especially integral for users who want to focus more on mopping rather than vacuuming. The tank of the S6 Pure can contain 180 ml of water. On the other hand, the S6 has only 140 ml capacity. This gives the S6 Pure more mopping time compared to its twin counterpart.
Scanners Present
To compensate for the large water tank, the S6 Pure removed some scanners, leaving it to have only 11 of them. This is 3 fewer than the 14 scanners that the S6 has. However, this should not be a real worry since scanning performance only changed minimally on both devices.
Noise Level
The S6 Pure produces more noise rated at 69 dB compared to the S6 robot vacuum cleaner levels of 67 dB. While this might be a small value, it still matters especially if you choose to make the robot operate at night during sleeping hours.
Price
The price for the Roborock S6 and S6 Pure robot vacuums usually differs by a mere $10 with the S6 is often a touch cheaper. Unless there are any product specific deals ongoing, this should be a factor most people.
A couple of alternatives to consider
One of the best alternatives to the S6 and S6 Pure is the bulky and powerful S6 MaxV. It has a far greater suction power, battery life, and size, making it a device built for intense cleaning processes.
Another great robot vacuum that you should consider if you have the budget is the iRobot Roomba S9 Plus, as it is one of the best in the market. Despite its performance, obtaining this robot requires tons of preparation as the $1100 price is no joke for a casual user. despite this restriction, it is still a robot vacuum worth purchasing if you have dollars to spend.
If, on the other hand, you are looking for something on the more budget end of the spectrum, you may want to check out my post on the best robot vacuums under $250.
FAQ section of Robot Vacuums
These are questions that are commonly asked by current and potential S6 and S6 Pure users around the internet.
Do the mop and vacuum schedules come together?
Yes, there is no way to separate mopping and vacuuming schedules for both robot vacuums. As stated, these devices offer simultaneous cleaning, meaning that it mops and vacuums at the same time. For the best solutions, it is recommended to follow the original design of the robots as it provides great efficiency.
Can the water flow be adjusted?
Yes! It is possible to adjust the water flow of both devices. A switch is available so that you can separate between simple or intensive mopping processes. This gives you more options and controls for a personal and customized robot vacuum experience.
How do I avoid mopping through carpets?
In avoiding mopping through carpets, you have several options. First, you can remove the mop module once a carpet is near the robot to prevent potential damages and inconveniences. Second, the No-Go Zones of the app can be used to restrict the movement of your robot vacuum. Either way, they should work well in preventing the robot vacuums from touching the rug.
Can I use Alexa with them?
Yes, both devices are ready to be used with Alexa. They even have specialized voice lines for various commands such as scheduling, stopping or resuming operations, and automatic docking!
What is the total area coverage of the devices?
Getting a concrete number regarding the area covered by the S6 and S6 Pure can be a hard task since it is a case-to-case basis, and many factors are present. However, one can be certain that one charge cycle will be more than enough to clean and vacuum a regular-sized room or space.
Final thoughts
The Roborock S6 and S6 Pure robot vacuums are both competent in their rights. When looking at them side-by-side, it might be hard to tell the difference since the build, features, and materials used are very similar to each other. However, on a closer look, one can discover that the S6 has a larger dust bin while the S6 Pure has a larger Water Tank.
For users who want improved suction and vacuuming power, the S6 is perfect.
On the other hand, if you want to focus more on mopping, the S6 Pure might be the best one for you.
Emma Marie is a valued writer at the Little Robot Shop. She studied robotics and deeply understands technology, which shows in her writing.  She consistently produces high-quality content, making her a perfect fit for the Little Robot Shop team.
While not writing, Emma works in a popular electronics retail chain. Emma also enjoys running and has two dogs with whom she loves spending time.