Narwal T10 robotic vacuum cleaner and mop combo was the first self-washing vacuum cleaner to launch.
But the Dreametech W10 is the latest mopping robot vacuum and self-cleaning mop system. It's also the first robot vacuum and mop combo to have vacuum and mop simultaneously.
At first glance, it looks better than the Narwal T10 since it is a vacuum (with a real roller brush) and mop at the same time.
However, we have received many questions from our audience asking what the difference between the two mop systems is? Or are the two same?
Worry no more; today, we have decided to make it an open post to benefit everyone looking for this answer. So, we'll be comparing the two cleaning systems: Narwal T10 vs Dreametech W10, so as to give you the best answer to the questions above.
Therefore, keep reading to find out which of the mop system devices is best for you.
*The product links in this post are affiliate links, which means that if you purchase after following one, I make a small commission from the sale at no additional cost to yourself. Please see our disclosure page for more information.
You may also enjoy
At a glance
Last update on 2022-01-19 / Affiliate links / Images from Amazon Product Advertising API
Product Overviews
Narwal T10 Robotic Vacuum Cleaner
The Narwal T10 is the world's first self-cleaning robot mop and vacuum that truly liberates you from laborious daily floor cleaning work to enjoy your own time. It features only 2 cleaning modes:
Sweeping
Mopping
In vacuum mode, Narwal T10 has powerful suction of 1800 Pa to handle the daily cleaning of surface debris. In mop mode, dual mops press tightly against the floor with 10N force for more hygienic and effective results than manual mopping. The triangular-shaped pads spin at 180 rpm and are designed for excellent coverage without leaving traces behind on the floor.
Narwal T10's base station is equipped with dual tanks. One for clean water and another for wastewater. While it cleans, Narwal T10 auto-detects the mop's level of dirtiness and, when it's time, returns itself to home base for automatic mop cleaning, then sets out again to the precise location where it left off. After the cleaning session is complete, the mops are auto-dried in the base station to prevent bacterial build-up.
With the help of Light Detection And Ranging (LiDAR) Navigation and Simultaneous Localization and Mapping (SLAM) technology, Narwal T10 skillfully navigates spaces of up to 3,000 sq ft while avoiding no-go zones.
Users can remotely control and unlock advanced functions for the robot through the companion app on iOS and Android stores, such as setting restricted zones, checking cleaning paths and statuses from anywhere at any time, and more.

Excellent at cleaning wet messes and dry stains
Effective at keeping the floors clean without having to mop manually
The self-cleaning station extends the timeframe when you'll need to wash the pad
Separate dirty and clean water tank.
Large tank capacity
Sleek design
It also works with Alexa and can be controlled anywhere through a smartphone app. It has good battery life.
Has automatic mop cleaning station
It's very expensive
Not very good at cleaning carpet
Twin side brush will scatter certain debris types
Buggy app
Lack of google assistant
Not self-emptying robot vacuum
Narwal T10 Robot Vacuum and Mop
Narwal T10 Robot Vacuum and Mop Combo Hard Floor Cleaner Machine with Automatic Mop Cleaning Station - Ideal for Pet Hair - LIDAR Navigation & Laser Mapping - Quiet Operation, White, HEPA 10 Filter Of the Robotic Vacuum Cleaner Efficiently Traps Dust, Fur, and Allergens.
Last update on 2022-01-19 / Affiliate links / Images from Amazon Product Advertising API
Dreametech W10 Robot Vacuum
The Dreametech W10 is the latest self-cleaning rob mop and vacuum featuring three cleaning modes: (i) sweeping, (ii) mopping, (iii) sweeping & mopping, unlike the Narwal T10 that offers two.
Dreametech T10 is very hard on messes but easy on you. The device is designed with two rotating mop pads and 4,000 Pa max suction; W10 tackles dirt and stubborn stains at the same time. Applying 10N (Newtons) of pressure to pads that spin 180 times per minute ensures that stains are thoroughly scrubbed.
When the pads get dirty, W10 automatically returns to the dock. The pads are sprayed with water and then spin rapidly against small grooves to dislodge dirt. Meanwhile, a nozzle at the bottom of the dock deposits the dirty water into the waste-water tank to prevent cross-contamination.
When the mopping cycle is complete, and W10 has returned to its base for the last time, the pads are rinsed and dried with hot air to prevent mildew or bacteria growth.
With the help of Light Detection And Ranging (LiDAR) Navigation and Simultaneous Localization and Mapping (SLAM) technology, Dreametech W10 skillfully navigates spaces of up to 3,229 sq ft while avoiding no-go zones.
It can be controlled through Mi Home App and voice as it is integrated with Alexa.

The mop has a self-clean and dry function, which will save you a lot of work. All you need to do is dump the dust bin and empty the dirty water tank.
Dreametech W10 vacuum cleaner and mop has rotating brushes that clean the foods and suck up the dirty water, unlike robots that have a sonic mop.
It can vacuum and mop together at the same time.
You can configure the vacuum cleaner to clean the mop after mopping for particular square feet, let's say every 15 sq ft.
The T10 robot cleaner is a set and forgets device as it works perfectly with one setup.
It can be controlled from anywhere using the Mi Home app installed on your smartphone.
It also works with Alexa.
It enables you to select one or multiple rooms and customize their order of cleaning.
Has good battery life.
Dreametech W10 robot vacuum cleaner and mop does not auto-empty dust bin. Meaning you will have to empty the trash can manually.
Lack of Google assistant skills.
It does not navigate smartly and smoothly around carpet or objects that are fixed.
It can do carpet when it's on vacuum and mop cleaning mode because you will have to remove the mops manually; if not, it will wet your carpet.
It's also expensive.
Not a self-emptying robot vacuum.
Dreametech W10 Robot Vacuum Cleaner and Mop
Dreametech W10 Robot Vacuum Cleaner and Mop, Sweeping, Mopping, Washing and Drying 4in1, Robotic Vacuum with Superb Lidar Navigation, 4000Pa Strong Suction for Pet Hair, Hard Floor, Carpet, 6400mAh Super-Capacity Battery and A Maximum Working Time of 210min in Quiet Mode.
Last update on 2022-01-19 / Affiliate links / Images from Amazon Product Advertising API
Now let's also look into their similarities.
Side by side comparison
Both robotic vacuum cleaners share many features in common, as seen below:
Self-Cleaning: They intelligently wash, dry, and clean the microfiber mops during mopping.
Mop and Vacuum: They both work as a vacuum with suction power but at different capacities: 4000pa for Dreametech W10 or 1800pa for Narwal T10.
Mechanical Mapping: They both push and rotate the mops to clean the floor better. And they use a Lidar sensor to remember the map of your home.
Mapping: They both create a mop of your house and update it all the time.
Network connection: They connect to the network and are controllable through apps when you're not at home.
Alexa: They both have Alexa integration.
Robot docks: Both robot cleaners return to their base station to wash and clean the microfiber mop on its own.
Dual tanks: Both have dual water tank systems (dirty water and clean water tanks).
Hardwood Floor Surfaces: Both robot vacuums work and clean well on hard floors.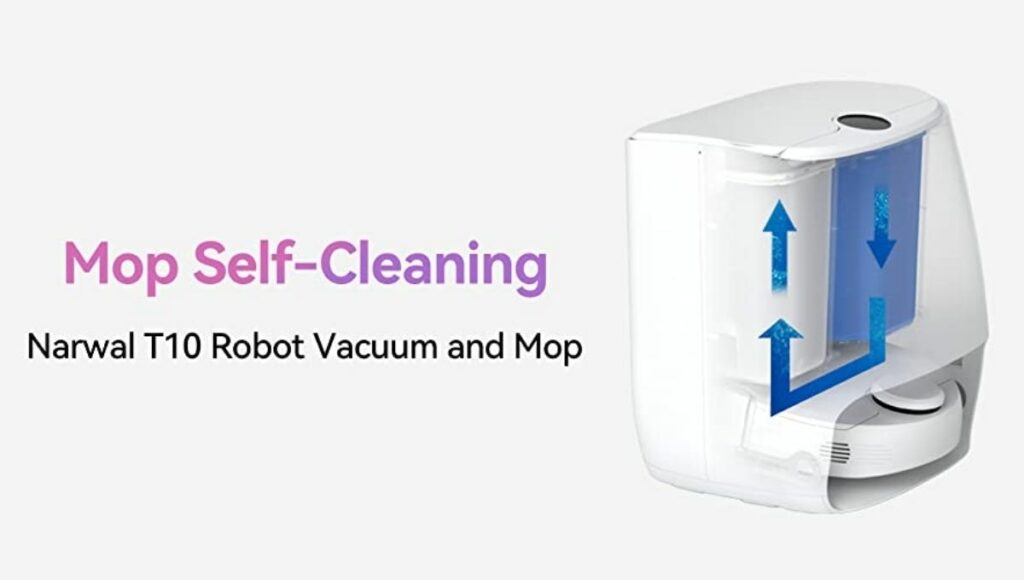 Key Differences
The two robot vacuums look the same, but there is actually one striking difference between Narwal T10 and Dreametech W10.
Narwal t10 has two cleaning modes, which are vacuuming mode and mopping mode, but Dreametech W10 also has extra cleaning mode making its own 3 powerful cleaning modes, which are vacuuming, mopping, and vacuuming & mopping at the same time.
Instead of doing the sweeping first and then coming back to do the mopping, you could decide to do the vacuuming and mopping together at a go, thereby saving time.
To understand how possible this is, kindly read our article on the Dreametech W10 review.
There are other differences between the two in capacity and specification; let's look at them.
The quick answer
Well, here are two top self-washing mopping robots. Both Narwal T10 and Dreamtech W10 offer everything you want in a high vacuuming and mopping robot.
With LiDar navigation, self-cleaning abilities, and many App features, it will be hard to determine the best mopping robot. But one thing is clear; there is a winner among the two robot cleaners.
For versatile cleaning on any type of floor, I will choose Dreametech W10 because it can be used both on hard floors, carpets, tiles, etc.
I will still Dreametech W10 again because of its vacuum and mop at the same time cleaning feature instead of doing it separately.
However, if my floor is one hardwood or tiles, then I will go for Narwal T10 robot.
FAQs
What type of soap can I use with Dreametech W10 and Narwal T10?
You can only use their special cleaning fluid, which is sold separately on the market or uses only water. Do not add any cleaning solvent to the tank other than water.
Do the robots suck up water and leave your floor wet?
No. They suck up water and won't leave the floor wet. You can also customize the mop humidity and mopping frequency.
Are they good for tile floors?
Yes, both robot vacuum and mop systems can be used on any hard surface.
Are they smart enough not to mop carpet?
Yes, if only you set the devices to no go zone via your app.
Are the cleaning pads safe for laminate flooring? I am concerned about ruining my floors.
No worries, neither the Narwal T10 robot nor the Dreametech W10 robot will damage your floors.
Are they self-emptying robot vacuum cleaner and mop combo
No, they are not. You have to dump the trash cans manually.
Final thoughts
Having gone through all the pros and cons, similarities and differences of each type of robot vacuum cleaner, you will agree that the Dreametech W10 robot mop is better and more efficient with 3 cleaning modes.
Narwal T10 robot mop is also good, but it does not need vacuum and mop at the same time, and it is not designed also to be used on carpeted floors, as it is specifically made for hard floors alone.
If your goal is to clean your home hard floors, tiles, and carpet. If your dream also is to save time by vacuuming and mopping at the same time. Then Dreametech W10 is your best option and decision today.