Getting your floor clean has never been an easy task, especially cleaning under the furniture, sofa, or bed; whether you're having joint pain, waist pain, you must bend down to get them cleaned, right?
How about the hard work that comes with you holding a stick mop and mopping through the day? Or you're afraid of ruining your floor each time you think of mopping with those robot cleaners that use wheels?
Worry less! Everybot Inc. has brought a powerful solution that enables you to save time on chores, which is 'Everybot Three Spin robot mop' for all kinds of hard floor care and cleaning.
By the end of this Everybot three spin review, you'll be able to make an informed decision towards buying it for your home. It is a must have for every home.
*The product links in this post are affiliate links, which means that if you purchase after following one, I make a small commission from the sale at no additional cost to yourself. Please see our disclosure page for more information.
At a glance
EVERYBOT 'Three-Spin' Robot Mop
EVERYBOT 'Three-Spin' Robot Mop
Last update on 2022-01-19 / Affiliate links / Images from Amazon Product Advertising API
Everybot Three Spin Review | The Ultimate Robot Mop
The Everybot Three Spin is a robot cleaner designed by Everybot Inc. Korea. It's the world's first triple-spinning technology floor mopping robot cleaner. The unit performs both driving and cleaning at the same time by spinning three mop discs without any wheels.
Its cleaning ability is far superior to other robot cleaners that use wheels especially on hardware floor. Everybot three spin stays wet throughout operation time because the electronic water tank automatically supplies water to each of the three mopping pads.
One thing that interests me most is how easy you can operate it. It's as simple as pushing the auto-cleaning button and selecting several cleaning modes with a user-friendly remote.
More so, the unit is equipped with several anti-collision and fall prevention sensors for safe use and peace of mind. Meaning that you won't be afraid of it falling off the staircase and being damaged because the smart robot mop will detect change in height and stop automatically.
Worried about getting the edges and corners of the floor? The extension of Everybot three spin works perfect by cleaning all the edges and corners thoroughly leaving no stain or debris. You can operate it at any time of the day including night because it is extremely quiet, like quiet whispering (noise level – 43dB).
Therefore, if you're looking for the best and right robotic mop that will do a good job for you, look no further. Everybot three spin is designed to give detailed cleaning to your entire home on its own, saving your time on house chores.

It does not ruin your home floor as it does have wheels.
It cleans the entire home floor thoroughly including under the furniture, sofa, bed, edges, even corners without bumping noise.
It's super quiet during operation (43dB). No loud noise at all.
It can't fall or damaged as it's equipped with anti collision and fall prevention sensors
It comes with 2 types of mop just to give your home floor an extra clean effect with that polished look
It has 8 cleaning modes to satisfy your exact cleaning needs.
It does not occupy space as it has a space optimized charging cradle.
It has a high capacity battery. Extensive battery life
It does not operate with apps, wi-fi or alexa, only remote.
It does not have a timer. Meaning you can't set and forget.
It does not automatically return to a docking station to charge, you do that manually.
No auto cleaning for the mops, so you got to hand wash them or toss them into washing machine
EVERYBOT 'Three-Spin' The Ultimate Robot Mop
EVERYBOT 'Three-Spin' The Ultimate Robot Mop for All Kinds of Hard Floor Care and Cleaning with Triple Spinning Mop Discs Controlled by Remote Control, 2,150mAh High Capacity Battery Keeps the Robot Working More Than 120min and 300ml Large Water Tank Automatically Supplies.
Last update on 2022-01-19 / Affiliate links / Images from Amazon Product Advertising API
Let's take a closer look at this Triple Spinning Mop
How it works
The Everybot three spin has triple spinning mop discs that work simultaneously to clean your home floors thoroughly. Each of the mops is controlled by its own powerful disc. The movement of the device is synchronized to scrub hard stains on the floor harder and totally eliminate water stains.
However, since the mop doesn't move with wheels, all of its weight (2kg) pushes down on the mopping pads, which increases the effectiveness of the mopping pads attached to the discs. The protruded mop discs design of the three mops ensures that all edges and corners of your home are cleaned thoroughly.
Furthermore, Everybot three spin has two types of mopping pads: mother yarn mop and microfiber mop. The Mother yarn mop works great at scrubbing dust, catching hairs and erasing stains whereas the Microfiber mop works well at polishing the floor, absorbing liquids, and wiping floors. Changing the mop type to use is incredibly easy and does not take time at all.
Then, the water supply system is very smart and intelligent, enabling it to keep all three mops moist throughout the operation time to help them do a great job. With the 300ml large water tank, that means that the robot mop will keep scrubbing your home floor for much longer.
The 9.9cm design enables it to go under beds, couches, and other furniture to clean your floors thoroughly even places you can't see.
In addition, the Everybot three spin doesn't operate with app or wi-fi, no alexa integrated so you can't operate it on the go, but you can have a lot of control by using the remote control as the unit is designed with 8 different cleaning modes that allows you to have control over this robot mop.
Auto cleaning mode – Cleans the entire space efficiently
Edge cleaning mode – Focuses on the edges of the rooms and furniture.
Focus Cleaning mode – Go out in circles from starting location for thorough scrubbing
Intensive cleaning mode – Repeat 360 degree circles and short motions to scrub the entire space.
Y curve cleaning mode – Mimics the cleaning pattern of scrubbing the floor by hand
Step cleaning mode – Cleans from right to left like human steps.
50-,minutes cleaning mode – Runs for only 50 minutes at a time for smaller spaces
Manually cleaning mode – Control exactly where the mop goes using the remote.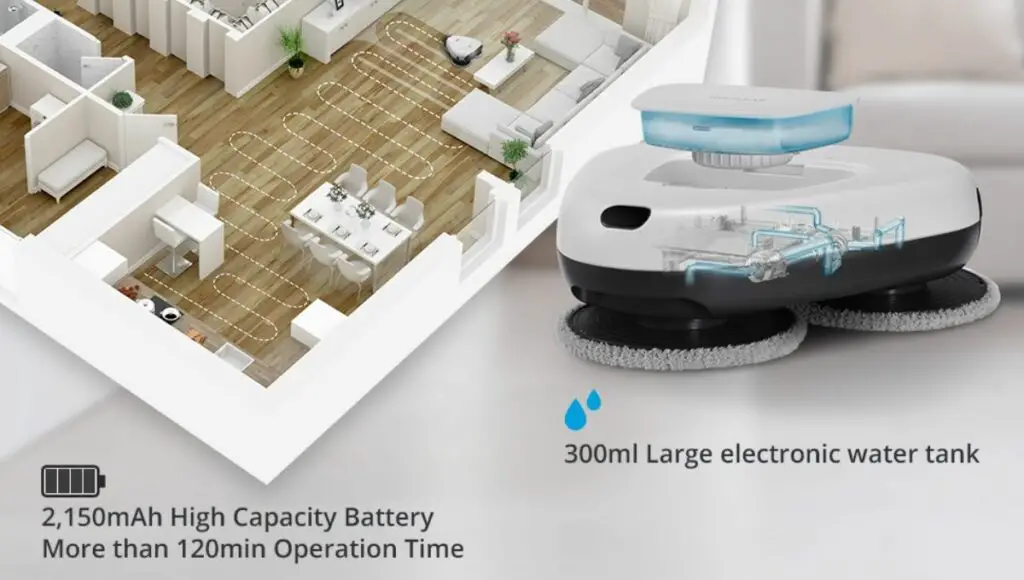 Key Features
Everybot Three Spin, the ultimate robot mop for all hard floor care and cleaning controlled by remote has four powerful features that may interest you to go for it.
Powerful & Thorough Cleaning
No Wheels! The robot performs both driving and cleaning at the same time using 2 round-shape mop pads with 'Dynamic Spinning Technology' patented by EVERYBOT INC. It cleans the floor with 4.4 lb pressure created by its weight and rapidly spinning mop pads in continuous motion. The extension of 3 mop pads clean edges & corners thoroughly.
Library Noise Level
With quiet whispering noise level only at 43dB during the vacuum on, it feels like a whisper
Easy & Convenient
A single touch button of the device will immediately starts cleaning.
Smart Cleaning Device
The 11 smart sensors on the circumference of the robot serve to prevent collision and fall of the vacuum. In addition, its illumination sensor instructs it to avoid dark shades area and finish cleaning in a bright area of the home so the user can spot the robot easily after it's done.
Performance
Everybot three spin had won many awards since its inception: Reddot winner 2021, IF design award 2021, and K brand.
It comes with a 3 scrubber head for good scrubbing and a whisper quiet sound. The double action for ultimate mopping effect technology creates a scrubbing force with 3 spinning mops and is reinforced with up to 2kg of pressure, clean and satisfying.
The unit is reliable, affordable and low maintenance. It does not ruin your floor because it has no wheels.
Limitations
Though Everybot three spin mop has all powerful features for thorough cleaning yet it has some limitations, which are as follows:
No alexa integration neither can it use app or wi-fi
It is not a vacuum cleaner, therefore, you'll need to vacuum your space before mopping.
No timer.
Ease of set up and use
The unit is very easy to use. It does not require installation but is as simple as fixing the mopping pads on the three discs, filling the large water tank and then pressing the auto button or using remote control.
When the pads are dirty, simply brush them off with a brush, wash them by hand or better still throw them into the washing machine and get them clean again.
What Is In The Box?
Microfiber mop
Mother yarn mop
Main body
Short user guide
Remote control
Charger
Charge adapter
Ongoing Maintenance
Everybot three spin mop is a low-maintenance device. It does not require too much maintenance. Replace the mopping pads (mops) when they are worn out. You can buy them from amazon.
However, if the battery goes bad you cannot buy a replacement battery because the company does not sell a replacement battery for the device presently. But you can reach out to them for a replacement, they may send you one.
Extra Purchases and ongoing costs
When buying Everybot three spin, you can also buy extra mother yarn mop and microfiber mops along with the device, or you may also get them later anytime you want from Amazon at a very little cost not more than $20.
A couple of alternatives to consider
Everybot three spin is a robotic mop every home must have. However, if you're buoyant enough and want to purchase a robot mop that has Alxea integration and wi-fi, then the iRobot Braava Jet M6 (6110) robot mop might be your best bet.
Read more on this model in our iRobot Braava Jet M6 review.
But if you're on the low-budget side and looking for an affordable robot mop that gives the exact solution Everybot three spin gives you, then, the ILIFE Shinebot W400s could be a great choice, or for a bit more, their updated version, the w450. Both are great choices.
You can check both of these models out in our Shinebot w400 and w450 comparison post.
FAQs
Does Everybot Three Spin work with a cleaning solution or just water?
You're recommended not to put any cleaning solution into the device water tank because it will cause a supply problem. Instead, you can spray a mixture of water and vinegar directly on the floor. That's ok.
Is it safe on Laminate Floor?
Everybot three spin works on every floor surface: laminate, marble, tile, coated wooden, linoleum, travertine stone floors etc.
Can the Mop be washed and reused?
Yes. The mops are washable so you can wash them when dirty and reuse them.
How Long does the mop last?
The mops are durable and can be used for 6 months if you're using them everyday.
Final thoughts
Everybot three spin is the ultimate robot mop designed to make your life easier, the three-spin robot mop cleans your home on its own! It navigates around obstacles and minimizes bumping noise as its wet spinning pads clean off dirt and debris while you do other things, thereby saving yourself some time.
So if saving time, easing stress and mopping your home floor thoroughly at a reasonable price is your top goal, then Everybot Three Spin is your best bet. Though it has a heavy price tag but it worth it. Let the mop work by itself while you do that cooking or dishes.
While other robotic mops will crash their way down the stairs or on any obstacles and damage, Everybot three spin, the ultimate robot mop uses its inbuilt obstacle sensors to stop when it detects an edge or change in heights, so it won't fall and damage.
Finally, you've the peace of mind you have ever wanted. It is durable, good machine with a neat design and ergonomically effective to use.