Different robotics companies release new robot vacuum cleaners every year, so it can be confusing to figure out the best one for you. At first glance, many of them look similar with identical designs, features, and promised top-notch performance by manufacturers. Hence, we understand that shopping for a new robot vacuum cleaner can be overwhelming.
Suppose you feel stuck, then you are at the right place. We extensively discuss two brilliant robot vacuum cleaners and an alternative you may want to consider purchasing. So let's dive right in!
*The product links in this post are affiliate links, which means that if you purchase after following one, I make a small commission from the sale at no additional cost to you. Please see our disclosure page for more information.
You may like:
At a glance
Surface Recommendation
Carpet, Hard floor, Wooden floor
Controller Type
App Control, Voice Control
Specific Uses
Self-Empty and Auto-Clean Station
Robot Mop and Vacuum with Self Clean Function
Built-in YIKO Voice Assistant
Surface Recommendation
Carpet, Hard floor, Wooden floor
Controller Type
App Control, Voice Control
Specific Uses
Self-Empty and Auto-Clean Station
Built-in YIKO Voice Assistant
Specific Uses
Robot Mop and Vacuum with Self Clean Function
Built-in YIKO Voice Assistant
Last update on 2023-09-29 / Affiliate links / Images from Amazon Product Advertising API
The Quick Answer
The Ecovacs Deebot X1 Omni vs. Narwal T10 are brilliant choices for a robot vacuum cleaner with outstanding cleaning and mopping results. Despite T10 being cheaper than X1 Omni, Omni has more features to make your cleaning easier.
Deebot X1 Omni is self-sufficient and can easily work its way around cleaning your home without extra help. If we were to recommend one, we would go for Deebot X1 because every penny is well worth its price despite being a few dollars expensive.
Product Overview
Ecovacs Deebot X1 Omni
These powerful  Deebot X1 Omni vacuum cleaner is used for regular dust and dirt cleaning and, in addition, mopping. The dual rotating pads at the bottom of the X1 Omni scrubs the floor and clean up messes adequately with the auto cloth cleaning and water refilling feature.
Ecovacs Deebot X1 Omni is an excellent navigator that helps you avoid obstacles and plan smart routes for cleaning your home. One of the best features of the Omni X1 is the 5000 PA suction power, which is effective for deep vacuuming. The robot is also equipped with other intelligence, such as its built in voice assistant, Yiko.
In addition, the robot comes with a docking station, also called as the Omni station. Deebot X1 Omni usually returns to its station to charge itself when low. The station also automatically cleans the mopping pads and empties dirt into a disposable dirtbag.

Automatic self-emptying feature
Good battery life
Built in voice assistant
AI-powered object avoidance technology
Can save up to 3 Maps
Aestheticaly slim design
Expensive
Small dustbin and water tank
Sale
ECOVACS DEEBOT X1 Omni Robot Vacuum and Mop
ECOVACS DEEBOT X1 Omni Robot Vacuum and Mop Combo with Self-Empty and Auto-Clean Station, 5000Pa, Robot Vacuum Cleaner with Laser Navigation, Obstacle Avoidance, Built-in YIKO Voice Assistant, Black, The All-New OZMO Turbo Rotating Mopping System Works Doubly Hard in Removing Stubborn Stains and Debris, Leaving The Floor Clean as New.
Last update on 2023-09-29 / Affiliate links / Images from Amazon Product Advertising API
Narwal T10
Narwal T10 is the first product of Narwal Robotic, a fairly new guy in the block. The hybrid robot vacuum delivers impressive cleaning with several intelligent features and 5 Liters water tank for clean and dirty water each. However, a common downside of this device is its low suction power of 1,800 PA.
On the robot vacuum, you can detach the brush module that sweeps dirt and switch it with two 6 inch triangular mop pads on either side. These mopping pads effectively scrub your surface with the 10N downward pressure applied to the pads as they spin. Afterward, the mopping pads get washed and air dried by the station.
The T10 uses a LIDAR-based SLAM navigation system to scan its environment and ensure that it's free of obstacles in its path while cleaning. This also ensures that the robot can create and update a map of its cleaning path and surroundings. In addition, T10 uses the Narwal app to control the device for maximum utilization.
To learn a bit more about this vacuum, you may enjoy our post – Narwal T10 VS Dreametech W10.

5L tank for both clean and dirty water
Great battery life
LIDAR-based SLAM navigation system
Detachable mopping pads
Strong downward pressure (10N)
Silent Vacuuming
Low suction power
Can only save 1 Map
No voice assistant support
No self-emptying feature
Narwal T10 Robot Vacuum and Mop
Narwal T10 Robot Vacuum and Mop Combo Hard Floor Cleaner Machine with Automatic Mop Cleaning Station - Ideal for Pet Hair - LIDAR Navigation & Laser Mapping - Quiet Operation, White, HEPA 10 Filter Of the Robotic Vacuum Cleaner Efficiently Traps Dust, Fur, and Allergens.
Last update on 2023-09-29 / Affiliate links / Images from Amazon Product Advertising API
Side By Side Comparison
Ecovacs has an intelligent navigation system. Equipped with a camera, two-way audio, and a detailed 3D mapping, you can easily control your app and aid ease of navigating around your home. The obstacle detection features also enable it to waft freely around your home without getting stuck. With the use of TrueMapping 2.0, the robot scans its environment. Then, it creates obstacle-free cleaning routes to avoid crashing into them.
On the other hand, Narwal T10 utilizes its smart navigation technology using the LiDar sensor and SLAM technology to scan your home environment for obstacles, create a smart layout for the cleaning process, and remember it for efficient cleaning.
Price
Ecovacs Deebot X1 Omni is expensive, but it is one of the best robot vacuum cleaners on the market. With extra features such as great obstacle avoidance technology, cleaning its mopping pad, emptying its dust canister, and more, it is worth $1,549 on Amazon and Ecovacs stores.
In contrast, Narwal T10 is relatively cheaper but still expensive due to the lack of auto emptying features, voice assistant, and a half-baked app. Still, the robot vacuum is great at $1,099 on Amazon and Narwal's store for a robot cleaner with an excellent mopping performance, great hard floor cleaner, and great battery life.
Battery Life
Ecovacs Deebot X1 Omni is built with a massive battery of 5200mAh. Despite being able to clean for up to 260 minutes in quiet mode, the battery takes up 6 to 8 hours to fully charge. You can check the battery level with the indicated percent visible on the app. Note that X1 Omni works quickly in cleaning your home and returns to its dock when the battery is below 15%.
On the other hand, Narwal T10 is equipped with a larger battery of 5800mAh and it takes less time to charge. The battery takes less than 2 and half hours to recharge fully and lasts for three hours on a full charge. So, you do not have to wait for too long if your robot runs out of battery. Like Omni, it returns to the base station if its battery runs low while cleaning.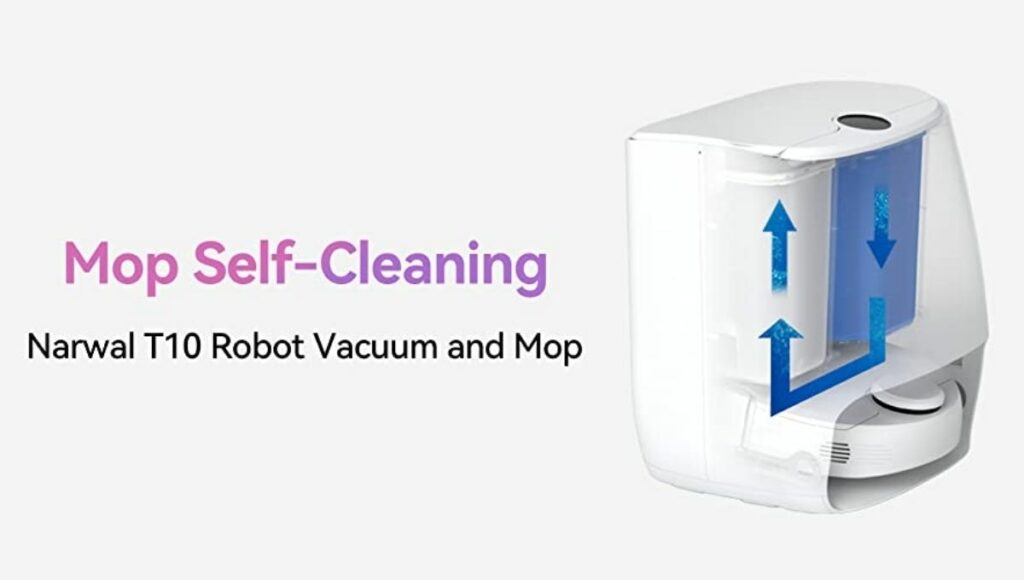 Key Differences
Performance
The Ecovacs Deebot X1 Omni is more powerful than Narwal T10. Deebot X1 Omni features a 5000PA suction power that is strong enough to captures hidden dust with 6N downward pressure to remove any dirt off the floor when used. However, even on the lowest suction, it sucks up any dust, crumbs, or debris. Plus, the robot empties its dust by itself into the dust bag in its docking station, leaving you with little to do.
Thanks to the smart intelligence integrated with the robot, the X1 Omni can set itself automatically to a higher suction level when it detects being on a carpeted area due to its surface detection feature. As a result, Deebot X1 Omni vacuum and mop efficiently on both carpets and hard floors quietly.
In contrast, Narwal T10 has a suction power of 1800PA much lower than its counterpart but with 10N downward pressure that efficiently cleans dirt, hair, and debris. It also traps the dust, fur and allergens in its highly efficient filter. Even though it cleans efficiently, it is mostly unable to do so well in areas with carpets or rugs; however, it does great cleaning on hard floors.
The robot vacuum also doesn't have a self-emptying feature, so you must do that manually. This might be inconvenient because the bin is slightly small. Hence, depending on how frequently you vacuum your home and the cleaning space, you might have to empty it after every cleaning cycle.
Voice Assistant
One of the best benefits of Deebot X1 is its in-built voice assistant, Yiko. The integrated voice assistant can respond to up to 36 voice commands, such as "Okay Yiko" to wake up the voice assistant. In addition, there are others, such as "Start cleaning" or "Begin cleaning," which you can find on the app.
The AI-powered voice control understands several languages, including English, French, Korean, German, etc. Therefore, the Yiko assistant is an excellent addition for controlling your robot without going through the app.
Narwal T10, on the other hand, has no voice assistance integration. It is also not compatible with Alexa or Google assistant. Hence, you can only use the app to control the robot. However, even though the Narwal app is simple to use, still it needs work and updates to be as sleek as its competitors.
You May Also Want To Consider
A few months ago, the Roborock company announced its release of the S7 MaxV Ultra, a great improvement from their previous models. Synonymous to the previous version, it also cleans and mops simultaneously. It has been upgraded to 5100 PA in the suction power compared to the 2500 PA of S7.
Roborock S7 MaxV Ultra is one of the strongest competitors to Ecovacs Deebot X1 Omni. It is equipped with strong suction power, an AI-powered obstacle avoidance, and self-emptying and cleaning abilities, making it one of the best floor cleaning robots on the market. One of the best features of this robot vacuum and mop is that you can purchase it with or without the docking station.
Hence, if you have less to spare, you can purchase the S7 MaxV Ultra as a standalone with a regular charging base. In addition, the S7 ultra has a long battery life. It also recognizes carpets, and thus, you don't have to worry about them getting wet during mopping. Priced at $1,399.99, Roborock S7 MaxV Ultra is cheaper than Ecovacs Deebot X1 Omni at $1,549.
FAQs
Can Narwal T10 avoid carpets while mopping?
The T10 can avoid carpets while mopping if you set it up as a no-go zone with magnetic strips or on the app. However, it is important to note that robots do not recognize carpets from other surfaces, so T10 won't avoid carpets unless you barricade them from going into carpeted areas.
Does Roborock S7 MaxV Ultra vacuum and mop at the same time?
Yes, S7 MaxV Ultra can vacuum and mop simultaneously once it detects that it's not on a carpet or rug but on a hard floor.
Why my map isn't saving on Narwal T10?
Saving your floor layout is available on Narwal T10. However, the robot vacuum cleaner can only save one map at the moment. So, if your map does not save, that's likely because you already had one saved.
Can Deebot X1 go over obstacles?
Ecovacs Deebot X1 can go over obstacles of up to 2cm when not saddled with the weight of the mopping pads. However, if the obstacle's height is higher, it would not attempt to go over it.
How many maps can Ecovacs Deebot X1 Omni save?
The Deebot X1 Omni can save up to 3 maps.
Final Thoughts
Choosing the right vacuum robot cleaner can be overwhelming because we want a robot as good at mopping as vacuuming. Not to worry, the two products and an alternative discussed in this post are excellent choices that you could purchase.
Emma Marie is a valued writer at the Little Robot Shop. She studied robotics and deeply understands technology, which shows in her writing.  She consistently produces high-quality content, making her a perfect fit for the Little Robot Shop team.
While not writing, Emma works in a popular electronics retail chain. Emma also enjoys running and has two dogs with whom she loves spending time.