These days, children are spending more and more time on tablets, computers, phones, and other devices. Coding is a valuable skill that will help them succeed in the future, but it can be hard to get kids interested in learning how to code when they're not used to being tactile with their toys.
The Osmo Coding Starter Kit is an easy way for parents to turn any tablet into a coding tool that teaches children the basics of computer programming while keeping their hands busy doing something fun at the same time!
For more enlightenment, keep reading our Osmo Coding Starter Kit review to see if this is the perfect coding toy for your little ones.
*The product links in this post are affiliate links, which means that if you purchase after following one, I make a small commission from the sale at no additional cost to you. Please see our disclosure page for more information.
You may also enjoy:
At a glance
Control
Uses hands-on physical blocks
Last update on 2023-12-06 / Affiliate links / Images from Amazon Product Advertising API
1-Minute Review
Aimed at kids between the ages of 5 and 10, The OSMO Starter Coding Kit is an excellent way to incorporate tactile and attention-grabbing methods with educational concepts to ensure that your child's "detective agency" or even their valuable screen time is translated to real-life skills. 
With the help of the camera-based augmented-reality setup of your Amazon Fire Tablet or iOS device, the app can read the arranged tiles on the surface and convert them into actual movements in the game. The entire structure is durable enough to withstand a kid's power to chew through toys in hours but replacing the parts when lost is not that seamless.

Affordable for its multiple functionalities
From being a detective agency to becoming a sketch artist, the advanced apps are nearly limitless
Durable and sturdy construction
Easy to set up and play OSMO apps
Sale
Osmo - Coding Starter Kit for iPad
Osmo - Coding Starter Kit for iPad - 3 Educational Learning Games - Ages 5-10+ - Learn to Code, 300+ musical sounds, Coding Basics & Coding Puzzles - STEM Toy (Osmo iPad Base Included)
Last update on 2023-12-06 / Affiliate links / Images from Amazon Product Advertising API
Let's take a closer look
How it Works
Learning to code is undoubtedly an arduous task, even for those who could block any external distractions. However, with younger students, creating a learning setup that would be efficient enough to make children excited is another challenge for many.
This is where the OSMO Coding Starter Kit comes in. The OSMO Coding Starter Kit is an innovative way to introduce coding to children by making interactive games that translate into a hands-on coding adventure. Likewise, the OSMO Coding Starter Kit contains the necessities to develop your child's problem-solving skills, critical thinking, and situational analysis. The following are present within the kit:
Stand for your tablet
31 tangible blocks 
3 Game Applications
Coding Awbie
Coding Duo
Coding Jam
A mirror is likewise attached to the front camera to read the arranged coding skills block underneath. By placing the coding blocks, children are introduced to coding fundamentals and basic coding concepts so that the progression is kept entertaining yet fruitful.
On the one hand, the coding starter kit likewise comes with three unique modes: coding awbie, coding duo, and coding jam. The OSMO Coding Awbie is a coding game wherein the kid can move their character using the coding blocks. On the one hand, the OSMO Coding Jam allows children to create their own music using their selection of beats and musical commands. Lastly, the OSMO Coding Duo is an avenue by which the coding games are made more inclusive through multiplayer functions. 
Overall, it is undeniable that the challenges presented through this interactive, yet educational platform, could easily be translated into real-life skills for areas like math, science, patterns, and even sequences. 
Performance (Coding Jam, Coding Duo, Coding Awbie)
In view of the lack of STEM coding and engineering programs for children, the consistency of the OSMO Coding Kit is undoubtedly eye-catching. Not only is it able to provide various challenges for younger children, but it is also able to introduce, albeit implicitly, some advanced skills necessary later in life. 
The entire hands-on concept is a real selling point as playing with the number tiles, learning how the commands interact by arranging the physical pieces, and looping specific commands to introduce complexities helps keep a kid's interest and boost their retention. Also, the pieces are tactile and designed for stackable storage, giving an additional satisfaction in hearing those parts click, apart from being the easiest way to clean up any clutter.
It also helps that the number of functions available ensures that your kids will learn coding without chewing through the entire package in less than a week. Occupied with all the commands that could make their characters jump and move on top of several other options in other games and game pieces – with no internet connection or WiFi necessary to boot – this starter kit is just perfect for the hands-on learning games that certainly open a few more hours of free time.
Limitations of the OSMO Games
The OSMO Apps are undeniably innovative, and the entire OSMO gameplay is certainly a cool concept. However, like any other technological advancement, the OSMO coding kit has its share of limitations and problems.
To begin with, the OSMO App is only compatible with iPads and Amazon Fire Tablets. Sure, there are colorful blocks included, but what good would they be if the age-appropriate pace for early learners is put to a halt due to compatibility issues? Oh, and the OSMO Base is likewise specific to the kit that you have selected – making the OSMO Base for iPad only if you chose the kit for iPad, or Amazon Fire Tablet-specific if you chose the other. Top that all off with the minimum iOS version needed being iOS 10, and this would almost always require an updated device for it even to start to teach coding.
It might also be a concern that the OSMO Coding Games' corresponding coding command tiles are a legitimate concern for choking in the sense of it being present in the physical world. Granted, it might be big enough for kids to swallow unknowingly, but it remains a concern for many, nonetheless.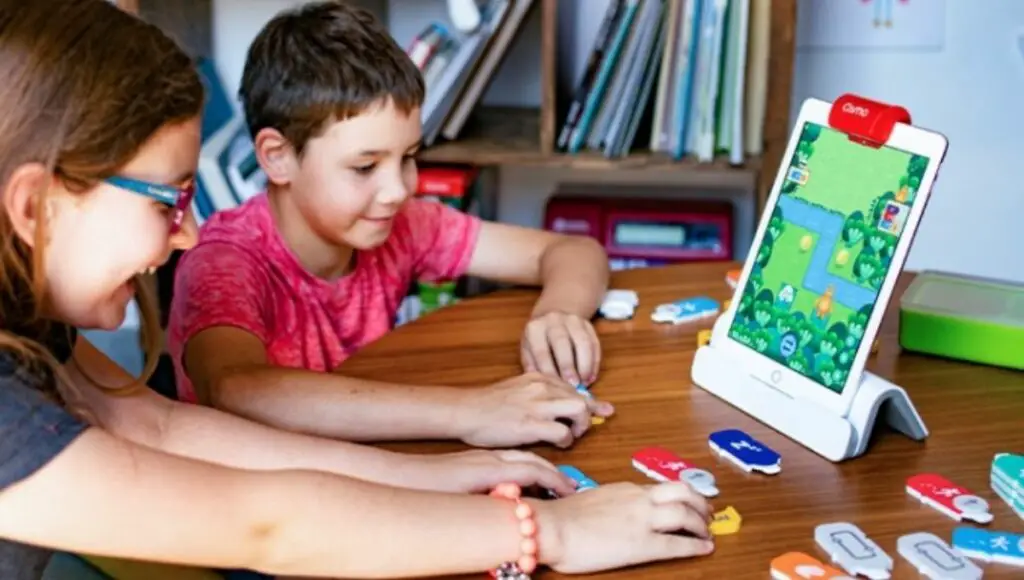 Ease of set up and use
The required setup process for the coding starter kit is unimpressionable due to its overall simplicity. To play the OSMO games, namely, coding jam, coding duo, and coding awbie, the device you have at hand should be initially connected to the internet. The user should download the OSMO World App, a hub wherein one can access all the OSMO games at once during gameplay. Following that, you could then download the individual OSMO games to begin developing your child's coding skills.
The Coding Starter Kit likewise comes with a base that you could use to position your device accordingly. When attached, place the mirror-like attachment for your device to read the arranged commands on your playing surface. Simply open, say, coding jam or coding awbie, and the device will read the tiles seamlessly and translate the way your kid will connect colorful blocks.
Reliability
Consider how the pieces, such as the number tiles, the puzzles, and the OSMO Base, are durable enough to withstand some hardcore STEM sequencing and math solving skills workshop; there is no necessary concern for its long-term performance. As long as the interactive pieces and adventure apps are used accordingly, no foreseeable risk is apparent. However, it is still essential to ensure that these hands-on pieces are kept complete as replacements for these parts would be tricky. The kit will still work, but the functions will be limited with certain missing functions for their adventure.
Ongoing Maintenance
The pieces are durable enough even for young students who tend to chew through their toys in minutes. As such, no replacements are necessary for any of the parts that are included.
However, to ensure that your experience and the child's progression will not be hampered, always ensure that your device's operating system is always up to date if necessary. Ensure that the camera is unobstructed and the mirror is clean enough for your OSMO products to read the arranged tiles. 
Extra Purchases and ongoing costs
The Coding Kit or OSMO Kit is sold in sets differing based on the contents that they do offer. As such, despite the entire rationale behind this game being a great idea (even according to any OSMO Review that you would encounter), replacements would technically be purchasing another game to add a few more educational tiles or sequencing functions.
There are no necessary purchases to keep these hands-on learning games running. However, losing a few pieces might require you to buy a new set entirely if you are still set on developing an essential skill and teach coding to your son or daughter playing with the OSMO Starter Games. 
A couple of alternatives to consider
If you would like to consider a cheaper alternative that could provide your child with the same squiggle magic and learning they need for their own pace, then the OSMO Little Genius Starter Kit might be a great way to introduce coding to your child as well.
Suitable for ages 3 to 5, the OSMO Little Genius Starter Kit is complete with all the OSMO Genius Kits basics, with tactile sticks and rings that they could use to form words and learn math or just play OSMO games that are available.
More so, if the budget is not much of an issue, then the OSMO Genius Kit + Family Game Night set is the way to make your child learn to code and keep them entertained for over a year. Complete with games focused on learning various skills such as Tangram, Lettertopia, Newton, and Masterpiece, the entire genius kit highlights collaborative learning, problem-solving, learning to create music, math, and teamwork, all aimed at making your child's baseline knowledge as advanced as it could be.
The OSMO Genius Kit certainly slightly expensive. Still, this OSMO review would just like to present you with the best problem-solving/game-based genius kit for your educational activities.
FAQs
What makes these OSMO game kits unique?
What makes the game kits unique is their integration of physical and game-based learning to maximize their retention and interest while implicitly infusing coding aspects at hand.
How long should children play OSMO games in a day?
There is no required game-time for children, but considering that they are exposed to a screen when they play OSMO apps, moderation is highly recommended.
Will the game be too easy for older children?
It certainly depends on how your child will respond to the apps available. From problem-solving games to more complex and flexible apps like tangram, the response would depend on your child's bearing and interests.
Is it required to create a profile before accessing a game?
Yes, as this will be used to save their progress in a specific game.
If we have bought the Genius Starter Kit, is the Coding Starter Kit also necessary?
Not necessarily, but if you want to access and play OSMO apps other than what you have had initially, the other kits will provide you with the necessary tiles.
Can older devices be used with the OSMO's educational apps?
To play OMSO apps, your device would have to be compatible with the operating system requirements of the app. Check out https://www.playosmo.com/en/faq/ to learn more about compatible iOS devices.
Final thoughts
Overall, the entire starter kit is not a showstopper because there are other alternatives to the concept that it is trying to put forward. However, what makes this kit unique and interesting is its ability to maximize the basic learnings that it can impart – just like what is expected from a starter kit to boot.
Emma Marie is a valued writer at the Little Robot Shop. She studied robotics and deeply understands technology, which shows in her writing.  She consistently produces high-quality content, making her a perfect fit for the Little Robot Shop team.
While not writing, Emma works in a popular electronics retail chain. Emma also enjoys running and has two dogs with whom she loves spending time.