Algae can be frustrating to remove and it takes time and money to keep your pool clean. If you are tired of having to scrub down the pool walls or vacuum up gunk from your floor every day, then investing in a good robotic cleaner is worth consideration. 
There are many types of cleaners available for purchase but not all will work well against algae. In this post, we'll look at 6 options that are among the best robotic pool cleaner for algae and suited for keeping your pool free from unwanted guests!
*The product links in this post are affiliate links, which means that if you purchase after following one, I make a small commission from the sale at no additional cost to you. Please see our disclosure page for more information.
You may also like:
Top Picks
Last update on 2023-09-29 / Affiliate links / Images from Amazon Product Advertising API
Features to Look for in a Robotic Pool Cleaner
There are numerous considerations like what type of filters the pool vacuum with ultra-fine is ideal for algae. Wall climbing abilities allow for effective cleaning of all surfaces.
The size of your pool determines the robotic pool cleaner to pick. Whether you have in-ground or above ground pools also determines your choice.
You also have to consider the ease of use. Pick an option that doesn't tangle and offers convenient cleaning cycles.
Product Reviews: What Is the Best Robotic Pool Vacuum Cleaner on the Market?
Here are the top robotic pool vacuum cleaners for algae. To determine which of these models is the perfect pool cleaner for you, find out their benefits and shortcomings.
1. Dolphin Nautilus CC Plus Robotic Pool Cleaner
Best Value
With pool scanning abilities, energy-saving operation, and extensive coverage, among other impressive features, Dolphin Nautilus CC Plus offers a worthwhile option similar to other more expensive robots.
Thanks to its CleverClean technology, this robotic pool cleaner moves around your pool surface while scanning it. It identifies the most suitable route to minimize cleaning time while ensuring efficient cleaning.
With its 50-foot coverage and ability to clean all pool surface types, Dolphin Nautilus CC Plus is a great option for large in-ground pools.
Though it doesn't offer waterline scrubbing, its standard dual scrubbing brushes vacuum your pool in a two-hour cleaning cycle. This makes the robot use less power but still get the job done well.
See more on this model in our look at the best value robotic pool cleaners.
Last update on 2023-09-29 / Affiliate links / Images from Amazon Product Advertising API
2. DOLPHIN Nautilus CC Supreme
Best of the Best
Although not a budget robot, Dolphin Nautilus CC Supreme, packed with its numerous features, cements its supremacy over other options.
If you want a pool cleaner that doesn't take the majority of its time cleaning your pool, leaving you with minimal time to enjoy it, this is it.
The unit comes with three cleaning cycles of 1.5, 2.5, and 3.5 hours. Therefore, picking a suitable choice depending on your pool's fifth status is very convenient.
You get three scrubbing brushes which are more than what most robotic pool cleaners offer. With two dual scrubbing brushes and a high-speed center brush, Nautilus CC supreme offers a deep clean.
You can schedule cleaning times to minimize setup. Additionally, it has WiFi compatibility and allows for remote steering to ensure every pool surface is clean.
See more on this model in our full Nautilus CC Review.
Last update on 2023-09-29 / Affiliate links / Images from Amazon Product Advertising API
3. Dolphin Premier Robotic Pool Cleaner
Most Popular
If you are looking for a robot that cleans like a champ, Dolphin Premier is another superb option to consider despite being quite expensive.
One thing you won't always find in all robots is the full cartridge indicator. Thanks to this, you get to know precisely at what time you should empty its pool filtration system.
It features CleverClean navigation technology and offers tile-line cleaning. With these two features, the robot conveniently moves around, cleaning all pool surfaces.
What's more, the pool cleaner works for three hours to ensure an intense operation that leaves your pool clean but still is energy-saving.
See more on this model in as we compare the Dolphin Premier with the Sigma
Last update on 2023-09-29 / Affiliate links / Images from Amazon Product Advertising API
4. PAXCESS Cordless Robotic Pool Cleaner
Best cheap option
If you don't like dealing with a power cord or transformer, the PAXCESS cordless robotic pool cleaner is an ideal option to consider. Because of this, pool owners have less to worry about tangling issues, and the unit has excellent mobility.
If you have little to spare, the feature-packed machine provides a convenient alternative to other pricier options on this list.
Armed with the 5000mAh battery, the robot can serve you for one to one and a half hours. While it has respectable performance, it may not be convenient if you have excessive debris in your pool as it takes up four to six hours to charge.
Nevertheless, it's light at 12.1 pounds and comes with a floating handle which eases lifting it out of your swimming pool. Also, maintenance is straightforward, and it comes with a two-year warranty.
See more on this model in our full Paxcess cordless pool cleaner review.
Last update on 2023-09-29 / Affiliate links / Images from Amazon Product Advertising API
5. Dolphin Triton PS Plus
Wifi Connected Choice
The Dolphin Triton PS Plus offers not just a suitable cleaning option but removing dirt from its filter cartridge is easy as well.
Thanks to its two cleaning cycles, you can select an option depending on how much dirt is in your pool water. Its cleaning process can take one or two hours.
With its two scrubbing brushes and high suction power, the robotic pool cleaner takes out a lot of dirt off your pool floor, walls, and more.
It has a lengthy cord that allows it to efficiently clean pools with a size of up to 50 feet.
Dolphin Triton PS Plus allows you to set up your pool cleaning schedule even when not around the pool, thanks to its WiFi compatibility.
The remote control feature allows you to direct the unit, making it a convenient robotic pool cleaner for spot cleaning.
See more on this model in our full Triton PS review
Last update on 2023-09-29 / Affiliate links / Images from Amazon Product Advertising API
6. DOLPHIN E10
Best Above Ground Pool Vacuum for Algae
If you are looking for a pool cleaner suitable for a relatively small pool, the Dolphin E10 is the best above ground pool vacuum for algae and may be the perfect choice for you. It handles 30-foot pools with ease.
While it may be the tiniest pool cleaner in the Dolphin E10 series, it still offers impressive results. Not to mention, its small size and weight capacity of only 13.4 pounds allow you to carry it with ease.
The pool cleaner has a quick water release feature that allows you to get it out of the pool without straining. With its filter basket positioned at the top, its cleaning process is straightforward and quick.
The one thing that may be challenging is it can only clean floors, and you will have to scrub your pool walls manually. All the same, its 1.5-hour cleaning cycle and active brush make it one of the best pool vacuums for dead algae in above-ground pool types.
See more on this model in our full Dolphin E10 review.
Last update on 2023-09-29 / Affiliate links / Images from Amazon Product Advertising API
7. PAXCESS Wall-Climbing Cordless Robotic Pool Cleaner
Best Cordless Option
Finishing things off is the PAXCESS wall-climbing cleaner, an option those who love the previous PAXCESS model on the list but want an in-ground pool option with more coverage may find suitable.
While it may have a similar battery life to the former PAXCESS, it can handle a pool size of up to 1614 square feet. It has a yellow light low battery indicator to ensure you can take it for charging without delay.
Given it does not have a swivel cord, the robotic pool vacuum cleaner makes pool maintenance a lot less challenging as you don't have to keep watch for tangling.
The vacuum pool cleaner has top-positioned cartridge filter baskets. In effect, it allows you to empty dirt from its pool filters with ease by pressing the opening button. And cleaning them using a garden hose is simple as well.
With its three-motor axis, smart gyroscope, and accelerometer, this is the best cordless pool vacuum for algae. It does a good job cleaning your pool floor, walls, waterline, and more.
See more on this model in our full PAXCESS wall-climbing cordless robotic pool cleaner review.
Last update on 2023-09-29 / Affiliate links / Images from Amazon Product Advertising API
Buyer's Guide & FAQs
Below are all the tips you should familiarize yourself with as you pick a robotic pool cleaner. Read on how algae forms in your pool, the benefits of removing algae from the pool,  how to do it, which pool cleaner can do the work excellently, and more.
Why Does Your Swimming Pool Have Algae?
Swimmers with contaminated swimsuits, dirty pool equipment, wind, rain, among other agents, lead to the transfer of algae spores into the swimming pool.
When ideal conditions present themselves, an algae bloom can happen within a short while. Optimal conditions for an algae problem in the swimming pool include warm temperature, chemical imbalance in the water, presence of phosphates, nitrates, carbon dioxide, and sunlight.
However, the primary reason for algae formation in your swimming pool is insufficient cleaning, inefficient filtration, and inadequate water circulation.
Algae are living aquatic microorganisms that multiply rapidly on warm, sunlit days. Using chlorophyll, algae conduct photosynthesis to generate food.
While it can thrive in both sunny and shade conditions, most pool algae strains require some light for survival. They also rely on food, with this being in plenty in a swimming pool environment.
Nearly all contaminants, including pollen and dust particles brought in by the wind, are a food source for algae. By leaving your swimming pool with many dissolved solids and junk for extended periods, you are giving an ideal condition for explosive algae invasion.
Algae is ever-present in swimming pools as even the remains of dead algae bloom offer sustenance to this organism. As soon as there are low chlorine levels, the pool's pH increases, or the efficiency of your filtration system lowers, the number of algae in your swimming pool can grow exponentially.
What are the Dangers of Algae Build-Up?
Would you want to go for a swim in an algae-laden pool? You will realize that few people desire to swim in a swimming pool full of algae.
Algae on its own are typically not harmful to swimmers. However, swimming pools with algae tend to harbor bacteria like E-coli that may cause violent diarrhea, vomiting, stomach pain, and more.
Thirdly, algae are quite slippery, and their presence on your swimming pool stairs can result in a fall. And you can imagine what knocking yourself out on the pool stairs means if no one is around.
You also need a lot of time and money to rid your pool of algae completely. Once a massive algae bloom occurs in your pool, a recurrence is much easier.
Algae tend to color and cloud pool water, which can reduce visibly at the pool's bottom and make rescue attempts more difficult.
Besides clogging sanitation pathways in the pool water, algae also block your pool's filtration system. This decreases the filter's effectiveness and requires more backwashing or replacement.
Algae may grow in difficult-to-spot areas like inside a filter's crevices, a rough section of the tile/ pool plaster, behind your pool light, or under ladder treads. Some types of algae send roots into plaster and progressively degrade and taint pool surfaces. Algae may even thrive underneath vinyl pool liners.
Algae increase the amount of chlorine you need in your pool as it consumes it when it should be riding your pool of contaminants. Algae bloom results in a significant rise in your pool's pH since there is excessive carbon dioxide release.
It is hence necessary to use algae preventative chemicals, pool cleaners, among other ways, to constantly put the algae population in your swimming pool under control.
Do Robotic Pool Cleaners Pick Up Algae?
Robotic pool cleaners can help to tackle the hard-to-reach areas of your swimming pool, including pesky algae. With technology that targets and eliminates bacteria and other contaminants from water surfaces, these cleaning devices offer a great way to keep your pool sparkling clean.
Robotic pool cleaners are equipped with powerful suction and scrubbing brushes that remove dirt, debris, and other contaminants from the walls and floors of your pool.
Additionally, robotic cleaners come equipped with sensors and navigation systems to help them get around obstacles in the water and reach even the most difficult-to-reach spots while they clean. Not only do robotic pool cleaners help to keep your pool tidy, but they also help save you time and energy.
You can simply set these machines up on auto-pilot and let them clean for hours on end without having to manually scrub the walls or floors of your swimming pool. Plus, robotic cleaners are usually equipped with powerful filtration systems that capture dirt in no time.
Why a Robotic Pool Cleaner is Perfect for Keeping Algae in Your Swimming Pool Under Control
While manually vacuuming your pool ensures you get the most visible sections with algae bloom, you may not always scrub off all the surfaces.
However, the best robotic pool cleaners move around the entire pool while picking up minute filth particles.
Another advantage of using the best robotic pool cleaners is they need minimal supervision and effort to clean pools. Robotic pool cleaners scrub off algae with little effort and ensure active water flow.
Best robotic pool cleaners now come with upgraded designs such as improved suction power, hyper-grip tracks, and active brushes. Because of this, they can attack young algae growths with more force and offer a better cleaning solution.
Combined with an ultrafine filter, the above features can help pool owners immensely lower the pool's algae population.
Let your robotic pool cleaner move around your pool at least once a day. This way, you can ensure you minimize dirt particles in the pool water, which reduces the food supply for algae.
Key Points for Consideration Before Buying?
After choosing a suitable price range, follow this guide to scrutinize the best pool cleaners for algae that you pick:
Scope of Coverage of the Robotic Pool Cleaner
Whether you are dealing with algae or any other type of filth, you want to ensure that your pool vacuum cleaner can do the work excellently.
The first thing to look at is your pool size. While some best robotic pool cleaners can only handle up to 30 feet pools like the Dolphin E10, others can clean up to a 50-foot pool or more.
Another factor within the coverage is the ability of the pool vacuum cleaner to climb walls. It is best to decide on a product that can handle floors and walls with precision. Some robots can even clean the waterline and ensure the entire pool's surface gets cleaned.
Ease of Use of the Pool Robotic Cleaners
Several factors determine the ease of use of your pool vacuum cleaner. One of them is the straightforwardness of setting up your cleaning schedule and halting the robot's functioning, among other controls.
The main issue a pool owner may face is the simplicity of the setting of the cleaning process. Is it a must for you to be around to get your pool cleaner operational?
If you don't mind turning your robotic pool cleaner every time, then the above case is alright. But if you want the best pool vacuum for algae that takes automation to a whole different level, go for a product that offers intuitive control features.
You don't want to find yourself stuck with a pool vacuum compatible with a challenging control app with a steep learning curve.
Another factor to look into is the ease of moving your pool cleaner around. What is its weight? Does it come with an ergonomic carrying handle?
A top filter basket may be suitable if you don't want to flip over the pool vacuum cleaner to remove dirt. You also want to consider the capacity of the dirt basket. The larger the debris container, the fewer times you'll have to get out your pool cleaner to empty the contents.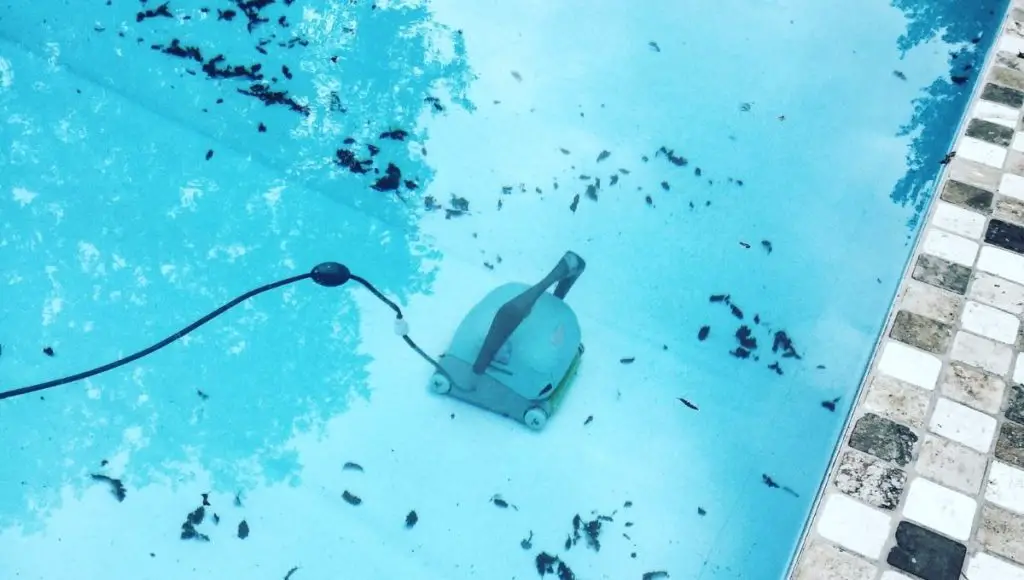 Tangling Issues
Tangling prevents your robotic pool cleaner from finishing its job properly. Go for a robotic pool cleaner with a 360-degrees swivel cord to prevent it from tangling. However, some robots get advertised to have anti-tangle cables yet fail to live to the expectation.
Another alternative is to opt for a battery-powered robotic pool cleaner. Here, you want to ensure that the cleaner has a sufficient battery life to handle your pool. You don't want to get a pool cleaner that cleans halfway and needs charging for six hours before taking some more hours to finish the job.
Reusability/Longevity
When searching for a robotic pool cleaner, you won't fail to miss displeased customers with units that only lasted a few uses. And considering how expensive some robots are, it is imperative to get a quality product.
Moreover, you can take some measures to ensure that your cleaner serves you for an extended time. For instance, it is unwise to leave your robotic pool cleaner in the water throughout as chemical imbalance tends to hasten wear and tear. Remember to clean its parts and store them properly to ensure longevity.
FAQs
Final Thoughts
The Dolphin Nautilus CC Supreme pool cleaner is the top pick among the best robot pool cleaners for algae.
Given it has three cleaning cycles, the Nautilus CC pool vacuum cleaner allows pool owners to pick what works for them depending on the situation.
Moreover, it has three cleaning brushes, which is not popular as most robots only come with up to two brushes. The brushes work with the pool cleaner's intense suction ability to deliver a thorough cleaning of the pool.
Still, any of these pool cleaners offer a deep clean to wipe off algae from pools. And with our buying guide to help, you should be able to choose a solution that best suits your pool maintenance requirements.
Last update on 2023-09-29 / Affiliate links / Images from Amazon Product Advertising API