A pool is all fun and cool until you have to clean it. Cleaning a pool is not nearly as exciting as relaxing in it, yet it's something that has to be done.
From leaves that float on pool surfaces to algae around the pool walls, there are many frustrations that come with owning a swimming pool, one of which is constant cleaning.
This is why a robotic pool cleaner is a fantastic gadget for any home with a pool, and Dolphin is one of the best of the best when it comes to premium pool cleaners.
In this post, I want to compare 2 of the most popular Dolphin pool robots to help you decide which one is best for your pool.
An introduction to the Dolphin pool cleaners
Two exotic Dolphin pool cleaners, the Dolphin Sigma and Dolphin Premier are currently on the list of top pool robots for large in-ground pools.
And this article in particular is a Dolphin Sigma vs Dolphin Premier showdown, a review of two excellent robotic pool cleaners.
You may also enjoy: Dolphin Proteus DX5i Review
*The product links in this post are affiliate links, which means that if you purchase after following one, I make a small commission from the sale at no additional cost to you. Please see our disclosure page for more information.
Dolphin Premier vs Sigma: which robotic pool cleaner should you buy?
Dolphin Sigma
Dolphin Premier
Pool Type
Gunite/Plaster, Vinyl, Fiberglass
Gunite/Plaster, Vinyl, Fiberglass
Pool Cleaning
Scrubs, Floor, Walls & Tile/Waterline
Scrubs, Floor, Walls & Tile/Waterline
Filtration System
Multi-Media, Oversized Leaf Bag, Fine, Ultra-Fine Cartridge
Dolphin Sigma
Pool Type
Gunite/Plaster, Vinyl, Fiberglass
Pool Cleaning
Scrubs, Floor, Walls & Tile/Waterline
Last update on 2023-12-06 / Affiliate links / Images from Amazon Product Advertising API
Between the Dolphin Sigma and Dolphin Premier, there is no doubt that the Sigma is the more advanced robot. With more premium features, the Sigma is obviously an upgraded version of the Premier. However, I'll choose the Premier over the Sigma for my in-ground pool and this has nothing to do with price. 
Despite being the latest model with upgraded features, when it comes to the actual job of pool cleaning and maintenance, the Dolphin Sigma doesn't exactly out-perform the Dolphin Premier.
In fact, it's the other way round, the Premier does a better pool cleaning job because of a number of reasons.
First, the Sigma robotic pool cleaners are more prone to getting stuck on pool drains than the Premier and you may have to rescue it each time by gently tugging at the power cord. 
And in spite of the advanced navigation system (SmartNAV 3.0), the Sigma misses more dirt spots than the Dolphin Premier robotic pool cleaner. Of course, you can direct its movement from the smartphone app but this requires some patience.
Finally, the Premier has multiple filter options (both filter cartridges and debris bags) for more customized cleaning while the Dolphin Sigma robotic pool cleaner comes with only one filtration system.
So, while both devices are good, the Dolphin Premier is generally the better automatic pool cleaner of the two robots.
Product Overviews
Dolphin Sigma robotic pool cleaner review
To enjoy more relaxing times at the pool and less time — actually no time — scrubbing it, you need a robotic pool cleaner to handle the messy and unpleasant chore of scrubbing and cleaning your pool.
A simple gadget like the Dolphin Sigma will make any large and messy in-ground pool shiny and attractive in less than 3 hours.
It's sleek and stylishly designed with premium features, yet simple enough to understand and control, and you can give it instructions from your smartphone.
The intuitive and user-friendly app lets you 'spot clean' and control the robot's movement in the swimming pool. 
Dolphin Sigma Robotic Pool Cleaner
Enjoy hassle-free pool cleaning with the easy-to-use Dolphin Sigma robotic pool cleaner. Equipped with an anti-tangling swivel cable, Wi-Fi connection and smart navigation, it can move freely around large residential pools up to 50 feet with ease. Backed by a 3 year quality assurance.
Last update on 2023-12-06 / Affiliate links / Images from Amazon Product Advertising API
Dolphin Premier robotic pool cleaner review
Dolphin Premier is a pool robot that promises to automate pool cleaning and it does deliver on that.
If you have a large in-ground pool and need a premium robotic pool cleaner to scrub and suck away all forms of algae and dirt as well as clear out debris from the pool surface, you've got one here.
With exciting features that are both efficient and convenient, this pool robot works to give you the exotic lifestyle you've always wanted — no messy chores and more time on your hands for what really matters to you.
The Dolphin Premier robotic pool cleaner requires no set-up, no fittings, or installations, it's simply plug-in and plays.  
Sale
Dolphin Premier Robotic Pool Cleaner
Drop and go. Easy to use, single button plug and play in-ground robotic pool cleaner ideal for pools up to 50 feet; backed by a 3 year quality assurance.
Last update on 2023-12-06 / Affiliate links / Images from Amazon Product Advertising API
How do these Dolphin robotic pool cleaners work?
The Dolphin Sigma and Dolphin Premier are sister products from Maytronics. These are two premium robotic pool cleaners specially designed for large in-ground pools of over 50 ft.
Both of these Dolphin robots come equipped with HyperGrip rubber tracks, with which they steadily move in the pool. 
Looking for a pool cleaner with powerful suction and powerful dual scrubbing brushes?
Both pool cleaner robots also have dual high-speed dual scrubbing brushes for attacking and losing all forms of dirt.
A robotic cleaner with powerful suction, like these two Dolphin robots, forces the loosened dirt particles, algae, debris, and pool contaminants into a standard filter cartridge where they are trapped. 
With the quality filters, high suction power, and powerful dual scrubbing brushes, both of these Dolphin robotic cleaners can typically do a great job of cleaning swimming pools.
The benefits of SmartNAV technology
To ensure efficient and thorough cleaning, both the Dolphin Premier and sigma robots feature the SmartNav technology. With this, they are able to scan the pool and map out the quickest cleaning route. 
The Sigma has an upgraded version of this software and also has gyroscope sensors for advanced navigation.
The Dolphin Sigma robotic cleaner also has Bluetooth which connects to the MyDolphin app, with this you can control your Sigma remotely from your smartphone, this feature is absent in the Dolphin Premier. 
Both robots come with 60 ft anti-tangle swivel power cord cable and LED lights for indicating when the filter cartridges/debris bag is full. These gadgets complete a cleaning cycle in just under 3 hours and can easily maintain any large in-ground pool. 
Key features 
24-volts DC motors
Premier comes with two 24-volt DC motors while the Sigma has three 24-volt DC motors. Despite this difference, these two robots are energy efficient and run at the same 180 wattage which is an average of  $0.05/hr.
Multi-media filtration
Sigma has a large top-loader cartridge filter for trapping fine and ultra-fine dirt particles while the Premier has bottom-loader cartridge filters for ultra-fine/fine dirt particles and oversized debris bags for leaves, twigs, sticks, and other large floating pool contaminants. 
Anti-tangle swivel power cable
Both robots have the patented 60-foot anti-tangle swivel cord made from thermoplastic rubber to prevent frictional drag. This cable also rotates through 360-degrees and promotes glitch-free movement. 
Both Sigma and Premier feature the Smart-Nav system for advanced pool navigation. With this software, these robots are able to scan the pool and create a map for quick and efficient cleaning. This prevents uncoordinated movements and saves time and energy.
HyperGrip rubber tracks
Instead of wheels, these Dolphin pool robots both use specially designed HyperGrip continuous rubber tracks. These tracks counter any loss of friction due to water and firmly plant these robots on the floors and walls of pools. This ensures that the robot moves smoothly while getting the job done.
High-speed brushes
With four high-speed spinning brushes, these robots attack and scrub off all dirt and grime. These brushes are strategically positioned (two at the front and two behind) to get to every corner of the pool. 
Thanks to this dual scrubbing brush system, any debris, algae, and dirt in the robot's path will often be cleared without an issue.
Dolphin Sigma vs Premier — the key differences 
These Dolphin pool robots are basically the same with many similar features and benefits. They're both designed to thoroughly clean large in-ground pools and both come with the 60-ft anti-tangle swivel cable and the SmartNav technology.
Both robots also have a similar weekly timer and 4500 GPH suction rates, and these premium robots both cost over $1000, but there are differences.
First, the Dolphin Premier has dual 24V DC motors while Dolphin Sigma has three 24V DC motors which deliver more power for faster cleaning. 
The Dolphin Sigma also comes with Bluetooth connectivity and a smartphone app for remote control while the Premier only has an optional remote control (which isn't available for Sigma) and no smartphone app.
Dolphin Premier also has a caddy which you can purchase as an extra but there isn't one for the Dolphin Sigma.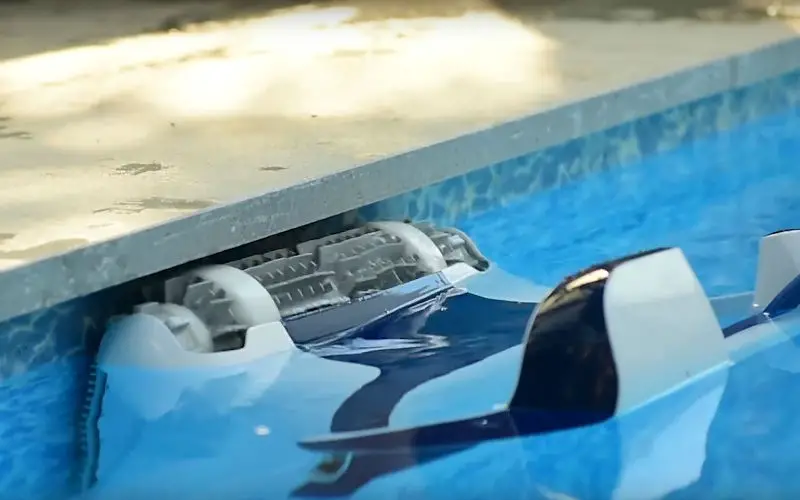 How do they perform? 
When comparing the Dolphin Premier vs the Sigma, both robots are designed to automatically clean large in-ground pools and they do it beautifully.
They are able to clean the pool floor and walls, and up to the waterline. Despite being premium gadgets, these robots are not without flaws. 
First, occasionally you may find each one stuck on your pool's raised drain, when this happens, the robot with try to work its way out but sometimes you may have to give it the cable a little tug to help free the robot.
The Premier has an optional remote control which isn't very useful, while the Sigma has a mobile app for remote control. 
Manually controlling these robots can be very slow and tiring, and you'll have to be patient with it.
Between these two, the Sigma has advanced navigation software and one extra motor, this makes it faster than the Premier, but not exactly better. Sigma gets the job done within a shorter time but Premier does a better cleaning job overall. 
In general, they live up to their expectations and offer complete pool coverage, even if they may need a little helping hand at times (whether it's escaping the drain or going over a spot they missed on their cleaning patterns). 
They can take care of several aspects of pool maintenance for you, so a little help every once in a while isn't usually too much of an issue.
Ease of set-up and use
Despite the advanced features and somewhat complex engineering by Maytronics, these pool robots are actually very simple machines and they require no set-up or installation. Each robot comes as a complete package with everything you'll need to get it to do the work, they both work right out of the box. 
Simply unwind the swivel power cable, connect it to your power supply, drop the robot in your pool and turn it on.
They both have similar controls, the difference being that the Dolphin Sigma has Bluetooth and a smartphone app while Premier doesn't. You can set each robot to clean weekly using the weekly time.
I has a top loader, and if you didn't know, these cartridge filters tend to be much easier to remove and empty, while Premier features a bottom loader. 
Reliability 
The biggest challenge with these robots is that they tend to get stuck on pool drains and the Sigma is more prone to this than the Premier. This little quirk means you can't trust the robot to do a great job when you're not home to watch it. 
They also aren't excellent at cleaning pool steps and you may have to manually scrub those steps yourself, especially the shallow parts. The Sigma will likely miss some dirt spots while cleaning, so you'll have to use the 'spot clean' feature in the app to get the missed spots.
For the Premier, you have to get the remote control to be able to change the robot's direction in the pool. 
These machines are sturdily built and each has a 3-year warranty from Maytronics. However, there have been reports of breakdown shortly after purchase and unfortunately, Maytronics doesn't respond fast enough to queries and complaints.
Price
Dolphin Sigma Price
The Dolphin Sigma can easily be found for a competitive price tag of between $1500 and $1700, depending on the season. During this time, you're likely to find an excellent deal at just under $1600 – which is truly worth it. Though you may be able to find this powerful pool cleaner at a cheaper price from other sellers who don't provide free Prime shipping, dolphin sigma is an investment that will pay off in the long run.
Dolphin Premier Price
The Dolphin Premier is available at a reasonable cost of $1300 – 1500, varying depending on the season. Right now, you have an extraordinary opportunity to purchase it for slightly less than $1400 – making this investment worth every penny. You may be able to find dolphin premier at a cheaper price from other Amazon sellers who don't provide free Prime shipping as well.
Ongoing maintenance
These cleaners are simple gadgets and they require very little maintenance. The major thing you'll have to do as frequently as possible (after a few cleaning cycles) is to always empty the filter cartridges and rinse out the filter screen with running water from a garden hose. 
The Sigma has a large top-loader filtration system while the Premier has bottom-loader cartridges and optional debris bags.
You'll also have to check wear and replace worn parts as soon as possible to make sure the performance of the robot isn't compromised. Both Sigma and Premier are backed by 3-year quality assurance from Maytronics. 
Extra purchases and ongoing costs 
All cleaners come with all the essential parts and will need no extra purchases to get started with them, although you can purchase some extras for convenience.
For instance, the Dolphin Premier has a caddy and remote control and both come at an extra cost, the Dolphin Sigma has neither of these.
These gadgets come both come with a 3-year warranty, you should also expect to purchase replacement parts when need be, especially for wearable parts like brushes and different cartridge filters.  
Final Thoughts comparing the Dolphin Sigma vs Premier
Apparently, Dolphin Sigma has more premium features and is an upgraded version of the Dolphin Premier. However, both pool robots provide approximately the same cleaning power, have smart-NAV technology, offer exceptional cleaning on both pool surfaces and floors, and a lot more. 
The Sigma also costs significantly higher than the Premier, which is to be expected. Despite the advanced engineering from Maytronics, these gadgets do have their quirks.
But once you're able to go around these minor drawbacks, you'll have a swell time with your Dolphin pool cleaner — whichever one you decide to go for. 
Emma Marie is a valued writer at the Little Robot Shop. She studied robotics and deeply understands technology, which shows in her writing.  She consistently produces high-quality content, making her a perfect fit for the Little Robot Shop team.
While not writing, Emma works in a popular electronics retail chain. Emma also enjoys running and has two dogs with whom she loves spending time.