Have you ever wanted to give your child a toy that they can program and have fun with? Meet Sphero RVR! The Sphero RVR All-Terrain Programmable Coding Robot is perfect for kids and adults who love to tinker with technology.
As you will see in the Sphero RVR review, it is an interactive robot car that your children will enjoy driving around while programming to do what they want.
This piece of technology is very safe and user-friendly, so it's something that kids as young as eight years old will not have any trouble operating. In addition, it comes with a free app that helps you learn coding fundamentals but can also understand Javascript and can be expanded with add-ons for almost limitless potential. 
So let's get going!
*The product links in this post are affiliate links, which means that if you purchase after following one, I make a small commission from the sale at no additional cost to you. Please see our disclosure page for more information.
You may also enjoy:
At a glance
Batteries
2 Lithium Polymer batteries
Sphero Edu apps
iOS, Android, Kindle, Mac, Windows & Chrome
Batteries
2 Lithium Polymer batteries
Sphero Edu apps
iOS, Android, Kindle, Mac, Windows & Chrome
Last update on 2023-09-29 / Affiliate links / Images from Amazon Product Advertising API
1-Minute Review
The Sphero RVR performs excellently in ensuring that programming and coding are both approachable and progressive when learning about its core points.
From the inclusion of many sensors, rubber tread, durable construction, and highly customizable pates, the RVR is undoubtedly suitable for beginners and advanced enthusiasts alike. 
With the highly interactive Sphero Edu app that allows baseline coding learning with or knowledge of Javascript coding, the RVR certainly caters to nearly everyone interested. 
Although it would seem like the coding program is not challenging, the RVR makes up for it with its elite hardware that highlights the extreme versatility of the product.
Overall, although the RVR has some flaws on top of its steep price tag, it might just be worth checking out the possibilities that it has to offer.

Highly programmable and hackable
Various spec inclusions
Interactive and easy-to-use RVR Edu App
Included color blocks for navigation
All-terrain and durable construction
Last update on 2023-09-29 / Affiliate links / Images from Amazon Product Advertising API
Full Sphero RVR Review
How it works
The Sphero Robots all-terrain vehicle is a great way to introduce coding and engineering to beginners without overwhelming them with the arduous task of writing lines of codes from the get-go.
The interactive programming interface allows fantastic flexibility in how the Sphero will perform. The motors can be tweaked in any way that you want and make the entire device withstand hours of beginner-level engineering and coding. 
The versatile kit allows it to take on any terrain. It's software and customizable hardware mean the Sphero RVR certainly is designed to maximize learning instead of focusing on flashy features that many only consider fun for a mere few minutes.
 The Sphero RVR develops coding skills using the Sphero Edu app. This interface controls the RVR's capabilities. It integrates desired commands and advanced functions through a simple drag-and-drop motion, much like how most Scratch Block-based learning programs for beginners are designed. 
Upon adding the necessary code and instructions, it will then tweak the Sphero to translate the programmed instructions into their corresponding actions. 
While on the surface, it might seem like the Sphero is a simple remote control car, it is far more than that. Think of it more like a programmable robot on wheels thanks to the inclusion of multiple onboard sensors such as the following:
Color Sensor
Ambient Light Sensor
Infrared Sensor
Accelerometer
Gyroscope
Magnetometer
On top of the included sensors, RVR also includes a 4-pin UART Port that allows the use of 3rd-party add-ons like Raspberry Pi, Arduino, littleBits, and BBC micro: bit. 
Hand-in-hand with its already-durable all-terrain tank treads, the vehicle is like a living robot on steroids, even.
Sometimes, robot car toys and projects can be too complex to figure out how a particular code interacts with onboard sensors. But with this all-terrain vehicle, you will be pleasantly surprised as to just how simple yet progressive the Sphero RVR is compared to other cheaper options and alternatives.
You may also like: Ozobot vs Sphero
Performance of the Sphero RVR Device
If you're a beginner programmer, the Sphero RVR programmable robot device is perfect for you.
With its intuitive programming that even an amateur can pick up on right away, even with zero prior experience in coding, it's easy to see why this toy appeals so much! 
USB C charging cable
For those who are more experienced coders, then there'll be plenty here as well, thanks to its adaptability. Including a 4-pin UART port and a USB port means the Sphero RVR can support 3rd-party add-ons like Raspberry Pi, Arduino, littleBits, and BBC micro: bit, making it customizable with almost limitless features. 
The Sphero RVR comes with a removable roll cage that works nicely with the all-terrain rubber tracks – ensuing hitting top speed without compromising its working parts. This is then helped with the use of durable and sturdy materials in the development of the base and body. As a result, the Sphero RVR remains relatively light yet durable if colliding with obstacles or getting into an uncontrollable spin. 
Battery Key
To charge the battery, you'll need to remove it from the robot and use the USB-C cord that's included. To remove the battery from the RVR, use the battery key to open the battery door. Press the blue battery release button once the door is open. Do this with the battery door facing upwards so the battery does not fall out of the robot.
You can expect the Sphero RVR battery to last around 2 hours when in normal use. If you have additional accessories connected, such as cameras, these could drain it a bit sooner. It takes about 3 hours to get back up to a full charge. 
The Sphero RVR battery is spring-loaded and will shoot out a bit when the latch is pressed, so make sure the battery opening is facing upward so the battery doesn't fall on the ground. To prolong battery life, we recommend removing any additional devices when not in use and even removing the battery to prevent draining.
The Sphero RVR offers three programming choices. Block coding, is a program that uses movement blocks to describe actions. A drawing tool that comes as part of the Sphero Edu app allows you to draw out the path and the color of the LED lights for the RVR. And finally, a manual Javascript coding for advanced users and those who would like to explore this area. 
Limitations of the Sphero Edu App and the Sphero RVR Device
The Sphero RVR is, in a sense, education on motors and wheels – integrating programming and coding core points by building a simple visual sequence for starters or a Javascript code for advanced users. Running that with excellent hardware and a battery on steroids, your experience would surely be worth it from the get-go.
However, much like with any other robot, this Sphero RVR has a few shortcomings of the robot. To start, the longevity of Sphero's coding program, the Edu App, is limited by the way that its code is presented upon arranging a relatively long one. This could be negligible for new users, but advanced individuals would find this rather excruciating.
When it comes to the hardware of the Sphero RVR, the most concerning part is perhaps the inaccuracy of the gyroscope on some points.
The accelerometer, the color sensor, light sensor, and other onboard sensors (excluding, possibly, the magnetometer, which is still under development) are all top-notch.
However, the gyroscope could be a little wonky, especially in highly accurate codes – making it a potential pain for those who would like a little consistency for review purposes.
Those problems aside, it may also encounter issues with the Bluetooth connection with your smartphone. As a result, it would sometimes drop out and fail to communicate and link efficiently. 
Oh, and it also does not come with a built-in speaker, which is a shame considering that the RVR comes with a few musical features in its box. 
Ease of set up and use
The overall set-up of the kit is straightforward as most of its function relies on how you program RVR to move around the place. Upon receiving the Sphero RVR, simply attach the included rechargeable battery to its battery compartment.
After it is connected, the RVR is ready to be controlled at the press of the power button.
Using the Sphero Edu app will give you no headache as its learning pace is certainly easygoing.
When connected through Bluetooth, you could freely run the robot to run at full speed, turn around for a while, test a few tricks, or even light up in several colors.
Of course, this is made more accessible for students with the included color blocks that prompt the LED lights to change colors according to the blocks scanned.
Essentially, aside from letting the user's imagination come to life, the entire program of the RVR is learning made fun.
The Javascript code function is a whole other topic, though, as it would require knowledge of how to link and manage the robot through lines of code. But then again, a more straightforward and fun alternative is always available in the app if you need more data and skills to proceed.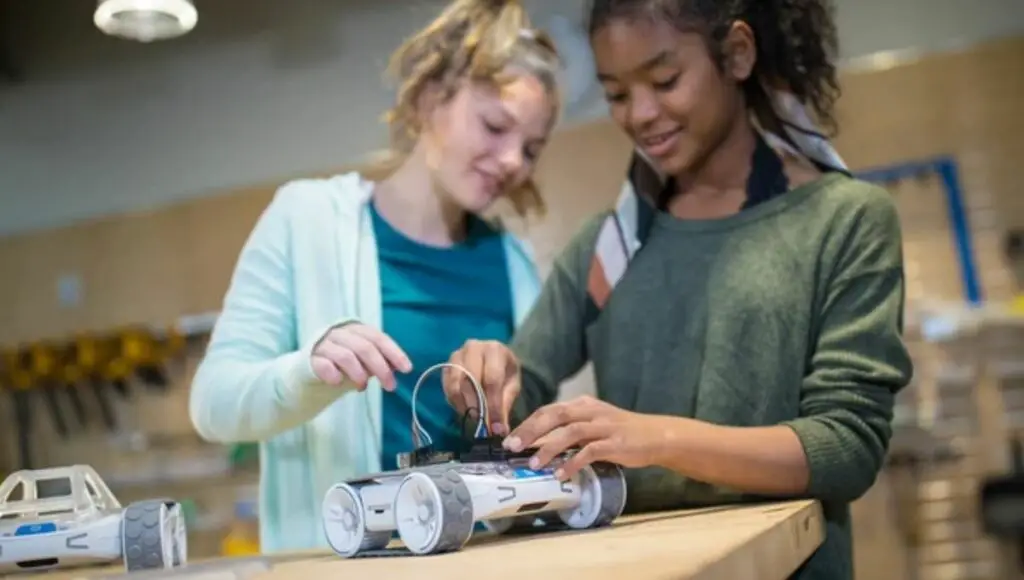 Reliability
The RVR is slightly conflicted on some points in of longevity, considering how its specs are structured with durability. Still, its hardware is made for customization and hacking. 
The function of the RVR, even with add-ons in its developer plate, is consistent, except perhaps for its gyroscope which could sometimes go a little haywire.
However, coding through the app with hundreds of lines could make the interface too stuffy – restricting its long-term and large-scale prospective experience. Likewise, the interactive Scratch-like program could quickly become stale, but that says more about its user and appeal than its functionality.
Overall, connecting with the robot, its battery life, and its proper control – all of these are relatively decent in the technical sense. However, based on the response of the Sphero community, its appeal for long-term use could be further improved to make it more than just an "expendable" kit – a label that is otherwise a red flag for many considering its cost.
Extra Purchases and ongoing costs
Repairs and replacements are relatively non-existent for the Sphero RVR due to its acclaimed durability and sturdy construction.
However, considering how the RVR is almost made for "hacking," buying 3rd-party add-ons like Raspberry Pi, littleBits, and BBC micro bit could be regarded as an extra purchase to maximize the RVR's versatility.
Other than these additional components, the Sphero RVR is pretty much secured with its roll cage, reliable app, and durable robot body – all contained in its box upon sale. 
A couple of other Sphero Robots to consider
If you are exploring the field of educational robots, but the RVR is a bit pricey, a budget-friendly option that you might want to consider is the Sphero Mini. 
This tiny Sphero ball can connect to your phone for instant control, or you can practice your coding through the Sphero Edu App.
On the other hand, if your budget is not as strained, perhaps the Clicbot would be more to your liking. It is a huge kit with endless options for programming and experimentation.
FAQs
Is it difficult to connect other robots or add-ons to the Sphero's frame?
Based on the data from the community, the connection depends on the add-on that you are trying to integrate. Check out the additional instructions through the app or through the manufacturer's website to learn more about its integration function.
Is the Sphero waterproof?
Yes, the entire RVR is sealed.
Can the Sphero flip itself over if it turns upside down?
It depends. On its own, the RVR would struggle to move when flipped as it has no supporting feature to do this. On the one hand, it could be tweaked to perform such maneuvers if you could integrate add-on robots or certain functionalities.
What is the Sphero's battery capacity when fully charged?
RVR robots could last up to 2 hours when fully charged, depending on use and utilization.
What is the Sphero's height clearance?
The RVR has a very low clearance, and it will have difficulties clearing bumps and blocks. Therefore, test the RVR through various blocks first to be sure of the exact capacity.
How much time does it take to charge the battery? Is it depend on the USB charger?
RVR charge time will vary based on the type of USB charger it is plugged into as well as the charge level already in the battery.
Final thoughts
Although the RVR fell short in its long-term perspective, it still shouldn't take anything away from the quality of its specs and the customizability of its limitless features.
Flaws and all, the RVR is still the acclaimed chameleon in the field of robotics and coding – a great way to introduce anyone into the limitless realm of coding and programming despite its shortcomings.
Emma Marie is a valued writer at the Little Robot Shop. She studied robotics and deeply understands technology, which shows in her writing.  She consistently produces high-quality content, making her a perfect fit for the Little Robot Shop team.
While not writing, Emma works in a popular electronics retail chain. Emma also enjoys running and has two dogs with whom she loves spending time.