As cat owners, we know that cleaning a litter box is one of the worst chores, but it's also an essential part of loving your little fluff nugget.
But, if you're like me, you don't want to spend your time scooping poop and you don't want to have to tie up plastic bags full of poop either. So what do you do?
In this blog post, we may have the answer, we'll compare the Litter Robot vs Cat Genie A.I. two of the leading robotic cat litter trays on the market, to help you decide which one is best for your needs and it will be your best investment.
*The product links in this post are affiliate links, which means that if you purchase after following one, I make a small commission from the sale at no additional cost to you. Please see our disclosure page for more information.
You may also like:
Litter Robot vs Cat Genie A.I. at a glance
Last update on 2023-10-03 / Affiliate links / Images from Amazon Product Advertising API
Litter Robot vs Cat Genie A.I. : The quick answer
Both the Cat Genie A.I. and Litter Robot are among the leading self-cleaning cat litter boxes on the market, and they have both garnered lots of love from happy users. In terms of cleaning waste, both robots perform really well and have their individual strong points.
For instance, Cat Genie employs an inventive self-flushing and washing system which flushes poop down the drain. Cat Genie is the better option if you never want to scoop poop again because it goes beyond scooping poop to give you the luxury of never having to tie up plastic bags filled with waste. 
In contrast, Litter Robot uses a unique shifting technique to efficiently remove kitty waste from fresh litter. The waste is transferred into a waste bin, which you will have to empty every few days. If you simply want to stop scooping and spend less time worrying about our cat's litter box maintenance, then the Litter Robot is better for you. 
The CatGenie isn't super big. It's heavy because of the motor, but my two boxes fit in the master bathroom side-by-side. It's not much bigger than my old sifting litter box. You can purchase a hood for privacy, but some cats don't like that, so it's a preference thing and it doesn't take up more space. No Odor I buy the fresh scent cartridges and that makes the litter box smell good. Seriously. After the wash cycle, there's a nice smell in the bathroom
Product Overviews
Litter Robot Review
The Litter Robot 3 Connect is an automatic, self-cleaning litter box designed for cat-lovers who hate scooping waste or messing with dirty litter. With its patented shifting process, the box automatically separates solid kitty waste from clean litter, with the solid cat waste going into the waste compartment. This process automatically removes waste, so your cat always has a clean bed of litter. 
Inside of the robot is lined with sensors that detect your cat's presence, so the cleaning cycle begins after your cat leaves. The Litter Robot is also equipped with an odor-absorbing component and carbon filters, which helps to reduce the smell of kitty litter. To enable remote control and customization, the WiFi-enabled robot connects to an intuitive mobile app which also helps you keep track of your cat's litter health.

Automates litter scooping
Easy to set up, use and clean
It has a user-friendly mobile app
Good odor control
Litter-Robot 3 Clean Litter Box for Cats
Litter-Robot 3 Connect by Whisker – Automatic, Self-Cleaning WiFi-Enabled Litter Box for Cats – Designed and Assembled in The USA, Get notifications when the waste drawer is full, Start a clean cycle remotely, Reference usage statistics to monitor your cat's health habits, & more.
Last update on 2023-10-03 / Affiliate links / Images from Amazon Product Advertising API
Cat Genie A.I. Review
The CatGenie A.I. is an automatic and hygienic self-washing cat box designed to help cat owners automate the process of scooping and disposing of cat's waste. This litter box is programmed to perform cleaning cycles that automatically scoop cat waste, flush it down the drain, disinfect and wash the litter box, and finally blow dry with hot air. 
The Cat Genie litter box uses washable, reusable litter granules and a biodegradable sanitizing solution to kill germs and prevent odor. The washable granules are cat-safe, septic-safe, and do not need to be changed frequently. 
Setting up your automatic shifting litter box is fairly easy with the detailed guide, and the unit can be programmed either with the control panel at the top or the CatGenie app. The unit is easy to use, and you can choose between automatic or manual modes, it even has a child lock mode option, to prevent your kids and pets from messing with it. Finally, the CatGenie litter box comes with a 2-year limited warranty from its manufacturers.

Fully automated litter box
Automatic flushing and waste clean-up
Easy set up and use
2-years limited warranty
CatGenie A.I. Self-Washing Cat Box
CatGenie A.I. Self-Washing Cat Box, Includes 1 CatGenie A.I. Unit, 1 Box Washable Granules, 1 SaniSolution Cartridge, Hot-Air Dries Granules, Automatically Scoops, Washes, Flushes, Dries after every use, Integrated App Experience, Easy DIY Installation.
Last update on 2023-10-03 / Affiliate links / Images from Amazon Product Advertising API
Litter Robot vs CatGenie A.I.: Side-by-side comparison
Self-cleaning
The one thing that these two cat litter boxes have in common is that they automate poop scooping. They are automatic, self-cleaning automatic cat litter boxes designed to automatically scoop poop every time your feline baby takes a dump. The best Litter-Robot accessories are the OdorTrap Pod for additional odor control, the waste drawer liners, the litter mat, the ramp, and the fence. Whisker's also has the best litter for Litter Robot. PetSafe ScoopFree has an optional privacy hood. CatGenuie offers a dome for additional odor control and sidewalls.
App control
These litter boxes are also WiFi-enabled and connect to their respective smartphone apps for convenient control and monitoring from anywhere. Litter Robot 3 Connect uses the AutoPets Connect app for remote control, while CatGenie A.I. connects to the CatGenie app. And both apps allow users to monitor how often their cats use their litter boxes, and users also receive notifications and real-time updates about the status of each litter box.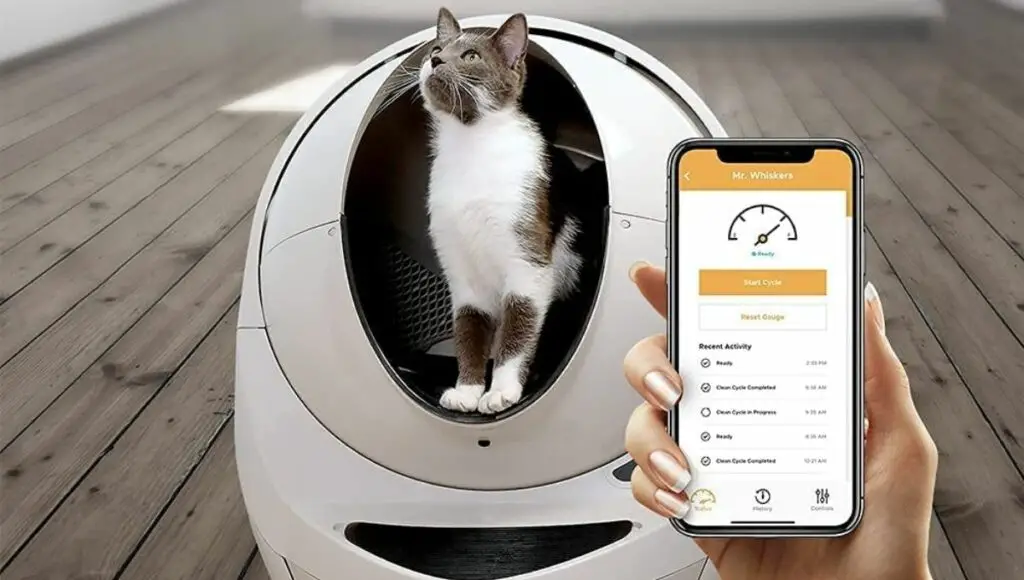 Litter Robot vs Cat Genie: Key Differences
The self-cleaning cat litter robots, Cat Genie and the Litter Robot, have more differences than similarities. And in this section, we discussed their differences at length, including the installation process, cleaning mechanism, performance, and durability. The new Litter Robot Open Air provides plenty of space and room for cats so they don't feel too enclosed due to its ergonomic wide entryway.
Design
The first thing you'd notice about these two cat litter robots is the difference in design and aesthetic. Litter Robot is visually appealing with a more stylish look and unique design, and it comes in different beautiful colors. It looks nothing like a cat litter box, and it's actually big, with a large footprint. The Litter Robot measures 24.25 inches long, 27 inches wide, and 29.5 inches high.
In comparison, CatGenie is designed to look like a traditional human toilet, but for cats. It has a toilet seat and basin which contains litter granules for cats to do their business. The CatGenie is also a relatively big litter box and the dimensions are; 24.50 inches long, 19.25 inches wide and 21 inches high.
Cleaning process
Despite being two automatic self-cleaning boxes, CatGenie and Litter Robot are miles apart when it comes to their actual cleaning processes. They both have different designs and their mechanism of cleaning vary greatly.
The Litter Robot is a lot simpler and employs their patented shifting and rotating mechanism to separate cat waste and dirty litter from clean litter. During the rotation, the waste is transferred to the waste bin while clean litter is returned for the cat's next visit.
On the other hand, CatGenie has a more complex process. Liquid waste drains through the litter granules, while solid kitty waste is scooped up by an automated Genie hand and transferred to a hopper to be liquified and flushed out through the drain pipe which is connected to the toilet or laundry room drainage. 
Cleaning settings
These self-cleaning litter boxes can both be set to either clean in auto mode, or manually, where you have to trigger the clean cycle yourself. But there is a difference, the CatGenie has three different settings, the "push start" manual mode, and the "cat activation mode" where a cleaning cycle is activated a few minutes after your cat uses the box. And the "auto mode" where you can program it to run at set intervals; every 6, 8, 12 or 24 hours. 
If you have multiple cats, they're not going to be able to use it at this time. Users do love how low maintenance the CatGenie is once it's installed but do note that occasionally, you may have to sift out smaller pieces of waste that the automatic sifter misses. While you'll save a great deal of money on cat litter, you'll have to remember to buy cartridges of the cleaning solution.
In contrast, the Litter Robot has just the manual mode and the auto start mode where a clean cycle is triggered a few minutes after a cat uses the one box, similar to the Cat Genie cat activation cleaning mode. However, the Litter Robot's auto mode has a countdown timer that can be set to 3, 7 or 15 minutes, the cleaning cycle is triggered at the end of the countdown. 
Litter type
Litter robot automatic litter box works with any high-quality clay clumping litter, while CatGenie uses only the branded washable granules. The CatGenie reusable granules are washed and reused several times by the robot, and they do not need to be changed as often as traditional clumping litter used in the Litter Robot.
Set-up process
The installation and set-up process for Litter Robot is a breeze, you simply have to find a good corner for it with access to a power outlet. It comes pre-assembled, and you only have to add litter into the globe and plug it to a power outlet. It takes only a few minutes to unbox the Litter Robot and get it up and running,
For the CatGenie, the installation and set-up is a different story and a lot more complex. During the installation, the CatGenie cat toilet has to be connected to a cold water line and drainage, since it needs clean water to flush and wash the granules during the cleaning cycles.
On the bright side, it comes with everything you need for to install it including a power cable for connecting to a power source, a  drain pipe, two different T-adapters for connecting to the cold water line; one for bathroom connection and the other for laundry room connection. You will also have to assemble the unit yourself, however, the CatGenie has a very detailed instruction manual to guide you through the entire process.
Performance 
Both the CatGenie and Litter Robot excel at automating litter scooping, they both handle urine and feces quite well. However, Litter Robot tends to handle soft feces much better than CatGenie, because it uses traditional clumping litter plus the shifting mechanism efficiently removed clumps from unused litter.
In comparison, the CatGenie uses washable plastic granules that do not clump. During the scooping phase of cleaning, the genie hand gets most of the solid waste, but it doesn't do well with soft feces tends to mix with the granules and the genie hand is unable to scoop them up.
The waste particles that are left behind mixes with the granules during the wash phase. And during the drying phase, the heat dries both the granules and the waste, which produces a very unpleasant fecal odor. 
Safety mechanism
To ensure the safety of your feline babies, both robots have safety measures in place, but their approach to safety differs slightly, as with the other features. During the cleaning process, if a cat decides to return to the box, the Litter Robot pauses its rotation and resets the timer to another 3, 7 or 15 minutes, depending on the setting in place. The Cat Genie also pauses the cleaning process when a cat approaches it. If it's set to "auto mode," it pauses the cleaning and delays for 10 mins, and if it's set to "cat activation mode," it  pauses and delays for 30 minutes. 
Optional accessories
An optional purchase for the Litter Robot is a short stool or the Litter Robot ramp to help your cat get into the litter box more easily. This is because the opening of the robot is somewhat high and cats have to jump into it. If you have an elderly cat, or one with health issues, or maybe your cat is generally unable to do the jump every time, then the Litter Robot ramp placed in front of the robot will be of tremendous help. 
Optional accessories for the CatGenie include a GenieDome and sidewalls. Since Genie is built like a human toilet, it's not enclosed like the Litter Robot and other automated cat litter boxes. However, you can convert it to an enclosed cat toilet to give your kitties some privacy by purchasing the sidewalls and GenieDome.
Ongoing costs 
Using these gadgets certainly requires recurring costs from ongoing purchases. The major ongoing purchases for the Litter Robot are clumping litter, carbon filter and trash bags. You don't need to purchase branded items, because any high-quality litter and carbon filter will work just fine, and any trash bag can be used to line the waste drawer.
For the CatGenie, the washable litter granules are uniquely made and has to be bought from CatGenie, every few months. You will also have to buy the branded CatGenie cleaning solution: SaniSolution, and the Cat Genie maintenance cartridge. These items are necessary for the CatGenie to operate properly, and you can't afford to completely run out of them. 
Maintenance
Maintenance for the Litter Robot involves emptying the robot and washing the globe every few months, ideally once a month. The CatGenie requires less maintenance and the hopper can be cleaned out once every 2 to 3 months. CatGenie has minimal maintenance requirements, which is a huge advantage for the unit.
Price tag
Initially, Litter Robot costs more than CatGenie. But if you consider the ongoing costs that come with buying branded CatGenie products, then you'd know that the Cat Genie actually ends up costing more. Therefore, it's safe to say that Litter Robot is cheaper, despite being the more expensive of the two, because it has lower operating cost and will save you money in the long run.
Durability and warranty
These two robots are well-made with very durable parts, however, in most cases the Litter Robot tends to out-last the CatGenie probably because it's the simpler of the two with fewer moving parts. Both robots come with a 90-day money-back guarantee, but the Litter Robot has an 18-month warranty while the CatGenie has a 2-year limited warranty. 
A couple of alternatives to consider
There's no doubt that both the CatGenie A.I. and Litter Robot 3 are great products, but they may not appeal to you, and that's okay. Here, we included a couple of alternatives that you may find more suitable for your kitties and home. 
If you want a self-cleaning litter box that's more budget-friendly and works decently well, then consider the PetSafe ScoopFree litter box. Although it's a self-cleaning litter box, it looks very much like a regular litter box and doesn't have any high-end mechanical functions. The self-cleaning function is a metal rake that automatically pushes off the solid waste into the waste storage compartment. 
The entire unit costs around half the price of our two featured products, and you will have to make a few extra purchases one reoccurring purchase is the litter tray refills, which are somewhat pricey. But traditional cat litter and a forever litter tray both work just fine. Litter-Robot offers you a better deal because you don't need any branded supplies. Instead, you can use line the waste receptacle with kitchen garbage bags.
However, PetSafe uses disposable litter trays. So, you either need to purchase a litter tray every month or pay extra for the reusable waste tray. Still, PetSafe supplies cost less than CatGenuie, which requires SaniSolution 120 cartilages and CatGenuie maintenance cartilage to keep bacteria and odor from accumulating.
Once the cleaning cycle is initiated, the CatGenie has a scoop that descends into the litter tray and collects waste. The waste is deposited into a compartment where it is macerated and then mixed with water and SaniSolution before being flushed away.
Another great choice that's just as reliable and efficient as the Litter Robot, but more expensive, is the PetKit Pura X. The PetKit Pura X has the same operating mechanism as the Litter Robot. After your cat uses the Pura X, it starts a countdown that triggers the cleaning process. 
This cycle proceeds to automatically separate solid from clean litter, with the solid waste going into a waste drawer. The cleaning cycle automatically removes waste, so your cat always has a clean bed of litter. The PetKit Pura X is also equipped with a deodorizing liquid, which is automatically sprayed after each cleaning cycle to help minimize the amount of cat poop smell coming from it.
FAQs
Is Cat Genie good for multiple cats?
Yes, Genie is good for more than one cat. You can use this automatic litter box with multiple cats; 1, 2, 3 or even 4 cats, although it's best use case is with 2 or 3 cats per unit.u003cbru003eu003cbru003eLitter Robot can also be used by more than one cat, up to 4 cats. However, if it's used by multiple cats, the waste drawer will need to be emptied more frequently. The higher the number of cats using it, the more frequently it should be emptied and cleaned.
Will Litter-Robot work without WiFi?
The Litter Robot 3 doesn't come with Wi-Fi, but the Litter Robot 3 Connect does. And, unfortunately, the Litter Robot 3 doesn't connect to the Autopets Connect app, this is the major difference between these two litter box models.
Does Litter-Robot automatic litter box work with pretty litter?
Litter Robot works with any good quality litter that the beads are small enough to pass through the filter screen, and Pretty Litter works. The best type of litter for the Litter Robot is any high-quality, clay-clumping litter, but not crystal litter.
Are these automatic litter boxes suitable for kittens?
Yes, Cat Genie is suitable for kittens from 6 months of age, and the Litter Robot can be used by kittens that weigh at least 5 pounds. The manufacturer's of both robots recommend that kittens use it only in manual mode and under supervision, for safety reasons.
Do these robots require a smartphone to function properly?
No, you do not need a smartphone for the Cat Genie and Litter-Robot to function properly. You can manually start any of these robots via a control panel on each of the units.
Does Cat Genie flush the toilet?
No it doesn't. If you connect the Genie to your toilet, the waste goes into the toilet basin when it flushes and remains there until you flush the toilet. It doesn't trigger the toilet to flush, and the waste in the toilet.
How The Cat Genie Works Your cat makes potty?
The Cat Genie senses that your cat has left the litter box. The bowl starts to rotate and the scooping arm goes into action, scooping clumps. Next, the special sanitizing solution fills the bowl, which basically goes into washing machine mode. The bowl vibrates and shakes. The solution and waste get flushed out of the bowl, through the hose, and into the toilet or drain that you set the hose in. It is a large investment, but on the long run you save money on litter and you don't need to buy special supplies to make the system work.
Final thoughts
Buying an automatic litter box is a big investment for cat owners, and choosing between the Cat Genie vs Litter Robot is a tough one. But the best automatic litter box for you will be one that suits your cat's health and lifestyle. Your budget and recurring maintenance costs will also play a major role in which litter box you eventually decide to buy.
However, our top recommendation based on performance with soft feces and ongoing costs is the Litter Robot. Despite being the more expensive robot, it has the potential to save you money and cleans out soft feces better than the Cat genie.
Emma Marie is a valued writer at the Little Robot Shop. She studied robotics and deeply understands technology, which shows in her writing.  She consistently produces high-quality content, making her a perfect fit for the Little Robot Shop team.
While not writing, Emma works in a popular electronics retail chain. Emma also enjoys running and has two dogs with whom she loves spending time.