Looking for the best robotic pool cleaners under $500 to save you time, energy, and keep your pool sparkling clean? You've come to the right place! Not all pool cleaners are created equal and finding one that delivers exceptional cleaning performance without breaking the bank can be quite a challenge. That's where we come in.
Did you know that the right robotic pool cleaner can reduce your pool's energy usage by up to 83%? That's just one of the surprising benefits of investing in a good robotic pool cleaner. In this post, we've done the hard work for you, trawling through countless models to bring you the crème de la crème of robotic pool cleaners that won't leave your wallet empty.
From powerful suction capabilities to smart navigation features and ease of use, we've found options that tick all the boxes, ensuring you get the best value for your money. So, stick around as we dive into the world of affordable, efficient, and effective pool maintenance with our top picks of the best robotic pool cleaners under $500.
*The product links in this post are affiliate links, which means that if you purchase after following one, I make a small commission from the sale at no additional cost to you. Please see our disclosure page for more information.
Top Picks
Dolphin E10 Robotic Pool Cleaner
Paxcess Cordless Robotic Pool Cleaner
Last update on 2023-12-05 / Affiliate links / Images from Amazon Product Advertising API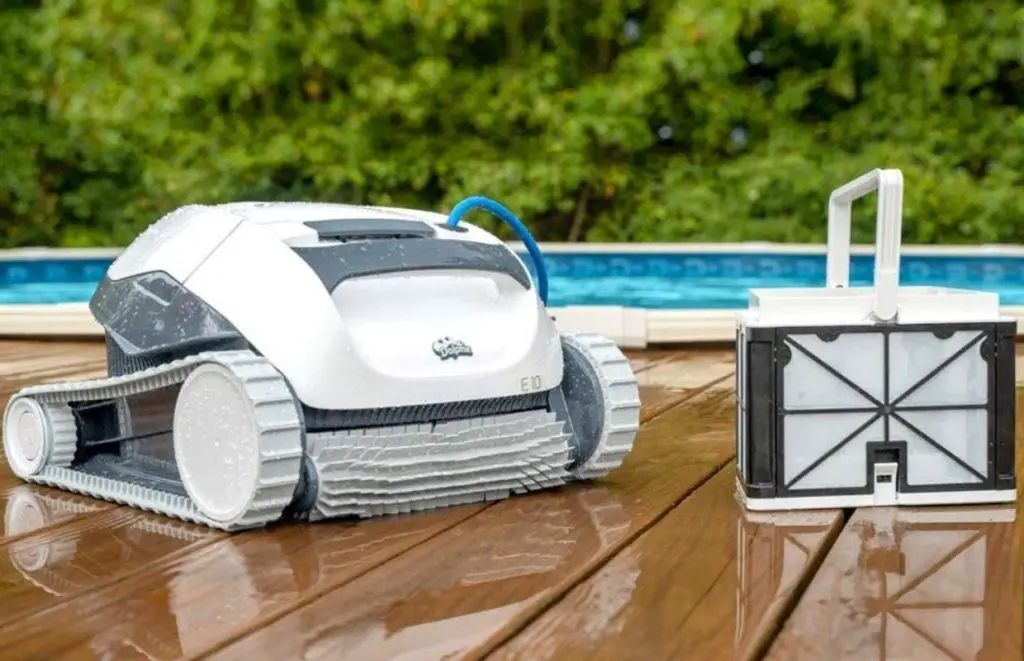 What to consider when buying a budget robot pool cleaner
When choosing a new pool cleaner robot for your swimming pool, it's important for pool owners to know what features to look for in an ideal product. However, when you are restricted on budget, you will need to adapt this and understand not all the bells and whitles will be available.
Be ready to compromise on features
Buying a budget robotic pool cleaner does indeed mean you may have to compromise on certain advanced features that come with more premium models. Here are a few of the features that you're less likely to find in budget options:
1. Advanced Navigation Technology: Higher-end models often feature smart navigation systems, sometimes even with GPS technology, that map your pool's layout to ensure complete coverage. This ensures that the cleaner does not repeat areas it has already cleaned, thereby increasing efficiency. Budget models, on the other hand, may follow a random path and might miss certain areas.
2. App Control & Remote Operation: Premium robotic pool cleaners often offer the convenience of being controlled via an app on your smartphone or a remote control. This can allow you to guide the cleaner to specific areas, schedule cleanings, and even adjust cleaning patterns. These features are less common in budget-friendly models.
3. Wall and Step Cleaning: More expensive cleaners typically have the ability to climb and clean the walls and steps of your pool, while cheaper models might only be designed to clean the floor.
4. Multiple Cleaning Modes: Some top-tier robotic pool cleaners come with a variety of cleaning modes, allowing you to choose between quick cleanups and more thorough, deep cleaning cycles. This flexibility is not usually found in lower-priced models.
5. Ultra-Fine Filtration: While most robotic cleaners have good filtration systems, premium models often have the ability to filter out finer debris such as algae and pollen. This is not always the case with more affordable options, which might struggle with very small particles.
So while budget robotic pool cleaners offer fantastic value and can do an excellent job of maintaining your pool's cleanliness, there may be certain advanced features you'll miss out on. It's all about weighing the importance of these features against your budget to make the best choice for your needs.
If you want to stretch your budget, I'd certainly recommend looking at our round up of the best Dolphin Pool cleaner. They are a bit more than $500, but their value in the market place is unmatched.
What you must consdier before buying
While you may not get all the premium features with a budget robotic pool cleaner, there are still plenty of important factors to consider when choosing the right one for you. Here are the key features and attributes to look for:
1. Efficient Cleaning: The most crucial feature of any robotic pool cleaner is its ability to clean effectively. Look for a model that offers strong suction power and a robust scrubbing mechanism. While it may not have advanced navigation, a budget option should still provide a thorough cleaning of your pool floor.
2. Size and shape of the Pool: Different cleaners are designed for different pool sizes. Make sure to choose a cleaner that is appropriate for your pool size, based on the information provided by the manufacturer. In our experience, this is critical and getting it wrong may lead to dissapointment.
3. Easy to Use: Look for cleaners with a plug-and-play design that doesn't require complicated setup or calibration. An automatic shut-off feature is a great bonus, so you don't have to keep track of the cleaning cycle.
4. Debris Collection Capacity: The size of the cleaner's debris basket will determine how often you'll need to clean it out. Larger is generally better, especially for pools located near trees or in windy areas where lots of debris can accumulate.
5. Durability: A great budget robotic pool cleaner should still be made of durable, high-quality materials to withstand the harsh pool environment and provide longevity.
6. Energy Efficiency: Even on a budget, look for a cleaner that's energy efficient to save on your electricity bills and reduce environmental impact.
7. Customer Reviews: Reviews can provide real-world insight into a product's performance. Look for models with generally positive feedback regarding its cleaning ability, reliability, and ease of use.
8. Cable Length: Ensure the cable length is sufficient to cover the entirety of your pool from the power source.
A great budget robotic pool cleaner strikes a balance between affordability and functionality. It may not have all the bells and whistles of a premium model, but it should reliably keep your pool clean with minimal fuss. Always consider your specific needs and circumstances to make the best buying decision.
So with that outlined, let's take a look at our opinion in the top picks.
10 best robotic pool cleaners under $500 
1. Dolphin E10 Robotic Pool Cleaner
OK, it's a little cheat to start with, but the Dolphin E10 Robotic Pool Vacuum Cleaner is a top-notch performer that skates slightly above our $500 price point, but if you're willing to stretch your budget, the benefits of this device make it a worthy contender.
This machine impresses with its energy-efficient, active scrubbing brush that cleans your pool thoroughly while keeping energy costs low. The brush is gentle on pool surfaces yet effective at removing debris, showcasing a perfect balance of power and delicacy.
I love the E10's user-friendly design. The easy-access, top-load filter basket makes cleaning straightforward and effortless. Moreover, the fine filters ensure the removal of debris, providing crystal-clear water.
Adding to its convenience, the Dolphin E10 features a plug-and-play system that lets you get started with minimal setup—plug it in, drop it into the pool, and turn on the power. Within 1.5 hours, your pool is spotless.
The E10's Smart Navigation Technology is another major advantage. It scans your pool to determine the most efficient cleaning path, providing a comprehensive clean regardless of your pool's shape or surface type.
However, an important note from crowdsourcing user reviews, in addition to my experience, is a discrepancy between the advertised power supply/timer and the one that comes with the product. While the product still functions effectively with the basic power supply, customers expecting the advanced timer might be disappointed.
But, Maytronics Dolphin models are a trusted brand you can buy confidently with a track record of excellent service, demonstrating their commitment to customer satisfaction. So if you encounter any issues, you should be able to resolve them pretty efficiently.
Overall, the Dolphin E10's high performance, durability, and energy-saving features make it a standout choice, providing you more time to enjoy your pool and less time worrying about its maintenance.

Compact and portable robot
Impressive cleaning performance 
Easy to set up and use
Low maintenance gadget
Comes with a 2-year warranty
No remote control
Doesn't climb walls
The power cable can get tangled
Sale
Last update on 2023-12-06 / Affiliate links / Images from Amazon Product Advertising API
2. PAXCESS Cordless Robotic Pool Cleaner
Among some of the first cordless pool cleaner choices, the PAXCESS Cordless Robotic Pool Cleaner was part of the revolution of pool maintenance, embracing a cordless design and strong cleaning performance. This device is equipped with a 5000mah lithium-ion battery that delivers up to 60-90 minutes of work, providing mobility and freedom from power cord constraints. With a fast-moving speed of approximately 16m/min, it deep-cleans your pool, effectively trapping leaves, dirt, and sand with its two large suction doors, a bottom brush, and a superior filter.
This lightweight pool cleaner is user-friendly, easy to handle, and capable of handling pools with a maximum 15° slope. When the battery drains out or when it completes a cleaning cycle, the advanced battery detection technology enables it to stop alongside the pool shore for easy removal. Recharging the cleaner is simple – just plug it into a 110v outlet.
Despite being innovative and effective, the PAXCESS Cordless Robotic Pool Cleaner is not without its flaws. The recharge time can take 4-6 hours, which may be inconvenient for larger pools that need multiple cleaning cycles. There have also been some reports of issues with the charging prongs cover, which if not securely tightened, can cause corrosion, rendering the unit unusable.

Cordless design provides high mobility
Superior cleaning ability with a fast-moving speed
Lightweight and user-friendly, suitable for all pool types
Advanced battery detection technology makes it convenient to use
Recharge time is long, ranging from 4-6 hours
Potential issues with the charging prongs cover could lead to corrosion if not securely tightened
Struggles to clean in large, rounded corners
Limited customer service, especially for more complex issues.
Last update on 2023-12-06 / Affiliate links / Images from Amazon Product Advertising API
3.  AIPER Seagull SE Cordless Robotic Pool Cleaner
The AIPER Seagull SE Cordless Robotic Pool Cleaner proves that quality pool maintenance can be both affordable and hassle-free. Its wireless design is a game-changer, eradicating the issue of tangled cords and messy hoses that can plague traditional pool cleaners. With an extended battery life providing 90 minutes of cleaning capability after a mere 2.5-hour charge, the Seagull SE is an effective solution for pools up to 40 feet.
Dual-drive motors power this little wonder, allowing it to navigate and clean with impressive efficiency. An LED indicator communicates the device's status, adding a layer of user-friendliness, while the self-parking feature ensures the device stays within reach when a cleaning cycle is done or the battery runs low.
Despite its plastic construction, which could make it susceptible to damage if not handled with care, the Seagull SE proves to be a surprisingly hardy companion. Its powerful performance, easy operation, and affordability make it an excellent choice for anyone seeking to keep their pool pristine without the traditional hassle of pool cleaning.
However, it's important to note that while the Seagull SE is an excellent maintenance tool, it might require additional help for thorough cleaning of larger pools or during the opening season.

Cordless and hassle-free operation.
Extended battery life with quick charge time.
Powerful dual-drive motors for efficient cleaning.
LED indicator for easy monitoring of device status.
The plastic construction could be more susceptible to damage if not handled carefully.
May need supplemental cleaning for larger pools or heavier dirt loads.
Sale
Last update on 2023-12-06 / Affiliate links / Images from Amazon Product Advertising API
4. Aqua Products Dash AG Jet Automatic Robotic Pool Cleaner
The Aqua Products Dash AG Jet Automatic Robotic Pool Cleaner is an efficient and affordable option for pool owners with up to 30 feet above-ground pools. This compact but powerful device, equipped with the brand's signature JetBlast technology, is designed to make pool cleaning a breeze. The alternating water flow propels the Dash effortlessly around your pool floor, ensuring a thorough cleaning.
This cleaner's dual debris bags, which effectively capture everything from fine sand to larger debris like leaves and twigs. The Dash arrives with a 40-foot cable and a top-access debris basket for easy maintenance.
Dash's simple setup is another appealing feature; just plug it in, power it on, and select the pool size. However, user experience suggests that the Dash may need to manually move around the pool for optimum cleaning. The Dash appears to perform a reliable cleaning job but may not cover the entire pool in one setting.
Although durable, the Dash needs careful handling. The device should not be removed from the pool using the cable, and keeping it out of direct sunlight when not in use is recommended. Some users have also noted that the debris bags, while effective, could be easier to change.

Great at picking up floating debris
Very easy to use; it's plug-and-play
Come with a 1-year warranty
No scrubbing brush
Doesn't scrub dirt off pool floors
Sale
Last update on 2023-12-06 / Affiliate links / Images from Amazon Product Advertising API
5. Doheny's 150 Robotic Cleaner Powered by AquaBot
Harnessing the joint expertise of Doheny's and Aquabot, the Doheny's 150 Robotic Cleaner stands as a robust and efficient pool maintenance solution. It is ideal for pools up to 28 feet and boasts an exceptional Drive & Pump Motor Propulsion System paired with AquaSmart Gyro Navigation for comprehensive cleaning.
The unit shines in terms of filtration, processing 4,800 gallons per hour through its 4D Microfiber Filter, complete with a "Full Filter Bag Indicator". The impressive 1.5-hour cleaning cycle contributes to its top-tier efficiency.
True to its reputation, the Doheny's 150 stands out in user experiences, where its suction and wall-climbing abilities have been widely appreciated. Its ability to automate pool cleaning tasks is highly valued, with users hailing it as a game changer.
However, concerns exist. The unit can get stuck on stairs occasionally. Its weight might make it difficult for some to lift out of the pool.
Critically, several users have reported customer service and warranty issues, with difficulties in getting repairs or replacements. An evident lack of a usable manual also adds to these frustrations.

Efficient and comprehensive cleaning with AquaSmart Gyro Navigation.
High filtration rate at 4,800 GPH.
Exceptional suction and wall-climbing abilities.
Saves significant time in pool cleaning tasks.
Can occasionally get stuck on stairs.
Some users may find it heavy to lift from the pool.
Customer service and warranty issues.
Lack of a usable manual.
Last update on 2023-12-05 / Affiliate links / Images from Amazon Product Advertising API
6. Genkinno Cordless Robotic Pool Vacuum Cleaner with Remote Control
The Genkinno P1 Cordless Robotic Pool Cleaner is a versatile tool designed for both above-ground and inground flat-bottom pools. Thanks to its automated and manual modes, this device provides a smooth and efficient cleaning experience. The device's 9000 mAh battery is substantial, promising an operation time between 120 and 240 minutes on a single charge.
One standout feature of the P1 is its intelligent path planning. This feature, which is ten times more efficient than randomized-path cleaners, allows the robot to automatically reverse when it hits a wall. This results in comprehensive coverage of up to 2,500 sqft on a single charge.
However, while the Genkinno P1 does a solid job of cleaning up debris, it does not effectively scrub or brush pool surfaces, contrary to the product description. Additionally, some users reported a challenge in changing the operation modes and somewhat shorter battery life than advertised. Nonetheless, it remains a great budget option under $500.

Cordless design enhances mobility and ease of use.
Versatile cleaning modes (Auto/Manual) cater to a variety of cleaning needs.
Impressive intelligent path planning maximizes pool coverage.
Large battery capacity with a quick charge feature.
The device might not scrub or brush pool surfaces effectively.
Some users find the battery life less than advertised and mode switching a bit tricky.
Last update on 2023-12-05 / Affiliate links / Images from Amazon Product Advertising API
7. AIPER Seagull Plus Cordless Pool Vacuum
The AIPER Seagull Plus Cordless Pool Vacuum is a solution designed for pool owners seeking hassle-free and efficient cleaning. The device boasts dual-drive motors capable of handling various types of debris and navigates pools with inclines up to 15 degrees. Operating cordlessly, the Seagull Plus presents a streamlined and user-friendly experience: just power it on, place it in the pool, and let it do the rest.
One notable improvement in this model is its battery, charging fully in just 2.5 hours and providing 110 minutes of cleaning action, suitable for round above-ground pools up to 40′ in diameter and in-ground flat-floored pools up to 60′ X 22′. However, some users reported inconsistent performance in the actual cleaning results, with difficulty effectively removing dirt and leaves.
The vacuum's quick water release system and four-color LED indicator enhance its user-friendly profile. Despite mixed reviews on debris collection efficiency compared to previous models, the Seagull Plus's improved navigation ability (adjustable via rudder) and robust operation on pool inclines have been highly praised.
This cleaner is backed by a 1-year warranty, suggesting the company's trust in its product. Overall, the AIPER Seagull Plus Cordless Pool Vacuum is a robust tool with several user-friendly features, though its cleaning performance may vary.

Cordless operation for hassle-free cleaning
Improved battery life offering up to 110 minutes of cleaning
Quick water release system for easy retrieval
Four-color LED indicator to keep track of the device status
Some users report inconsistent cleaning results
Possible reduced debris collection efficiency compared to previous models
Last update on 2023-12-05 / Affiliate links / Images from Amazon Product Advertising API
8. Aqua Products SOLAG Sol AG Robotic Pool Cleaner
The Aqua Products SOLAG Sol AG Robotic Pool Cleaner has proved itself to be an efficient and reliable tool for maintaining a clean and inviting pool. Designed for above-ground pools up to 30 feet, this lightweight machine features a plug-and-play operation that starts cleaning your pool at the press of a button.
Its powerful vacuum technology along with a sturdy scrubbing brush ensures the pool floor and coves are well-cleaned. Moreover, the device is capable of completing its cleaning cycle in just two hours, providing you with a hassle-free experience. The machine comes with a generous 40ft cable, ensuring good coverage even in larger pools.
Cleaning the 3L top-loading debris basket is a breeze, which adds to the overall ease of use. The automatic shutoff feature is a nice touch, offering peace of mind that the machine won't overwork or waste energy.
However, it's not without its limitations. It lacks a remote control feature, making it less versatile and potentially leaving certain areas uncleaned. Additionally, some users have noted that it struggles with smaller debris such as pollen or tiny dust particles.
Despite these minor setbacks, the SOLAG Sol AG Robotic Pool Cleaner has been largely praised for its efficiency and practicality. For anyone tired of laborious manual pool cleaning, this machine is certainly worth considering.

Effortless plug-and-play operation.
Efficient cleaning with powerful vacuum technology.
Comes with a large 3L debris basket, easy to clean.
Automatic shutoff feature saves energy.
Lack of remote control limits its versatility.
Struggles to pick up smaller debris like pollen or dust particles.
Last update on 2023-12-06 / Affiliate links / Images from Amazon Product Advertising API
9. Ofuzzi Cyber 1200 Pro Cordless Robotic Pool Cleaner
The Ofuzzi Cyber 1200 Pro Cordless Robotic Pool Cleaner is a notable upgrade from its predecessor with key features aimed at making your pool cleaning tasks more convenient and efficient. The inclusion of Core Lighting Interaction is a well-thought-out addition, providing intuitive visual signals about the machine's status. Quick charging and longevity are among the features that stand out, with just 3 hours of charge providing up to 130 minutes of use.
Its Innovative Navigation Path and Upgraded Suction Power ensure comprehensive and efficient cleaning. The Cyber 1200 Pro is also equipped with Auto-dock Technology, allowing it to dock by itself after cleaning or when the battery is low, ensuring your convenience. This cordless robot is easy to use, making your pool cleaning tasks much more effortless.
However, despite its promising features, the Cyber 1200 Pro may not perform optimally in pools with irregular shapes and inclines. Additionally, some users have reported issues with its buoyancy, which may require extra attention when setting the machine to work. Moreover, while the upgraded suction power increases cleaning efficiency, it may still struggle with larger debris such as leaves and small sticks.
You may also want to check out: Are Ofuzzi Pool Cleaners Any Good?

Core Lighting Interaction provides intuitive indications of the machine's status.
Fast charging and good endurance with up to 130 minutes of usage per charge.
Innovative Navigation Path and upgraded suction power ensure efficient cleaning.
Auto-dock technology allows it to self-dock after cleaning or when the battery is low.
Cordless and user-friendly design, enhancing convenience.
May not function optimally in irregularly shaped pools with inclines.
Some users report issues with buoyancy requiring extra steps during setup.
Despite the upgraded suction, it may struggle with larger debris.
Last update on 2023-12-05 / Affiliate links / Images from Amazon Product Advertising API
10. WYBOT Futuristic Cordless Robotic Pool Cleaner
The WYBOT Futuristic Cordless Robotic Pool Cleaner stands out as a budget-friendly solution for pool maintenance. Powered by the Freesuction 3.0 technology, this robotic cleaner has been upgraded with dual-drive brushless motors that promise efficient cleaning of up to 1300 sq.ft pool area in 130 minutes. It is cordless robotic pool cleaner and safe, eliminating the need for tangled hoses and adding to the convenience of use.
The WYBOT is intelligent, equipped with smart navigation technology that automatically reverses when hitting a wall and drifts closer to the pool edge when the battery is low. Its design is tailored for all types of pools (above and in-ground), accommodating all shapes, linings, and a max slope of less than 25 degrees.
However, while the WYBOT delivers an impressive clean, some users have pointed out areas for improvement. The included instructions may not be enough for new users, and the robotic cleaner may struggle with sloped pools. Despite these minor setbacks, the overall performance and convenience of the WYBOT are laudable.

Freesuction 3.0 technology enables efficient cleaning.
Cordless design, eliminating the need for tangled hoses.
Smart navigation technology optimizes cleaning and enhances user convenience.
Versatile and suitable for all types of pools.
Included instructions could be more comprehensive.
May struggle with pools that have a significant slope.
Last update on 2023-12-05 / Affiliate links / Images from Amazon Product Advertising API
FAQ section 
How often should I have my pool robot serviced?
This will depend on how often you use our robot pool cleaners, but ideally, you should have them serviced at least once per year. Also, endeavor to change any damaged parts changes as soon as possible. 
Do robotic pool cleaners pick up algae?
All robotic pool cleaners are not built equal, there are some of these gadgets that are great at removing anything and everything in a pool including leaves, silt, etc. And there are some robotic pool cleaners that are not so great at picking up algae. Whether a pool robot picks up algae or not will depend on the type of filters it has and the type of debris the filters can hold. You may want to read more in our post about .
Are robotic pool cleaners difficult to maintain?
Robotic pool cleaners are generally not difficult to maintain. For most pool cleaning robots, the maintenance is simple and involves routine emptying and washing of the filters. The filters should be emptied and cleaned out after every cleaning cycle. Also, worn brushes, drive tracks, and filters should be promptly replaced.
What can you recommend as the best value pool cleaner?
We recommend the Paxcess Cordless Robotic Pool Cleaner for its fast and efficient cleaning, convenience, and affordability. This is the best budget robotic pool cleaner you can get. It has an automatic cordless cleaning feature that can be used for 60 to 90 minutes to clean your pool.
Final Thoughts
Best robotic pool cleaners under $500 are usually designed for above-ground or small to mid-sized inground swimming pools. If you have an above-ground pool and a small in-ground pool, then ideally, you should not spend more than $500 on a robotic pool vacuum. In this case, the robotic cleaner I recommend is the Dolphin E10.
Dolphin is a reliable brand and their E10 robot is an excellent pool cleaner with superior cleaning capabilities and solid filtration system. Dolphin E10 is a reliable pool robot, it has a sturdy build and comes with a 2-year limited warranty. 
Emma Marie is a valued writer at the Little Robot Shop. She studied robotics and deeply understands technology, which shows in her writing.  She consistently produces high-quality content, making her a perfect fit for the Little Robot Shop team.
While not writing, Emma works in a popular electronics retail chain. Emma also enjoys running and has two dogs with whom she loves spending time.