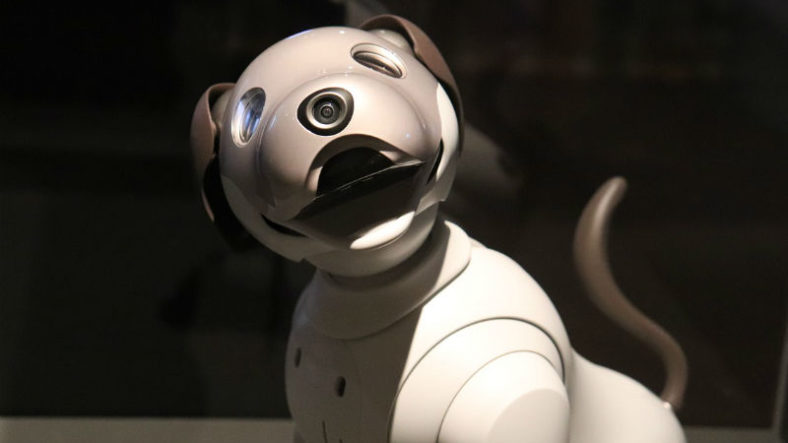 A robot dog toy makes a fantastic gift for kids of all ages. From dog toys for babies that encourage basic motor skills and cognitive thinking to full-on app-controlled interactive robot dog toys, there's a robot dog for everyone.
In this post, we'll take a look at some of the best robot dog toy for kids (and one for adults) that are currently for sale. For your ease, I have broken them up into sections (see the content table) and included a recommended age range. But first, let's take a quick look at the top picks from each age group:
Little Robot Shop top picks
Coming up
Affiliate disclosure: The links to tours or accommodation in this post are affiliate links. This means if you purchase after following one of these links, I make a small commission at no cost to yourself. Think of it like a win-win.
Best Smart Robotic Dog Toys
Fisca Remote Control Robotic Dog
Fisca is a remote control dog that walks, sings, dances and can even be programmed to perform actions and so an excellent introduction to coding logic. He is made from high-quality plastic with a smooth surface with a sensitive touchpad on the top of his head allowing him to react to touch with cute actions.
What we love
Easy to set up and use
Introduces basic programming fundamentals
What we didn't
Reports of damaged items on arrival, although reviewers say the customer service is very helpful.
No manual provided
Recommend age from 6 and up
---
Contixo Puppy Smart Robot Pet Toy
Puppy Smart is a fun and easy toy to play with hundreds of features to explore and enjoy. As well as touch commands and motion sensor, the little robot pup connects with a free app through which kids can give it instructions to create amazing stunt routines. This intelligent dog toy also includes a Bluetooth speaker that, when being used, he will dance in time with.
This pup is also included in our 23 best robot toys for kids post
What we love
So many features and stunts to explore
The Bluetooth speaker is a great addition
What we didn't
Scuffs easily on hard surfaces
Feels like young kids could break it if they play too hard
Recommended age 4 and up
---
Zoomer Remote Control Robot Puppy
Just like a real puppy Zoomer loves to learn new tricks. Kids can teach him to sit, lay down, roll over and more. His multiple sensors help him behave like a real dog, especially when you give him a belly scratch. A fun feature is if you ignore him he gets bored and starts to do his own thing, like peeing on the carpet, so be sure to keep this little pup entertained!
What we love
Cute and fun to play with
Seems to have a real personality
What we didn't
The battery is a bit weak so requires charging often
Quite expensive for what it is
Recommend age from 5 – 10 years
---
WowWee Chippies Robot Toy Dog
Chippies is a cute little guy and easy to control with the remote. Kids can get him to dance, sing, or explore while a touch sensor reacts to petting in adorable ways. But it's not all fun and games, this pup has a serious side too. Chippies can be set on guard mode and he'll protect your room, ready to bark and warn his owner about any unwanted intruders.
What we love
Easy to simple to play with
Kids we love the guard dog feature
What we didn't
If you have more than one the controller may interfere with each other
Poor battery life
Recommend age from 4 – 15 years
---
Daniel the Robot Dog
Daniel is a cute little remote control robot dog who recognizes gestures and can be trained to follow you or be controlled by the remote that has a range of 30 feet. With four songs pre-loaded, Daniel is a fun little bot that loves a little dance and kids will enjoy singing along with him.
What we love
This guy looks super cute
Good range on the remote control
What we didn't
The robot isn't straightforward for younger kids who may need help
Feels cheaply put together
Recommend age from 3 and up
---
Modern-Depo Rastar Intelligent Robot Dog
Quite a simple but very stylish robot dog. Although Rastar doesn't have a boatload of features like other robot dogs, look at it, it looks incredible. There are simple commands and tricks it can do, including dancing, all done via the games console-style remote control.
What we love
The style of it, it looks ready to pounce!
Simple as it gets
What we didn't
Not too much going on with this dog
Not cheap considering limited features
Recommend age from 4 and up
---
Best Soft or fluffy Robot Dog Toys
Westminster Chi-Chi Chihuahua
Chi-Chi is an adorable little realistic robot chihuahua who walks, nods, wags his tail and pounces. It is a great little robot dog for toddlers to introduce them to pets and while it doesn't have a whole load of features, it is a fun toy for little ones, and even dogs!
What we love
Cute and fluffy
Great value
What we didn't
Quite loud and annoying bark (realistic chihuahua!)
Not sure it will last too long
Recommend age from 2 and up
---
FurReal Friends Get Up & GoGo My Walkin' Pup Pet
The Get Up & GoGo Walkin' Pup is designed to be engaging and interactive and helps to encourage caregiving. There are many ways to have fun with this plush little fellow with the included app, or use the remote control and included leash to take her for a walk.
What we love
Easy to operate
The noises it makes are easy on the ear unlike other robotic dogs which can be quite abrasive
What we didn't
It is expensive for what it is
Batteries drain very quickly
Recommend age from 4 and up
---
Little Live Pets Snuggles My Dream Puppy
Snuggles is actually part of a range of different puppies that make a wonderful first pet experience with their super soft feel. With six different play modes, touch response, and realistic sounds, kids will love playing with this cute little guy. You can even use the included bottle to feed your pup and watch as it shuts its eyes and drifts off to sleep.
What we love
Incredibly soft and cuddly for a robot dog
The bottle is a cute trick
What we didn't
Reports that the package often arrives damaged
Worries about longevity
Recommend age from 5 – 15
---
Walking Plush Toy Puppy
This miniature robopup is made with babies and toddlers in mind. It has no small parts so is fine for youngsters to get their hands on with no worries and simple to operate. At just 6-inches and 8 ounces, this little pup is the perfect baby companion.
What we love
With no small parts, this is great for really little ones
Great value
What we didn't
Recommend age from 3 months and up
---
Best Budget-Friendly Robot Dogs
Liberty Imports My Best Friend Interactive Smart Puppy
This happy little pup has many fun and silly features. It will bark and pant like a real dog and perform a myriad of different actions depending on where you touch it. Just to let you know, if its eyes suddenly go bright red, it means it is hungry, not that it has been possessed by a demon and is about to feed on the souls of your entire family.
What we love
Offers amazing value
Isn't possessed by a demonic presence
What we didn't
Sometimes has balance issues
As you may expect for the price, feels a little cheaply made, but performs well
Recommend age from 3 and up
---
Biranco Electronic Pet Dog Toy
A small cute and interactive robotic puppy with voice control, touch response, light, and music. But be warned, this little puppy also has AI emotions that means if you ignore it for too long, it may get a bit grumpy. Something to be aware of when ordering it that there are two versions available. One uses disposable batteries while the other is rechargeable.
What we love
A great range of features for the price
Choice of normal or rechargeable batteries
What we didn't
It struggles on carpet
The batteries do not last for long
Recommend age from 3 and up
---
Harry the InteractiveDalmation Puppy
Harry is a cute little dalmatian that will walk, bark, talk and also plays a range of nursery rhymes to entertain youngsters. Aimed at toddlers, the dog has various, easy to reach touch points that will elicit different reactions from the robot puppy.
What we love
What we didn't
Various reports that although aimed at toddlers, it breaks easily so may not stand up to their rough play
Can get annoying after a while
Recommend age from 2 and up
---
Kids Tech Interactive Robotic Dog
This little dancing robot dog will sing and dance its way into your child's heart. It lights up, wags its tail and wiggles his head to act like a real dog and features bump and go action for endless play. Well, until the batteries run out.
What we love
It's very cheap
Can't go wrong for the price
What we didn't
Recommend age from 6 months to 8 years
---
Best Companion Robot Dog
Ageless Innovation Joy For All Companion Pets Golden Pup
This realistic robot dog is perfect to feel the warmth and love that any companion pet offers, without the mess or excessive responsibility. With a soft life-like coat, heartbeat and realistic bark, Joy for All Companion Pets are designed to bring comfort, companionship, and fun to elder loved ones. Just read the reviews on Amazon, and you will see the great feedback and how loved this robot dog for adults is.
What we love
The realistic heartbeat is a nice touch
People seem to fall in love with this little guy
What we didn't
While fantastic, there is a high price tag
The body is very rigid and not great to hold
Recommend age – everything!
---
Buying guide – What to look for in a robot dog toy
Features/skills
There are many different types or robotic dog toys available, from cute and cuddly that encourage owners to look after and care for them to the more playful kind that just wants to play games. If your child is younger, look for toys that encourage critical thinking and fine motor skills, whereas older kids will enjoy any smart features and coding games. Robot dog toys can be excellent STEM learning toys.
Age range
Be sure the robot dog toy you are buying is suitable for the age of the child and not too simple or too complicated, this can often lead to kids becoming frustrated or bored and lose interest very quickly. I would say it's always better to buy a little more advanced because that way they can grow into it a little bit.
Power options
As you'd expect, robot dogs need power. Luckily, unlike their Matrix counterparts, they don't do this by harvesting humans, they generally use batteries or USB charging. While it is up to you which you prefer, just remember that if it is USB, the chances are the product contains a lithium-ion battery which is very adverse to water (should your little cherub decide to give Rover a bath while your back is turned). It's also worth remembering that these batteries are not allowed in the hold of an airplane should you travel with your new companion and pack it in the suitcase.
Build Quality
Goes without saying that the build quality of any toy for younglings should be of a high standard. At the Little Robot Shop, we only list toys that have been played with, and while we don't get our hands on every single one of them, we scour the reviews across multiple platforms to ensure we give you the most up to date information from manufacturers and a range of reviewers.
Robot Dog Toy FAQs
What kind of tricks can a robot dog do?
Most robot dogs will move with a clunky walking style, or we are seeing more adopting wheels for a less lifelike appearance, but a much more enjoyable user experience.
Aside from that, common tricks include sitting, begging, singing, and dancing. The more advanced ones even develop a personality and have flatulence problems (kids love the fart noises).
Will my robot dog turn against me and try to take over the world?
Maybe, I mean, it's a robot after all, and I can't promise that one day they will all turn around to enslave their human masters. But should that happen, just remove the batteries and things should return to normal pretty quickly.
I'm more of a cat person, got anything for me?
Don't worry, I get you, I too love furry little felines. The are plenty of robot cats available also. We'll be doing a full post on them in the future.