Anyone who knows drones will br familiar with DJI, they are by far the most popular drone company with a wide range for most budgets. But in 2020 a new competitor came into the drone market: Exo. The company soon started creating drones with better features, or the same but always more affordable.
However, as always, advertised features are not everything. A 48mp camera is not always better than a 20mp one if a poor lens and sensors are used to cut costs. You will need the expertise to make the correct choice, and that's where we come in. We will go through the latest models by both companies so you can easily understand how Exo drones compare to DJI drones in reality.
With a versatile range of drones, comparing the DJI drones vs Exo drones can be a little complicated. But don't worry, we have got you covered so you can easily know which drone is better – Exo drones or DJI.
*The product links in this post are affiliate links, which means that if you purchase after following one, I make a small commission from the sale at no additional cost to you. Please see our disclosure page for more information.
The quick answer | Exo drones vs DJI drones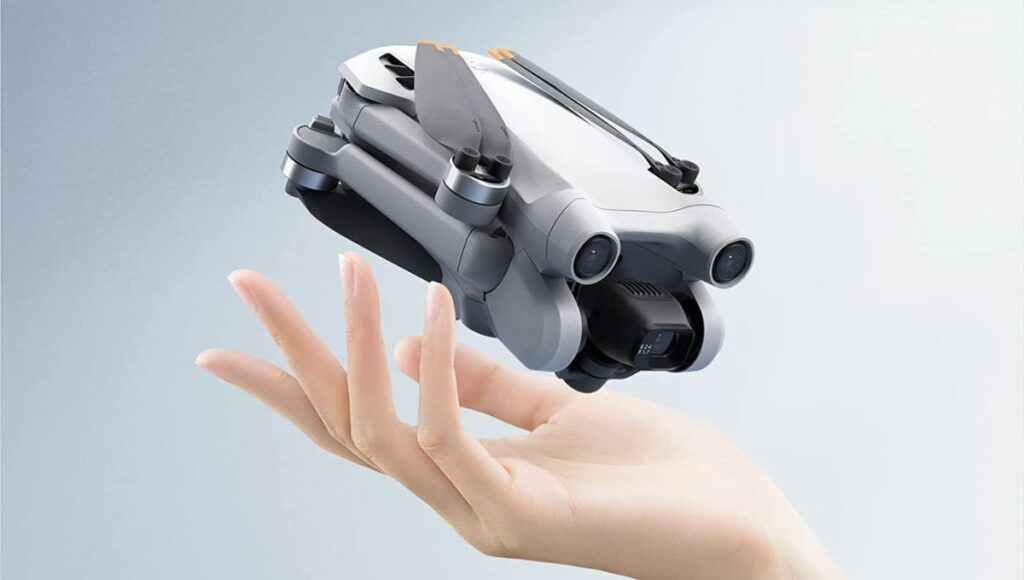 The product is always relative to the specific needs of the customer. For people looking for the best flagship drone, then the classic Mavic 3 is suggested. Exo has no competitor drones for this price range (Mavic series) yet.
Next, those looking for an average premium drone, they have two options: air 2s and Blackhawk pro; air 2s is slightly better than the latter, while the Blackhawk is a little more affordable.
Mini versions are almost identical, so it's more of a company preference; here, Exo is recommended as it is American-based and has better customer service. Lastly, for people looking for budget drones under 500 dollars, Exo's ranger plus and cinemaster are worth checking.
Best of Exo Drones
Exo was founded in 2020 by tech enthusiasts tired of purchasing expensive drones from DJI. Within a year, due to a partnership with Hubsan and the launching of affordable drones, Exo became popular. Another major plus point of Exo drones was that its headquarters is based in the USA (Salt Lake City, UT). (edit)
The Exo X7 Ranger
Due to the affordable price tag, the Exo x7 ranger plus is one of the most popular drones by Exo. This drone offers all the essential features that one looks for in a drone. It has a super speed of up to 26 mph with obstacle avoidance through an attachable module.
Furthermore, the drone offers level 5 wind resistance, as seen in the higher-end models of Exo drones. All the necessary intelligent features are included, such as return home, follow me, follow a path, and virtual reality. However, the drone also comes with an essential bag pack for easy and safe traveling.
The camera is also decent quality, with 4k photos and FHD videos. 3 axis Gimbal rotation on the camera makes it further easier to operate. The battery life is around 25 minutes, so it's better to always look for bundle deals when buying this drone. X7 drone is for any level of drone pilot.
It is recommended for beginners who want to learn flying as this drone is super easy, and all Exo drones come with free tutorials. Also, it's affordable, and with Exo care, you can fly it without any worries.
EXO X7 Ranger Plus - High End Camera Drone for Adults
EXO X7 Ranger Plus - High End Camera Drone for Adults. Long Battery & Range, 4K Camera, 3 Axis Gimbal, Obstacle Avoidance, 27MPH Speed. Powerful & Playful Drone with Camera and GPS Return to Home, 3 Batteries, USA Red, 25min/Battery, 10+ Smart Features, HD Live-Feed.
Last update on 2023-10-03 / Affiliate links / Images from Amazon Product Advertising API
The Exo Mini Pro
The Exo mini pro was launched one month after the DJI Mini 3 with almost the same features but at a more affordable price. The design of this drone is identical to the ones featured in their higher-end models, such as the Blackhawk series. It is equipped with a 48mp camera and a 1/1.3in CMOS sensor.
It offers an adjustable aperture with a stunning night mode. The videos shot on his drone are also exceptional as it provides UHD HDR captured at 200mbs. Furthermore, the drone offers a flight range of 5 miles which is impressive compared to the other Exo drones.
The drone offers premium features and looks at a much more affordable price. This drone is for those who don't want to register with the FAA and still want to enjoy all the premium features at a reasonable price point.
EXO Mini Pro 4K UHD HDR Video Long Range Drone
EXO Mini Pro,1 Battery, 64GB Storage, 5+ Mile Range, 40-Minute Flight Time, 3-Way Obstacle Avoidance, A 30MPH+ Wind Resistance, Shoot 48 Megapixel Photos, 4K UHD HDR Video at 200mbps, Night Mode, Return to Home & Land, Lost Connection Return, Find My Drone GPS Pin and More.
Last update on 2023-10-03 / Affiliate links / Images from Amazon Product Advertising API
The Exo Scout
The Exo scout will be a perfect gift if you want something for your adult children. This drone comes in two colors; golden and black. It's slightly more expensive than other toy drones like the DJI Tello.
However, unlike other toy drones, this drone has a 1080p and a 6mp camera. The drone can attain a maximum speed of 15mph with a battery life of 18 minutes. It also comes with two free batteries. The drone also offers innovative features such as automatic take-off and hover hold.
Despite the cool advertising, such as 4k photos and HD videos, the scout is a toy drone. You will primarily use it inside the house (and sometimes outdoors with a pleasant environment). However, the camera might be helpful at some point where an adult could use it to take some decent imagery from a low height; otherwise, it's a drone for children to play with.
EXO Scout - Drone with Camera for Adults or Kids
EXO Scout - Drone with Camera for Adults or Kids, Drone Kit with 2 Batteries, Free Carry Case, HD 1080p Video, 3 Speeds, Auto Take-Off/Land, 3 Speed Levels, Long battery life, Fly up to 18-minute flight time, 4K Photo, 1080p Video, 90-degree camera tilt, Intelligent AI Modes & More.
Last update on 2023-10-03 / Affiliate links / Images from Amazon Product Advertising API
The Exo Cinemaster
As the name suggests, Exo cinemaster is a great camera drone known for its videography. Exo cinemaster 2 was launched after the ranger plus, and it was an upgrade to what many people thought was missing in the prior drone; the camera quality. With around 100 dollars more, you can get a drone that shoots videos at UHD and slow mo's at 1080 at 60fps.
The smoothness of the flying and 3-axis gimbal stabilization makes it further perfect for shooting videos. The flight time on this drone is around 28 minutes due to a better battery installed. This drone is for beginners or professionals looking for a drone to shoot videos in a half-mile range, such as for covering functions and weddings.
EXO CINEMASTER 2 - 4K UHD Camera and GPS Drone
EXO CINEMASTER 2 - 4K UHD Camera Drone. 28 Minute Flight Time, 11MP Photo, 4K Professional 3 Axis Gimbal GPS Drone, Slow Motion, Auto Return Home, 1/2.3in CMOS Sensor, 3840 x 2160p UHD Video Resolution, 20MPH Wind Resistance, Watch & Control The Drone in Real Time, 27MPH Top Speed.
Last update on 2023-10-03 / Affiliate links / Images from Amazon Product Advertising API
Best of DJI Drones
The story of DJI goes back to 2005 when a young student built a prototype for his university project. Later, after acquiring funding and upgrading, Frank Wang, the founder, flew the drone at the peak of Mount Everest. Finally, in 2013 DJI, based in Shenzhen, China, launched its first consumer-based drone. Today, DJI is the biggest drone manufacturer globally. (edit)
The DJI Air-2S Drones
DJI Air-2S Drones is one of the premium drones by DJI. To understand it better, let's compare this drone with the blackhawk 2 pro. Exo blackhawk 2 pro version is the competitor drone for Air 2s.
Though blackhawk is more affordable, Air 2s is the more premium drone. The biggest pro in the Air 2s is the video quality at 5.4k and a big 1-inch CMOS sensor. Another advantage of air 2s is the flight range of around 7.5 miles, about 2.5 miles more than the blackhawk 2 pro.
This drone also offers a 4-way obstacle avoidance compared to the three-way on blackhawk. The battery life is around 30 mins, a little less than the latter.
This drone is suitable for those looking for something a little better than the blackhawk and willing to spend the extra dollars. Moreover, this drone is highly recommended for professional videographers such as for weddings requiring a maximum resolution in a consumer-based drone.
DJI Air 2S Fly More Combo - Drone with 3 Axis Gimbal Camera
DJI Air 2S Fly More Combo, Drone with 3-Axis Gimbal Camera, 5.4K/30fps and 4K/60fps Video, 1-Inch CMOS Sensor, Remote Control, ActiveTrack 4.0, 4 Directions of Obstacle Sensing, 31 Mins Flight Time, 12km 1080p Video Transmission, Two Extra Batteries, 7.5 Miles Max Video Transmission.
Last update on 2023-10-03 / Affiliate links / Images from Amazon Product Advertising API
The DJI Mini 3 Drones
If you are looking for a premium drone that doesn't require registration, then DJI has you covered with their latest DJI Mini drone. This drone is compact and light to carry while delivering the optimal output for shooting required in modern times. It is a little upgrade than the exo mini pro drone, such as less aperture (1.7) and longer flight time.
This drone also offers three-way obstacle avoidance and a gimbal camera, which can rotate 90 for easy flying. Furthermore, the DJI Mini 3 can go up to 7.5 miles without losing transmission using OcuSync 3.0 transmission technology.
This is a little more reliable than the Syncleas transmission used by Exo mini pro. DJI Mini 3 is recommended for professional social media influencers who can spend over a thousand dollars for a professional yet minimalistic mini drone.
Last update on 2023-10-03 / Affiliate links / Images from Amazon Product Advertising API
The DJI Mavic-3 Drone
For those looking for something that is even more premium than the air 2s, it would be helpful to check this drone out. The DJI Mavic 3 is one of the top-notch drones by DJI. It delivers videography; 5.1k at 50 fps and 4k at 120fps!
The range is also increased to around 9.3 miles which is transmitted to the in display remote of DJI Mavic 3 at 1080p, 60fps. The camera is also superior in this drone thanks to the Hasselblad camera technology used in the Mavic series.
This drone is easy to operate for any level of pilot. However, it's not for everyone. It is a flagship model offering many premium features that may be unnecessary for every user, such as the maximum video output of 5.1k at 50fps.
Most people won't even have devices to play the maximum video quality. However, certain features will make this drone the only option for many people, such as the level 6 wind resistance and the prolonged battery life of 46 minutes. This would suit those who fly in harsh environments and require professional-grade use such as remote sensing.
DJI Mavic 3 Classic (DJI RC) - Drone with 5.1K HD Video
DJI Mavic 3 Classic (DJI RC), Drone with 4/3 CMOS Hasselblad Camera for Professionals, 5.1K/50fps and DCI 4K/120fps HD Video, DJI O3+, Up to 15 km Video Transmission, 46 Mins Flight Time, Omnidirectional Obstacle Sensing, 15km Transmission Range, Smart Return to Home.
Last update on 2023-10-03 / Affiliate links / Images from Amazon Product Advertising API
Side-by-side comparison
Care plans
Both companies offer care plans for your drones which you can buy separately for each drone. These plans cover the most repair cost and can be very beneficial on higher-end models. Both companies offer a one-year refreshment period on their plans.
The mini series
Both brands offer mini drones having the sole purpose of weight under 249g while providing premium features. The latest mini variants (as discussed above) are the Exo Mini Pro and DJI Mini 3. Both drones have the flagship features such as 40 minutes plus battery time, UHD and 48mp camera, and obstacle avoidance. The operating temperature of both drones is -10 to 40 degrees.
Exceptional camera drones
Both companies offer the best camera drones as they offer the latest camera features compared to the drone market. DJI was the first to announce 48mp cameras in their drones, but Exo later caught up with the advertising. Both drones use CMOS sensors and 4k video in their low-end variants. Other camera features, such as low light imagery and gimbal camera rotation, are also available in both drones.
Level of drone pilots
Both drones are pretty easy when it comes to flying. DJI offers a simple interface and minimalistic design, making the company's drone premium yet simple to operate. On the other hand, Exo offers free flight lessons with every drone, making it easy to pilot too.
Additional Accessories
You can easily purchase the additional accessories such as propellers, batteries, of the drones by both companies through their websites or from retail stores in the US. Exo is an American-based company, so you can reach it easily, while DJI also has many retail stores in the USA.
Key differences
Range
When it comes to range, DJI wins. For instance, the DJI Mini Three Pro range is almost two and a half miles more than the Exo Mini Pro. DJI offers a range of up to 9 miles plus on its highest-end variants, while Exo can provide a maximum range of 5 miles.
Flight time
The flight is almost the same on the competitive drone models by both companies when it comes to Exo drones vs DJI. Exo wins on the flagship version as Exo blackhawk has around 5 minutes more flight time, while on the mini versions, DJI has about 7 minutes more flight time.
Cost
The cost of Exo drones is cheaper. The whole idea behind Exo was to make more affordable drones than DJI, and they did. Almost all the variants are more affordable than the DJI variants.
FAQs
Who competes with DJI drones?
Skydio, Yuneec, Autel, and parrot Anafi are major competitors of DJI. Whereas Exo is the most popular recent competitor.
Do you need a license to fly an Exo drone?
If the drone weighs above 249 grams, then you will require a license to fly it. If you live in the USA, you can easily register through the FAA (federal aviation administration). All Exo drones except the scout and mini versions need to be registered.
Is DJI banned in the US?
In 2021 DJI was a potential threat; however, DJI drones can now be bought, registered with the FAA, and used in the USA. Like other drones, DJI Models, weighing below 249g, does not require registration.
Is DJI fly available on Google Play Store?
As of 2021, DJI fly was removed from Play Store but can be downloaded from the DJI store app or online as an Apk.
Are Exo and Husban the same company?
Exo has partnered with husban, but hubsan drones are manufactured separately.
Final thoughts on EXO drones vs DJI
DJI is a big company that also produces commercial drones aside from consumers. On the other hand, Exo is a new company focusing more on budget drone series than the super flagship models like the Mavic series in DJI. To conclude, for professional use, DJI is recommended, while for budget drones, Exo wins.