The robot vacuum market is continuously growing. Every year, we get different and new variants from brands, and it seems like the product list is never-ending. This makes finding the perfect robot vacuum for your home a challenge since there are thousands to choose from.
In this article, we will weigh the Roomba i3 vs. e5 against each other to know which gives the most value. In the end, you should have a glimpse of what fits your home as well as the reasons behind it.
*The product links in this post are affiliate links, which means that if you purchase after following one, I make a small commission from the sale at no additional cost to you. Please see our disclosure page for more information.
You may also like:
At a glance
Surface
Dual Action, Hard Floor, Carpet
Dual Action, Hard Floor, Carpet
Controller
Vera, Google Assistant, Amazon Alexa
Vera, Google Assistant, Amazon Alexa, Homekit
Surface
Dual Action, Hard Floor, Carpet
Controller
Vera, Google Assistant, Amazon Alexa
Surface
Dual Action, Hard Floor, Carpet
Controller
Vera, Google Assistant, Amazon Alexa, Homekit
Last update on 2023-09-29 / Affiliate links / Images from Amazon Product Advertising API
The quick answer
The Roomba i3 is an all-in-one robot complete with a self-emptying bin for convenience and mapping options for navigation. Not only that but it is also powered up with double suction power, making cleaning a lot easier.
However, this does not mean that the Roomba e5 is not worthy of purchase. On the contrary, the features are still great for their price. It's just that the Roomba i3 outshines it in everything that it has to offer. At a glance, one might even confuse the e5 with the i3 since they have the same fundamental function and design.
Overall, I believe that the i3 will provide more value in the long run. But if you are tight on your budget and still want a robot vacuum, the e5 will do its job properly.
Robot Vacuum Overviews
Roomba E5
The iRobot Roomba e5 is an intelligent robot vacuum equipped with Wi-Fi-ready modules that make house clean-up a lot easier. It is a robot designed to automate vacuuming processes with the use of adaptive navigation and dirt detection. In addition, with several sensors equipped to hasten cleaning cycles, it has the power to cut time in home maintenance.
A built-in app is included for control of scheduling, initiating, and terminating cleaning schedules. It even has a self-charging program that aids in making sure that you do not need to pick it up once the battery is low. Lastly, dual brushes are used to remove gunk and dirt from surfaces.
You should also check: iRobot Roomba E5 5150 Review
Sale
iRobot Roomba E5 (5150) Robot Vacuum
iRobot Roomba E5 (5150) Robot Vacuum - Wi-Fi Connected, Works with Alexa, Ideal for Pet Hair, Carpets, Hard, Self-Charging Robotic Vacuum, Black, Premium 3-Stage Cleaning System and 5X the Power-Lifting Suction.
Last update on 2023-09-29 / Affiliate links / Images from Amazon Product Advertising API
Roomba i3
The Roomba i3 can be viewed as the more advanced version of the Roomba e3. It is a newer and upgraded model, thus, obviously has features that do not exist on its older counterpart. For example, with a circular vacuum design, it navigates the house through logical rows. It can also be connected to Wi-Fi for better control.
Great hardware and software are both present in the Roomba i3, as it has amazing suction power coupled with LiDAR navigation. It even has mapped the room to track movement and places that it has yet to clean. Dirt detection and reactive sensors also make processes more efficient for the user.
If you want to know more about Roomba i3 in detail then check the full iRobot Roomba i3 Review
Sale
iRobot Roomba i3 (3150) Wi-Fi Connected Robot Vacuum
iRobot Roomba i3 (3150) Wi-Fi Connected Robot Vacuum Vacuum - Wi-Fi Connected Mapping, Works with Alexa, Ideal for Pet Hair, Carpets, Premium 3-Stage Cleaning System and 10X the Power-Lifting Suction, High-Efficiency Filter traps 99% of cat and dog dander allergens.
Last update on 2023-09-29 / Affiliate links / Images from Amazon Product Advertising API
Side by side comparison of Robot Vacuums
Here are some common features shared by both beneficial robots, especially in cleaning and efficiency. 
Sensors
Both robot vacuums are manufactured by iRobot. Thus, it is obvious that they would be equipped with the same sensors for uniformity. The i3 and e5 have drop and dirt sensors that help them stay safe or clean. Once the dirt is detected within the vicinity, the robot vacuums quickly focus on the spot. Also, drop sensors detect whether a cliff or fall is present such as in staircases, to avoid the robot from going to those zones.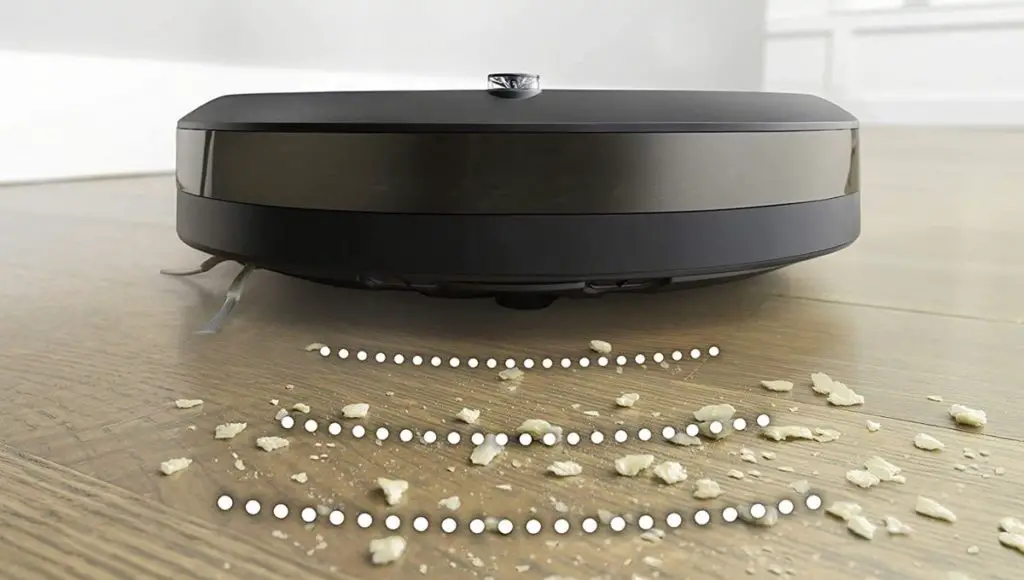 Self-Docking
Self-docking is present in both i3 and e5. This function helps the robots navigate back to their charging station once battery levels are low. In addition, the feature is very helpful in ensuring that cleaning processes do not stop, as they also activate the Recharge and Resume protocol wherein the vacuums return to where they left off after charging. Thus, a 24/7 routine can be followed without stopping.
Vacuum Modes
Vacuum modes are essential in making sure that your home has specified and customized cleaning options. Both i3 and e5 have three of them in Regular Clean, Manual Clean, and Spot Clean. Regular clean is the normal operation of the robot vacuum cleaner wherein it vacuums in logical rows.
On the other hand, manual cleaning allows custom options by a user to increase cleaning performance. Lastly, spot cleaning is when the robots move in a circular repeated motion to focus on a specific spot. Overall, these cleaning modes help in a more personal cleaning experience.
Smart Home Ready
Both robots are Alexa and Google Home integration ready. This means that you can use simple voice commands to initiate, terminate, and schedule cleaning times. This is very beneficial, especially for those that have Alexa devices.
You might like this as well: Do Roombas Work on Carpets?
Key Differences of Vacuum Cleaner Robots
Here are some key differences that could determine your purchase factors between the Roomba i3 and e5. 
Vacuum Power
Vacuum power is defined as the total capability of a robot vacuum to intake materials at a very rapid pace. While the Roomba has continually improved on this feature, it is clear that the i3 has the edge over the e5 since it has 10x more power than regular vacuums compared to the e5 5x. This is double the amount of sheer suction power, which can mean the difference between capturing allergens or fur present in the air. Thus, the i3 wins in this department.
Navigation refers to how a robot moves around the room. With the e5, adaptive navigation is present, which means that it randomly maneuvers itself on the different areas of a room. On the other hand, the i3 offers a more logical and smart approach thanks to its Neat Rows movement, wherein it places priority on vertical movements to cover everything. Therefore, in terms of efficiency, the i3 also takes the cake in this one.
Mapping Options
Mapping options refer to the spatial perception of the robot vacuum. This function is not present in the e5 since it only relies on visual imagery and collision sensors. On the other hand, the i3 is equipped with LiDAR sensors that help give a full view of a room, even scanning it so that a user might know the exact location of the robot at any given time.
Self-emptying potential
The plus version of the i3 is equipped with a self-emptying disposal bin that automatically sucks collected dust during the charging phase. This makes the whole maintenance process easier since users will not need to take it out by themselves. Sadly, this is not an available feature on the Roomba e5.
You can also check out the comparison of Roomba i3 vs 960.
FAQs
Does Roomba i3 have HEPA filter?
Yes, it has a HEPA filter that helps trap allergens, keeping you and your family safe from irritants.
Will Roomba work without WiFi?
Yes, it works without Wi-Fi. However, you will not get the full value if you do not have a working internet connection. Thus, Wi-Fi is recommended.
Does Roomba e5 remember the room layout?
No, it does not. However, the i3 has mapping ready, so you might want to choose that model for this feature.
Does it work well with carpets?
Yes, both robots work well with carpet and still suck up dirt that is stuck.
Does it do well with fur and pet hair?
Yes! It works well with any type of hair, even those from human ones. The filters also help in ensuring that no irritants are present.
Does it have a warranty?
Yes, all Roomba purchases that are legitimate have embedded warranty in them. You can even extend a subscription with additional cash.
Final thoughts
Overall, the i3 wins this round of robot vacuum match-up. The Neat Rows cleaning, as well as the self-docking and self-disposal potential, is too good to give up. Not only that, but the suction power is a very amazing tool to help in your cleaning processes.
However, it does not mean that the e5 should not be considered for purchase. On the contrary, it has great value for its price and will do well for those who want a simple home vacuum.
If you are particular about features and have an ample budget, the i3 will be a good buy. On the other hand, for those that want a casual vacuum, the e5 will be enough.
Emma Marie is a valued writer at the Little Robot Shop. She studied robotics and deeply understands technology, which shows in her writing.  She consistently produces high-quality content, making her a perfect fit for the Little Robot Shop team.
While not writing, Emma works in a popular electronics retail chain. Emma also enjoys running and has two dogs with whom she loves spending time.