The Roomba E5 and the 960 Robot vacuum are two of the most popular robot vacuums on the market. They both have a lot of features in common, but they also have some distinct differences.
In this post, I'll compare iRobot Roomba E5 and iRobot Roomba 960 side by side so that you can see which one is best for your needs.
*The product links in this post are affiliate links, which means that if you purchase after following one, I make a small commission from the sale at no additional cost to you. Please see our disclosure page for more information.
You may also like:
At a glance
Surface
Dual Action, Hard Floor, Carpet
Controller
Vera, Google Assistant, Amazon Alexa
Vera, Google Assistant, Amazon Alexa, Homekit
Surface
Dual Action, Hard Floor, Carpet
Controller
Vera, Google Assistant, Amazon Alexa
Controller
Vera, Google Assistant, Amazon Alexa, Homekit
Last update on 2023-05-12 / Affiliate links / Images from Amazon Product Advertising API
The quick answer
When comparing the two robots, there is no doubt that the Roomba 960 is the winner. Navigation and the ability to resume from where it left off after charging is the main difference. Yet again, it is all down to smart mapping.
However, that said, there is quite a price difference, with the Roomba 960 often found at up to $150 more.
If you are primarily concerned with budget, then the Roomba E5 is still a great choice, especially for smaller homes where the smart mapping isn't quite as critical.
So let's take a closer look.
Product Overviews
Roomba E5 overview
iRobot Roomba E5 is the entry-level vacuum for the iRobot E series robot vacuums. The new iRobot Roomba E5 (5150) Robotic vacuum is a lower-priced and essential model.
The robot has dual multi-service brushes that are superior to standard brushes. That is, the brushes have a flexing mechanism that enables them to constantly stay in contact with your carpets or hard floor.
It has built-in WiFi connectivity. You can use the iRobot APP to control your robot vacuum using voice commands with your smartphone or tablet. You can also schedule cleaning time for it or even change its settings.
The lithium-ion battery lasts up to 90 minutes before requiring a recharge. When low on power, the robotic vacuum will automatically return to the charging dock. So, you don't have to worry about lifting a finger!
The Roomba E5 is an ideal vacuum for homes with pets. It can pick up pet hair and debris from all surfaces in your home. Using voice commands with your smartphone or tablet, including carpets and hard floors, and with the Roomba E5's rubber brushes, the pet hair doesn't get all tangled up.
The vacuum features have a Premium 3-Stage Cleaning System to obliterate dirt, dust, and debris. In addition, it is equipped with Roomba's 5X the powerlifting suction compared with Roomba 600 series.
Roomba E5 can get under and around furniture with ease. Also, the Cliff Detect feature keeps the robot vacuum from tumbling down the stairs.
It's worth noting that the Roomba E5 makes quite much noise compared with other Roomba products. So you'll need to try to schedule it to clean when you are not within the house.
Looking for an in depth review? Check out full iRobot Roomba E5 5150 Review

Great value
Strong suction
Voice command compatible
The dirt detect feature is a nice touch
Will automatically recharge
Large dustbin
Sale
iRobot Roomba E5 (5150) Robot Vacuum
iRobot Roomba E5 (5150) Robot Vacuum - Wi-Fi Connected, Works with Vera, Google Assistant, Amazon Alexa, Homekit, Ideal for Pet Hair, Carpets, Hard, Self-Charging Robotic Vacuum, Black.
Last update on 2023-12-06 / Affiliate links / Images from Amazon Product Advertising API
Roomba 960 Overview
The iRobot Roomba 960 is an intelligent robot vacuum. This vacuum packs many different levels of automation for your convenience and comfort while you're not home to keep watch over it.
It has a built-in camera that enables smart navigation in the room while vacuuming. Plus, its smart mapping feature increases the robot vacuum's efficiency when cleaning the room. And when it's done cleaning, it sends you a map of the area it cleaned via the iRobot home app.
Roomba 960 also lets you set specific times for cleanings and includes other features like "Auto Dock," which will find its way back to the charging base when needed.
What's more, its advanced sensor system will map out where all these different surfaces are so that no surface gets missed.
While we're talking about sensors and cool tech, I have to mention the Roomba 960 has an onboard camera and visual mapping features that give it fantastic maneuverability. This makes vacuuming much easier to use.
More importantly, the automatic vacuum can map and remember multiple rooms. So if you need to clean your entire home, you don't have to worry about floor mapping.
The advanced iAdapt 2.0 navigation system has multiple sensors to sense its surroundings and also allows it to map out the room, enabling more consistent coverage.
With this technology, Roomba can clean your floors in the most efficient way possible. In addition, it can automatically navigate around furniture and other obstacles for you while also capturing data on how often it cleans specific areas of your home.
One downside of the vacuum is the relatively small dustbin; also, it needs regular and careful cleaning to keep its sensors from getting clogged up by pet hair or any other debris.
The sensitive detectors can't handle living with any uncleanliness whatsoever because it could lead them into some pretty serious trouble down the road (i.e., getting stuck under furniture).
Also, When it comes to cleaning hair on high-pile carpets, the Roomba 960 is mediocre compared to other vacuums in a similar range. This could be because it lacks a carpet boost feature that increases suction power when cleaning high-pile carpets.
Finally, there have been several reports that the vacuum doesn't work well in dark rooms.
Roomba 960 uses an onboard camera to map the floor that it is to clean. Unfortunately, these cameras require sufficient light to function optimally.
As such, the robot vacuum can do a poor job if the room is dark or the floor has black color. This will be a drawback if you plan to schedule cleaning while you sleep.

Smart navigation
Voice controls
Auto recharge and resume
Great for hard floor and low pile carpets
Quiet
Sale
iRobot Roomba 960 Robot Vacuum
iRobot Roomba 960 Robot Vacuum- Wi-Fi Connected Mapping, Works with Alexa, Ideal for Pet Hair, Carpets, Hard Floors, Black, Power-Lifting Suction delivers 5X the air power* for improved pick-up performance.
Last update on 2023-05-12 / Affiliate links / Images from Amazon Product Advertising API
Comparing iRobot Roomba E5 with 960
Automatic recharging
Both the iRobot Roomba E5 and 960 return to the charging when they run out of charge during the cleaning cycle or finish vacuuming.
This feature makes these robot vacuums ready for use during cleaning schedules.
Dirt detect
Both Roomba E5 and Roomba 960 have the Dirt Detect feature. These sensors identify dirtier areas of the floor and automatically increase suction power to eliminate the dirt.
As a result, the robot vacuums can extend their cleaning time to a dirtier spot and make more passes until it is satisfactorily clean.
WiFi Connectivity and iRobot home app compatibility
Roomba models E5 and 960 have wifi-enabled and are compatible with the iRobot home app. When the robots have a WiFi connection, you can control them from anywhere via the mobile app without much hassle.
You can remotely create cleaning schedules and monitor the robot vacuums as they do their work.
Google Assistant and Amazon Alexa
The Google Assistant and Amazon Alexa features give you the option to issue commands to the robot vacuums hands-free.
In addition, you can use voice control to give the robot vacuum voice commands for functions such as to start a cleaning cycle, return to the charging dock, or cancel a cleaning cycle.
Virtual wall barriers
Both iRobot Roomba E5 and 960 come with a virtual wall barrier for containment purposes.
The virtual wall barrier helps restrict your robot vacuum from entering or leaving a certain zone, thus making the cleaning process more efficient.
Rating for floor types
Both Roomba E5 and 960 are rated for use with different floor types such as hard floors, rugs, and carpets.
The robot vacuums adjust to different floor types automatically.
High-efficiency filters
iRobot Roomba E5 and 960 have high-efficiency filters that improve their cleaning performance significantly.
The filters can collect about 99 percent of small-sized pet allergens such as pollen, pet dander, dust mites, and molds, to mention but a few. With these Roomba products, you're assured of fresh air in your room.
Rubber brush rolls
Roomba E5 and 960 have Dual Multi-Surface Rubber Brushes that are tangle-less. This anti-tangle feature makes these Roomba products unique because you can operate them without the hassle of untangling pet hair.
Moreover, both Roomba E5 and 960 are multi-surface and have an edge-sweeping brush responsible for edge cleaning.
Side brush
The Roomba e5 and 960 have a single side brush that helps push dirt to the robot's cleaning path.
The side brush also helps in edge cleaning, an area that most round-shaped robot vacuums struggle to clean.
3-stage cleaning system
Romba E5 and 960 have a 3-stage cleaning system that gives it strong airpower for efficient cleaning. The 3-stage cleaning system works in conjunction with high-efficiency filters and  Dirt Detect™ Technology to give the robotic vacuums a great cleaning performance.
In addition, they can detect and clean the smallest pet allergens, such as mold.
Spot cleaning mode
Both the Roomba E5 and 960 have spot cleaning mode. As the name suggests, the robot vacuums can identify a particular spot that needs a thorough cleaning and rotate around it until it's clean.
You can also lift the robot vacuum and place it at a dirty spot, and it will clean it without vacuuming the whole floor.
Also check out: How do Robot Vacuum Cleaners Work?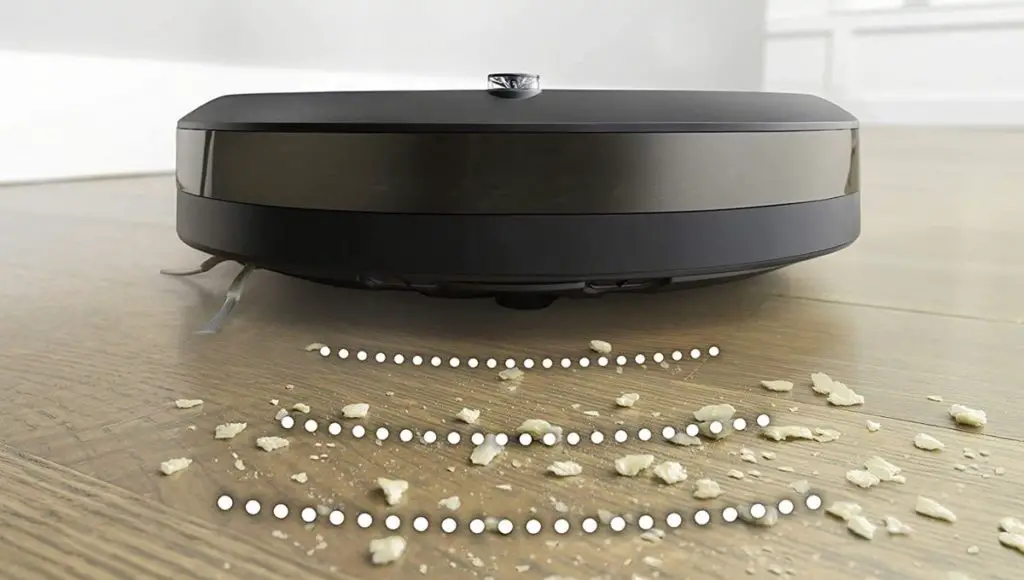 Key Differences Between iRobot Roomba E5 vs. 960
The Roomba 960 has a top-mounted camera and VSLAM algorithm. These features help the robot vacuum save maps of your room and navigate logically. On the other hand, Roomba E5 lacks an in-built camera, and thus it doesn't have the memory mapping feature.
As such, it follows random patterns. For example, while Roomba 960 cleans your floor in calculated straight paths, Roomba E5 follows sporadic and random paths.
Dust bin capacity
The Roomba E5 robot vacuum has a slightly larger dustbin capacity than Roomba 960. Roomba E5's dustbin has a 0.7L capacity, while 960 has 0.5L. The difference means you need to empty Roomba 960 more frequently than Roomba E5 since neither model is a self-emptying robot vacuum like the i3 or i7.
Another difference is that the E5 collection bin is washable while that of 960 isn't. For the latter, you can only wipe it clean with a dry towel.
Robot vacuum battery
Roomba E5 has a larger battery capacity of 3300mAh and a battery life of 90 minutes. On the other hand, Roomba 960 has a smaller battery life with a capacity of 2600 mAh that runs for 75 minutes.
However, both Roomba E5 and 960 have a battery recharge time between 120-180 min.
Resume cleaning after charging
Roomba 960 has the auto-charge and resume feature that enables the robot vacuum to resume cleaning when fully charged automatically. In addition, the memory mapping feature makes Roomba 960 remember the floor zones it cleaned and resumes where it stopped until the whole floor is clean.
However, the Roomba E5 lacks this feature. Thus, you have to start a new cleaning cycle once the battery is fully charged.
Pricing
When it comes to pricing, the Roomba 960 is the more costly Roomba than E5 because the former has more advanced features than the latter.
Alternative robot vacuums to consider
If you have a little bit extra to your budget, one of our favorite vacuums of the moment is the gorgeous Coredy L900 Robot Vacuum.
As you will see in our review of the Coredy L900 Robot Vacuum Cleaner, it is a 2-in-1 vacuum & mop that automatically maps your home to ensure you get the fastest, most thorough cleaning possible.
In addition, with 2700pa power suction ideal for pet hair, it delivers up to 99% better coverage and x4 accuracy (random path robotic vacuums).
If, on the other hand, you want to try and save some $$, the eufy by Anker, BoostIQ RoboVac 30C MAX could be a good choice. It's a few years old now but still holds its own.
Strong suction power combined with quiet operation and a slim design that lets you clean the entire space in your home without ever having to get off the couch.
The EufyHome app includes voice control services like Amazon Alexa or Google Assistant, and BoostIQ Technology senses when extra vacuuming strength is needed.
Want more alternatives? Check out: 16 of the Best Roomba Alternatives for all Budgets
Final thoughts
Your decision to choose between Roomba E5 vs 960 depends largely on your budget and the size of your home. Roomba 960 has smart algorithms to map the plan of multiple rooms, locate itself, and resume cleaning after recharging.
As such, it can vacuum an entire large room without you lifting a finger. However, that does come at a price. Whichever one you choose, both of these are very good robot vacuums.
Emma Marie is a valued writer at the Little Robot Shop. She studied robotics and deeply understands technology, which shows in her writing.  She consistently produces high-quality content, making her a perfect fit for the Little Robot Shop team.
While not writing, Emma works in a popular electronics retail chain. Emma also enjoys running and has two dogs with whom she loves spending time.