The Proscenic 820s robot vacuum cleaner is an affordable option for those who are wanting to own one of these cleaning robots, but don't want to splash the cash on a high-end model before knowing for sure if robot vacuum cleaners are a right fit for their lifestyle.
I have been using this budget model in my home now for more than 2 months, so in this Proscenic 820s robot vacuum review I'll take a close look at the performance and reliability of this mean lean cleaning robot.
*The product links in this post are affiliate links, which means that if you purchase after following one, I make a small commission from the sale at no additional cost to you. Please see our disclosure page for more information.
1-minute robot vacuum review
Last update on 2023-12-06 / Affiliate links / Images from Amazon Product Advertising API
Important note: This model has been recently replaced by the excellent 850T – I advise looking at both options.
The Proscenic 820s delivers with everything that is promised on the box. The robot vacuum cleaner comes packed with manual remote control as well as a companion app to give you complete control over your vacuum.
You will also get a 1-meter of magnetic strip which can be placed on the floor and the robot vacuum will not pass over it.
For the price, you are getting a lot of features in this robot vacuum and I must say I'm very impressed with the standard of cleaning.
While it is lacking certain features of more high-end devices, like base automatic dirt disposal or laser mapping, the robot vacuum does offer great suction, voice control and other great features for an excellent price.
Let's dig a little deeper into why in this more in-depth Proscenic 820s robot vacuum review.
Amazing value
Good suction power
Large dustbin
Mopping available
Scheduling is a nice feature to have
Battery life is solid
Remote, voice and app control (plus an easy to use smartphone app)
It has sometimes activated its return to home mode for no real reason
It's not very smart when returning to its charging dock and gets lost quite easily
If it gets stuck you're unlikely to notice
It cannot vacuum and mop at the same time (you have to manually switch between the two)
Lacks more luxurious features, like base automatic dirt disposal
Last update on 2023-12-06 / Affiliate links / Images from Amazon Product Advertising API
Full Proscenic 820s review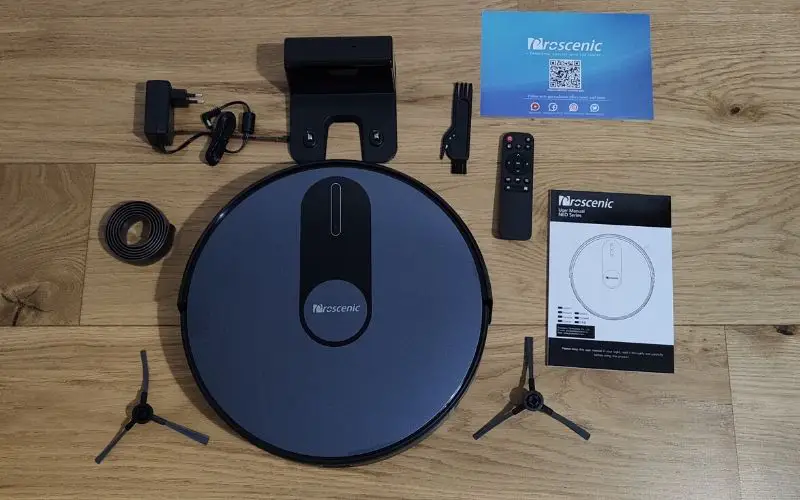 What's in the box?
Charging Station
Remote Control
2 side brushes (x2)
600 mL Dustbin
HEPA filter (already in the dustbin)
1-meter magnetic boundary stip
Cleaning Brush
User Manual
Proscenic 820s robot vacuum dimensions
These are based on my measurements of the Proscenic robot vacuum.
Height: 3.11 inches (7.9cm)
Width / diameter: 31.2 inches (33.5 cm)
Weight: around 9.5 pounds (4.3 kgs)
How does the Proscenic 820s robot vacuum work?
The Proscenic 820s robot vacuum cleaner fits in with the standard robotic vacuum cleaner design. It is a circular robot with two edge side brushes than spin and guides any dirt and debris into the center where the spinning brush will sweep it up into its bin.
The Proscenic robotic vacuum has a few sensors onboard. The anti-drop sensor or cliff sensor will ensure that it doesn't go kamikaze down and set of stairs you may have in your home and the anti-collision sensor means the robot should avoid bumping into stuff constantly.
Both of these do a very good job and work well to keep these robot vacuums safe.
The only gripe with the Proscenic 820s robot vacuum cleaner is the anti-collision sensor will often bump into smaller objects such as chair legs and can struggle with things like child gates. What I like, though, is that the robot vacuum knows where the wall is so it will not rub against it, just run along the side so it won't scuff the skirting board.
Another one of its great features is that it has multiple suction power. This means that when it is on hard surfaces it can run on low power, still doing an efficient job while preserving the battery life.
When the 820s reaches carpet or rugs, it automatically boosts the power for better cleaning. This is just perfect for ensuring that all the dirt and pet hair is removed from any part of your home.
Connecting your 820s robot vacuum to Wi-Fi
The smartphone app connects to the vacuum via 2.4ghz wi-fi and will give you live updates with where the vacuum is, however, the map is rather difficult to read.
With the app you can set the different cleaning modes, set the suction power and do everything else you can do with the included remote control, so whether your robot vacuum is tackling different floor types and needs a carpet boost or you need to direct it on the right path, you can do so wit the press of a few buttons.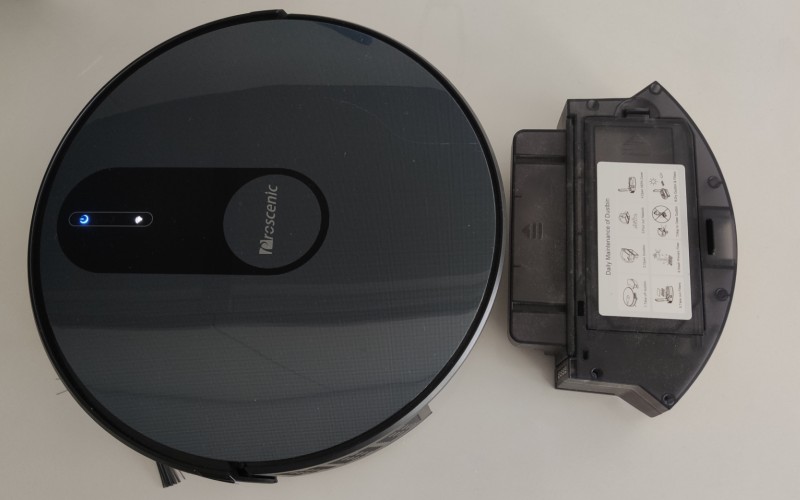 Performance
Overall I'm very happy with the performance of the Proscenic 820s robot vacuums (as you can probably already tell from how this review is going). I had pretty low expectations for a budget robot vacuum cleaner that can be purchased for something around $200 depending, on what offers are available.
As you can see in the video near the top of this post, the robot has no problem sucking up crumbs, dirt and dust and has a fairly low noise level as it goes about its room cleaning duties. The sensors and bumper work well, I have no qualms about the way these robot vacuums navigate the house.
Ease of set up and use
The setting up of the robot vacuum is super easy. Just plug in the charging station, let it charge for a bit and start it up. You can start it using the buttons on top of the machine or the remote control.
The first part, downloading the app was simple enough, you can either get it from the App store or Play Store, there is also a QR Code supplied in the manual for quick and easy download.
Once you have the smartphone app, you can follow the steps to connect to your Wi-Fi, then turn on the robot vacuum cleaner and also connect to that in the app. The steps are pretty straight forward … until you hit the snag.
The Proscenic 820s robot vacuum can only connect to 2.4ghz Wi-Fi and most modern routers have dual band of 2.4ghz and 5ghz. So first make sure you are connecting to the 2.4ghz signal. 
At this point I started to get pretty mad as it kept telling me it was only available on the 2.4ghz band and I knew I was connecting to the right internet signal. So I took to Google to find my solution.
It turns out the issue I was having was that both my 2.4ghz and 5ghz signal names were too similar which was confusing the system. The both had the same name just one has "plus" on the end. I managed to log into my router, change the name of the 2.4ghz signal, reconnect the app and the robot vacuum and boom, I could connect it to my Wi-Fi.
From here, I found the smartphone app control to be fairly straightforward, although the remote control is just as useful.
So in summary, the ease and set up is very simple unless in some unique cases (like mine) you have a dual band router with matching signal names. Coming up with a creative Wi-Fi name should help to combat this, though.
Extra Purchases and ongoing costs
Everything you need to get up and running comes in the box. There is just one set of spinning brushes supplied, so it may be that you need to replace these every six months or so.
The HEPA filter will require replacing at some point. You can buy a set on Amazon that includes the filter, brushes and a mopping cloth.
FAQs
How long does it take for the robot vacuum to get a full charge?
It takes between 3 to 4 hours
How long does full battery charge last on the Proscenic 820s?
The duration depends on the cleaning mode and if it spends a lot of time of full suction power. For standard cleaning I find my robot vacuum will happily run between 2 – 3 hours. However, if cleaning on super suction mode (recommended for carpets), this will be reduced to between 1 – 2 hours.
Does the vacuum require a lot of maintenance?
It is a good idea to check the filters at least once a week and empty out the dust bin frequently. If you're using it for both it's vacuum and mop capabilities, be sure to make sure that your water tank is properly cleaned too.
After returning to base due to low battery – does the Proscenic 820s resume cleaning where it left off?
No. It will start from the beginning again as it lacks laser mapping.
Does the robotic vacuum cleaner work with voice control?
Yes, this Proscenic robot vacuum model works with voice control, as well as compatibility with both Google Assistant and Alexa.
Can the Proscenic 820s be set to clean at a certain time?
Yes, you need to connect to the app to set this up, but once you have you can set multiple times. We have our Proscenic robot vacuum set for 2pm and 3am. You can also choose specific days to completely tailor the scheduling to your life.
Do you have to use the app or will it function without it?
If you want to use some of the features such as being able to set cleaning schedules and access your robotic vacuum's cleaning history, you will require the app, but for basic and the modes listed above, you can use the remote.
Can the boundary strips be cut to fit different areas?
Yes. However, there is not much included in the box. You may need to purchase extra strips.
How long is the manufacturer's warranty on the Proscenic 820s?
This particular Proscenic robot vacuum cleaner model comes with a hassle-free 30 days trial, so you can return it at any point, and a 12-month warranty for product failure. If you need to get in touch with the company, the Proscenic contact details are u003cbru003eEmail: mail [email protected]@proscenic. Phone: +1 888 517 9168 Monday to Friday 9am – 5:30pm.These can also be found on the back of the manual included in the box.
Final thoughts on the Proscenic 820s
Overall, I would happily recommend the Proscenic 820s as an excellent value device. Robot vacuum cleaners are not for everyone. They do not completely remove the need for a manual spot clean, but they do help you on a daily basis keep your home clean without an unaffordable price tag.
If you are thinking about testing the waters but unsure if you want to invest in an expensive robot vacuum, this would be a great choice as an entry model, thanks to its excellent suction power, features and affordable price.
Last update on 2023-12-06 / Affiliate links / Images from Amazon Product Advertising API
Matt is the founder of the Little Robot Shop, who has spent much of the last decade hacking home cleaning with various robots and devices to make keeping his home clean as easy as possible. Not an easy task with two young children.
When not working on the Little Robot Shop website or YouTube channel, he works as technical support and product specialist for a fast-growing digital company. He does his best to get his younglings to code, which will be an essential skill in the future.