At first glance, the Polaris 9650iQ looks just like the Polaris F9550, they both have a shiny dark blue color and extra gray trim. However, as you'll see in this Polaris 9650iQ review, the robotic pool vacuum is the most advanced automatic pool cleaner from Zodiac yet, and one of the top performing robotic cleaners available.
Its top-of-the-line scrubbing and filtration capabilities coupled with highly customizable cleaning options and WiFi control makes it an excellent worry-free device for pool maintenance.
This is certainly a robot worth considering, if you have a backyard in-ground pool, especially if you also have trees on your property. The 9650iQ costs over a thousand dollar, but if you have no worries with that then find out if it's worth your money.
*The product links in this post are affiliate links, which means that if you purchase after following one, I make a small commission from the sale at no additional cost to you. Please see our disclosure page for more information.
You may also like:
Quick Comparison
Dolphin Nautilus CC Supreme
Scrubbing Brushes
Dual-blade scrubbing brush
Solid-blade scrubbing brush
Dolphin Nautilus CC Supreme
Scrubbing Brushes
Dual-blade scrubbing brush
Last update on 2023-09-29 / Affiliate links / Images from Amazon Product Advertising API
1-Minute Polaris 9650iQ Sport Review
The Polaris 9650iQ Sport is a 4WD automatic cleaner for large in-ground pools. Equipped with high-end features, this robotic pool vacuum provides premium cleaning performance with the convenience of smart remote control using the Wi-Fi iAquaLink app.
With the integrated action of the four-wheels drive system, dual solid blade scrubbing brushes, vortex vacuum technology and an excellent filter system, this robot always delivers a deep clean.
The tangle-reducing cable with swivel mechanism prevents tangling and robust tires ensure seamless movement around the pool without getting stuck on pool drains. This robotic cleaner comes with a control unit and a mobile app for remote control. You can schedule cleaning times, customize your cleaning, monitor the robot at work and lots more.

Impressive cleaning performance
Doesn't get stuck on pool drains
Easy to operate and maintain
Convenient Wi-Fi access
Robust and sturdy build
Many programming options
Backed with a warranty of 2 years
Sale
Last update on 2023-09-29 / Affiliate links / Images from Amazon Product Advertising API
Let's take a closer look
How The Polaris 9650iQ Sport Robotic Pool Cleaner works?
The Polaris 9650iQ robotic pool cleaner is designed to automatically clean in-ground pools of up to 60 feet in length.  With a 4-wheel drive system and sleek design, the 9650iQ looks like a miniature car driving around in a pool, and it's actually beautiful to watch.
The 9650iQ navigates around the pool with the help of thick rubber wheels while a pair of rubber scrubbing brushes mounted beneath the front of the robot attacks the pool surfaces to dislodge dirt.
It features a powerful vortex vacuum technology which sucks up large debris and dirt from the pool floor into the removable mesh filter canister. As dirt-filled water is flushed through the filtration system, the dirt remains trapped in the mesh filter canister while dirt-free and crystal clear water is returned to the swimming pool.
The Polaris 9650iQ Sport will diligently drive around your pool, scrubbing and simultaneously filtering the pool water to give you a sparkling swimming pool after every cleaning cycle.
The 4-wheel drive system comprises four rotating tires that work together to drive the robot, and thanks to these tires, the 9650iQ rarely gets stuck on drains and will efficiently drive over slopes and navigate around obstacles.
The 4WD feature also enables the 9650iQ robotic pool cleaner to travel better on sloped pools rather than a pool with straight walls. Polaris 9650iQ Sport robotic pool vacuum needs to be connected to electricity while it works.
The Polaris 9650iQ also has a control unit with a 2-inch LCD panel for easily controlling the robot. You can also connect the robot to your home Wi-Fi and control it with your mobile device via the iAqualink app (which is available for both Android and iOS) to select cleaning modes and schedule cleaning times. 
This automatic pool robot has highly customizable cleaning options, it can be set to either clean only the pool floor, the floor and the wall,or  just clean only wall and waterline cleaning.
One feature I love is that after each cleaning cycle, you can easily extract the robot from the pool by pressing the "Easy Lift" button on the control unit. Removing a robotic pool cleaner from the water can be a bit of a pain, but the easy lift system prompts the robot to come by the pools shore, so you can easily pull it out of the water with ease, and it weighs just about 16 pounds which is fairly lightweight for a robotic pool cleaner.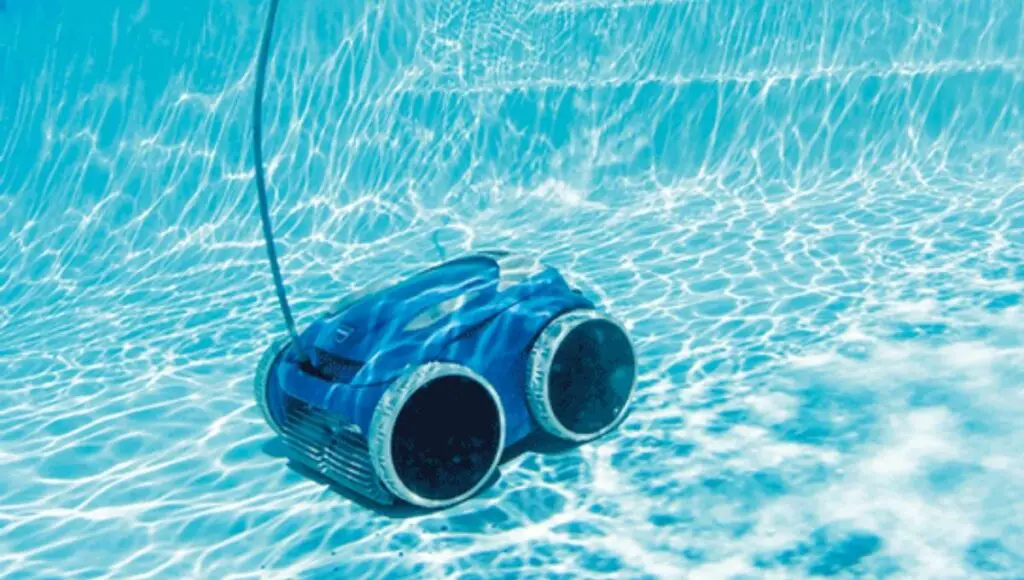 Performance
The Polaris 9650iQ Sport Robotic pool cleaner is one pool robot that delivers full pool coverage, and you will immediately notice the difference after every cleaning cycle. It's certainly an excellent  machine and pretty reliable pool maintenance buddy. 
If your house has a backyard pool that has become a magnet for dry leaves, insects, grass, twigs, berries, all sorts of fiber and larger debris, then you will be happy to know that this Polaris robotic pool  vacuum is an expert in extracting all of these pool contaminants.
And, unlike some other pool cleaners, the Polaris 9650iQ Sport expertly avoids obstacles and it provides complete coverage in a variety of pool shape and pool types including tiles, gunite, vinyl swimming pools, etc.
The 70-feet long power cable has a low-torque watertight swivel technology which ensures that it doesn't twist to get in the way of the robot as it cleans. This long cable also enables the robot to clean large in-ground swimming pools of up to 60 feet long. 
Also, the robot will obediently follow set cleaning schedules and if it isn't in the water during a scheduled cleaning, in-app notifications will be sent to remind you to drop the robot in the swimming pool.  
Limitations
It's beautiful to watch this Polaris robot clean, it diligently cleans the pool floor, walls and waterline. But unfortunately, it doesn't effectively clean the pool stairs and benches, but this isn't really a deal-breaker because most other robotic pool cleaners in the market have the same limitation. 
Even the Polaris F9550 has the customizable floor, wall and waterline cleaning features, it also cleans tight corners and hard-to-reach areas but doesn't clean pool steps as beautifully as you'd expect. 
Also, it's exciting that the Polaris 9650iQ has a multiple control options including the app control, but it doesn't send push notifications to your phone, and you'll have to open the app before you see any information or alert from the robot such as the cleaning status with a countdown timer, if the robot is still in the water, if its offline, it generally monitors the cleaner.  
One final issue I have with this robot is the power cord. Although it has the anti-tangle swivel technology, it still has the tendency to tangle and Zodiac recommends that you carefully detangle and arrange it before stowing away on the caddy.
I personally find this to be too much of a hassle for a premium pool cleaner which costs over a thousand bucks, and if you do too, then check out the Dolphin Nautilus which is one of the best robotic pool cleaners on the market.
Ease of setup and use
From unboxing the 9650iQ Sport robotic cleaner to getting it into the pool for the first takes only a few minutes because it's easy to install. 
This robotic pool vacuum has an included caddy which you will have to assemble, but even this is an easy task and requires no tools. You only have to fix the caddy's wheels, handle, head unit cradle and cleaner hook, and this will take you only a few short minutes. 
Next, you will need to connect the robot to your phone via Wi-Fi connectivity for convenience.
This is also easy and has to be done from the head unit which has a "Wi-Fi to phone button." The robot controller is very intuitive and user-friendly with properly labelled buttons, there is a START/STOP button, Easy Lift button, Select cleaning surface button, Wi-Fi to phone button, Dirty canister indicator, LED indicators for Wi-Fi, web, and LAN connectivity, and finally a 2-inch LCD screen that displays the remaining time for the cleaning cycles to end and error messages if there is a problem. 
Both the control panel and the Aqualink app can be used to set cleaning schedules, set cleaning modes, adjust cleaning settings and generally control the robot. On the app, you will find a joystick to steer the robot manually, directing its movement in the pool. 
Alternatively you can tilt your phone using it as a motion controller. Polaris 9650iQ robotic pool cleaner comes with a manual with detailed instructions, the cable needs to be plugged into a GFCI outlet and place the cleaner in the swimming pool.
Reliability
Polaris pool cleaners are known for quality performance and robust build quality and the 9650iQ is no different. Although there have been reports of breakdown from customers using other 
Polaris robotic pool cleaners, especially the P825 which seems to be a cheaply made product. But the 9650iQ surely promises to be an outstanding gadget, it's a premium pool cleaner after all and comes with a relatively steep price tag and a 2-year warranty. 
Ongoing Maintenance
Maintaining the Polaris 9650iQ is a simple process. It's recommended that you clean out and thoroughly rinse the filter canister after each clean. 
The filter is actually easy to remove and clean, you don't even have to touch any of the gross debris when emptying the trash. Removing the canister is as easy as pushing the lock and gently lifting the cover until its vertical.
Then proceed to carefully remove the canister, pop it open and discard the contents and rinse it out with a garden hose to prevent clogging. You also have to untangle the cord and carefully wrap up in a circular loop and stow away on the caddy hook.
This Polaris robotic vacuum is vertically placed on the caddy to ensure proper drainage and compact storage. And the caddy has long handles and two wheels to enable easy transportation.
You can check out the Polaris 9650iQ owners manual for more detailed information by clicking here.
Extra Purchases and ongoing costs
There are no extra purchases to make for this pool cleaner because it comes with everything you need to get it started. The caddy included is an important accessory for proper storage of the robot. 
This product also comes with a 2-year warranty from the manufacturer which covers certain parts of the robot like the power unit and motor. For ongoing purchases, you may need to replace certain parts of the robot that will get worn over time. 
Parts like the filter canister and the brushes may need to be replaced after an extended period of use. And it's important to frequently check these parts for wear.
Polaris 9650iQ Sport vs Polaris F9550 Sport
The Polaris 9650iQ is almost identical to the F9550 Sport robotic pool vacuum; they have the same sports car-like design; a 4WD system with the same beautiful blue finish with gray accents. 
These two Polaris products are equipped with similar features and functions, dual rubber brushes, 70 ft cable length, similar easy clean filter canister and vacuuming technology, and just about the same cleaning power.
Despite the huge similarities between these two cleaners, there is a tiny bit of difference. The 9650iQ Sport is the newer version and also the best robotic pool cleaner from Polaris yet. It comes with built-in Wi-Fi for smart connectivity and remote operation, which is absent in the 9550, this is the only difference between the two. 
This feature will only excite you if you're a smart home enthusiast since it provides a convenient access to your pool cleaner, otherwise, you may want to go with the 9550 and save some money.
FAQs
Does the 9650iQ climb and clean pool walls?
Yes it does. Polaris 9650iQ Sport climbs walls and will effectively scrub dirt and grime off of them. It will properly clean pools including walls and waterline cleaning.
Can I leave this cleaner in the pool until the next cleaning?
Zodiac recommends that their robotic pool cleaners should be removed from the pool when not in use. Although this Polaris pool cleaner has a 7-day programmable timer for scheduling cleaning time, the robot still shouldn't be left in the pool. If it's time for a scheduled clean and the robot is outside the pool, you'll see an in-app notification reminding you to put the robot in the pool. Of course, this isn't very convenient, and if it's too much of a problem for you then the Dolphin Premier is an excellent alternative.
Does this product come with a cover for storage?
No, it does not come with a cover, it only comes with a caddy for easy portability.
Is this pool cleaner designed to pick up sand?
Yes, the 9650iQ robotic cleaner will filter off sand from the pool floor, the filtration canister is a tight mesh basket that is designed to trap tiny debris particles. 
Does it also pick larger objects like nuts?
It has no problem with picking up nuts. In fact, the 9650iQ robotic pool vacuum does an efficient job of picking up small pebbles, stones, nuts, seeds, large leaves and floating debris.
How well do Polaris robotic pool cleaners work on curved walls?
This Polaris robotic cleaner is actually very good on curved walls, it has no problem climbing and cleaning them. However, it may miss a few stops and when it does, you can use the app to direct it to clean the areas it missed. It also works on different pool types,, vinyl, fiberglass, gunite, tiles, etc.
Is it ok to run the Polaris 9650iQ if I have algae in my pool?
This will depend on the extent of algae infestation in your pool. The robot will have no problem with a few algae and will actually scrub them off the pool surfaces. But a pool with severe algae attack will have very slimy and slippery surfaces which will tremendously affect the ability of the robot to move and clean effectively. In this case, you'll need a shock chlorination treatment. And please do not introduce the robot to your pool during the treatment as chlorine can damage some parts of the machine.
Conclusion
Every pool owner knows that the best way to truly enjoy a swimming pool is by getting a reliable robotic pool vacuum to do all the dirty cleaning chores while you kick back and relax. For large inground pools, the Polaris 9650iQ Sport robotic pool vacuum is certainly an excellent robot.It does have an intimidating price tag if you're working with a small budget, but it's definitely worth it if you can handle steep price. A less expensive and more budget-friendly alternative, which is also a great option, is the Dolphin Proteus DX4.
Emma Marie is a valued writer at the Little Robot Shop. She studied robotics and deeply understands technology, which shows in her writing.  She consistently produces high-quality content, making her a perfect fit for the Little Robot Shop team.
While not writing, Emma works in a popular electronics retail chain. Emma also enjoys running and has two dogs with whom she loves spending time.