Selecting the best robot vacuum from a given list can be a very taxing task. First, you need to be aware of the strengths and weaknesses of different brands and units to conclude which of them could be the best fit for cleaning your house. Thus, an expert is required to execute such a review to avoid mishaps.
Luckily, I am here to help you out with this chore. In this article, we will take a look at the Neato D8 vs Roomba S9 robot vacuums to see which one will benefit you better. By the end, you should have a clear idea of which robot you should get on your next visit to an online shop or the supermarket.
*The product links in this post are affiliate links, which means that if you purchase after following one, I make a small commission from the sale at no additional cost to you. Please see our disclosure page for more information.
You may also enjoy:
At a glance
Controller
Hand Control, Amazon Alexa, IOS, Android
Vera, Google Assistant, Amazon Alexa
Controller
Hand Control, Amazon Alexa, IOS, Android
Last update on 2023-09-29 / Affiliate links / Images from Amazon Product Advertising API
The quick answer
If you want a robot with potential self-emptying capability, automatic dirt disposal, overall better build quality, and superior battery life, then you should not stop yourself from getting the iRobot Romba S9.
It is one of the best robots currently in the market and is highly capable of making your life a lot easier. Just bear in mind that it comes at a hefty price that is double the Neato D8.
On the other hand, for a user who desires a cheaper alternative with better overall cleaning performance, easier maintenance, and better portability, then the Neato D8 is perfect for you. Just take note that it does not do very well in low carpets, and it can be a dealbreaker for many people. 
These robots have large dustbins and compartments and are equipped with HEPA Filters for great protection versus allergens.
Want to know how robot vacuum cleaners work? Check out: How do Robot Vacuum Cleaners Work?
Product Overviews
The Neato D8
The Neato D8 is an intelligent robot vacuum that aims to provide an overall clean on your floor surfaces. It is compatible with carpets, hardwoods, and tiles and is powered by a Lithium-Ion battery for operation.
The robot has a D-shape design for better corner movement and big bins to handle heavy tasks. Not only that, but the HEPA Filters greatly help in making sure that no allergens are spread out during operation. 
Other key features of the robot include Bluetooth-cleaning, Eco and Turbo modes, a Self-docking mechanism, and colorways. It can run for up to 100 minutes and has added security for privacy reasons. Like other competitors, it also supports No-Go Zones for better control.
Read the full Neato D8 Review
Neato Robotics Neato D8 Intelligent Robot Vacuum
Neato Robotics Neato D8 Intelligent Robot Vacuum, Indigo, Using lasers to understand where it is in your home, Neato methodically cleans from room to room in straight lines for a quicker clean.
Last update on 2023-09-29 / Affiliate links / Images from Amazon Product Advertising API
The Roomba S9
The iRobot Romba S9 is one of the most prestigious robot vacuums in the market. It is Wi-Fi-powered and has smart mapping to navigate and move around the house.
This robot's intelligent software is supported by equally amazing hardware that enables powerful suction and surface cleansing at the same time. It also has Alexa controls as well as HEPA filters for better functionality. 
The device has a D-shaped design for better corner maneuverability. In addition, the 3-stage suction system is very helpful in absorbing any sort of debris or gunk that might be in the way of the robot vacuum. Lastly, Keep-Out Zones also ensure that you are always in control of the robot. 
Sale
iRobot Roomba s9 Robot Vacuum
iRobot Roomba s9+ (9550) Robot Vacuum with Automatic Dirt Disposal-Empties Itself for up to 60 Days, Wi-Fi Connected, Smart Mapping, Powerful Suction, Corners & Edges, Ideal for Pet Hair, Black.
Last update on 2023-09-29 / Affiliate links / Images from Amazon Product Advertising API
Side by side comparison
In this part of the guide, we will glance at the major features of both robots that are the same. 
No, go zones
Restricted Zones are boxes that a user sets up on the virtual map of the house so that the robot vacuums do not approach a specific area. This can be put in specific rooms, litter boxes, special carpets, and even areas with many toys for better control on the user's side. Fortunately, both iRobot S9 and Neato D8 have this feature, enabling them to control easily.
Self-docking
Self-docking refers to a robot vacuum's ability to recharge to its dock once the battery is depleted. This also includes the capability to resume where it left off in case a cleaning process was interrupted. Both robots in this guide have this feature, and it makes sure that uninterrupted cleaning processes occur regardless of time and date. Thus, a clean surface is always achieved no matter what robot vacuum you choose.
Scheduling options
Scheduling options refer to a robot software's ability to choose time and dates wherein it will automatically clean the room without the supervision of the user. This will ensure that users can see that their surfaces are dirt-free even if they are at work or on vacation. Both robot vacuums in this guide are capable of such a feat, and this means that they are fully automated and do not need a human presence to function properly.
LiDAR scanning and mapping
LiDAR or Light Detection and Ranging are the means for robot vacuums to know the path that they are taking. This also allows them to create virtual maps of the rooms they occupy so that a user can view the cleaning progress of a specific session in real-time. Both robot vacuums have this ability, and this makes them amazing for viewing purposes.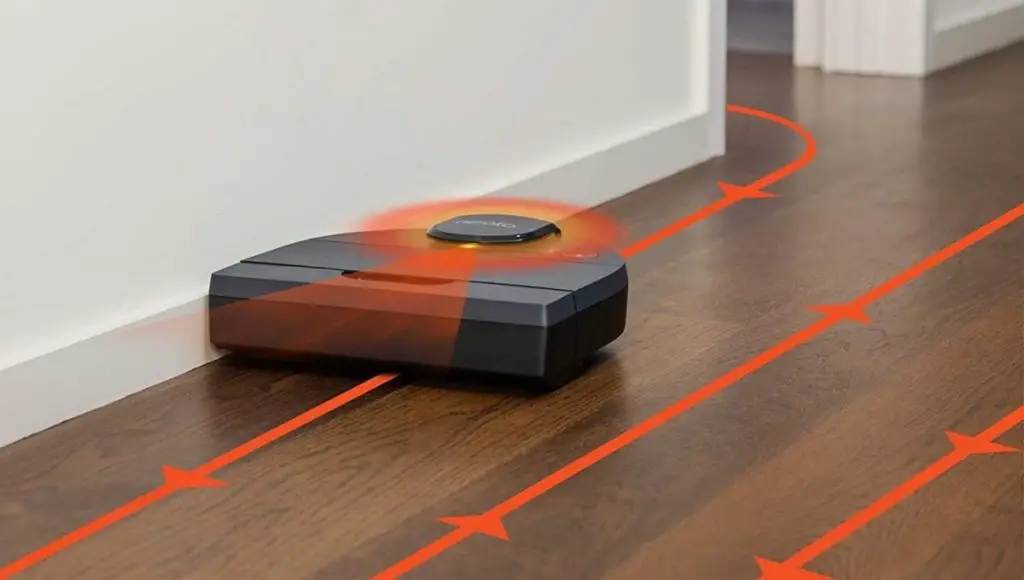 iRobot Roomba S9 vs Neato D8 – key differences
These are some key features between the Roomba S9 and Neato D8 that set them apart from each other:
Price
Price is one of the major differences between the iRobot Roomba S9 and Neato D8. The iRobot is almost double the price of the Neato D8, which can be a great blow for those with a limited budget.
Dirt detect
Dirt detect is a special feature of the iRobot Roomba S9, wherein it uses SLAM navigation to identify dirt residuals in a specific zone. Once it detects such occurrences, it will quickly focus on that spot so that a better clean is achieved.
Self-emptying capability
The iRobot Roomba S9 Plus version has an added automatic dirt disposal, which means that users do not need to clean the dust compartment once it becomes full manually. This might come with additional payment, but it provides great value, especially for users who do not have much time for small chores. Unfortunately, this feature is not available on the Neato D8.
A couple of alternatives to consider
Some good alternatives for these products are the mid-range priced Roborock S7 and the more expensive but has great features, the Roomba i7. The Roborock S7 is built for users who want to experience good mopping and vacuuming at the same time coupled with accurate navigation.
On the other hand, the Roomba i7 fits those who want to focus more on suction capabilities. Regardless, these units are worth considering on your next visit to the shop. 
FAQs
Does the Roomba S9 have LiDAR?
Yes, the Roomba S9 has LiDAR navigation that helps it create a virtual map of the area. The Neato D8 also has this feature, making it a good navigator as well.
Which is better, the Neato D8 or Roomba S9?
Both robot vacuums are great, and it depends on your preference and budget. The i9 is built for those with a budget, while the Neato D8 is a budget-friendly robot.
What is meant by regular maintenance?
Regular maintenance refers to cleaning the dust compartment, removing the gunk on brushes, and making sure that the robot is clean using the crevice tool. This should be done weekly to make sure that the robot vacuums are working properly.
How do I access no go zones?
This feature can only be accessed through the official Roomba, and Neato Apps downloaded on Android and iOS devices.
Can the robot vacuums be steered remotely?
No, they do not have remote control capabilities for a full range of motion.
Final thoughts
Overall, both the Romba S9 and Neato D8 are powerful robot vacuums that can serve you well, and it all boils down to budget and preferred features.
If you want top-of-the-line benefits and have an extra buck to spend, then the Roomba S9 is the best one for you since it has features that are not present on the Neato D8.
On the other hand, if you are a bit tight on budget but still want a robot that does its job well, then the Neato D8 will be perfect for use.
I recommend both of these robot vacuums for entry-level and experienced owners as they surely will cut down the time needed to make your surfaces dirt-free.
Emma Marie is a valued writer at the Little Robot Shop. She studied robotics and deeply understands technology, which shows in her writing.  She consistently produces high-quality content, making her a perfect fit for the Little Robot Shop team.
While not writing, Emma works in a popular electronics retail chain. Emma also enjoys running and has two dogs with whom she loves spending time.