The Neato D8 robot vacuum cleaner is a great product for people who have pets, allergies, or just want an easier way to keep their house clean. Introduced earlier this year as part of Neato's new range, it offers several unique features that set it apart from the competition.
In this Neato D8 review, we'll take a close look at what this product does well and how it might benefit people and go check out some of the key features and see if they are worth paying more money for.
*The product links in this post are affiliate links, which means that if you purchase after following one, I make a small commission from the sale at no additional cost to you. Please see our disclosure page for more information.
You may also like:
At a glance
Controller Type
Hand Control, Amazon Alexa, IOS, Android
Run Time
Up to 100 minute (single charge)
Last update on 2023-09-29 / Affiliate links / Images from Amazon Product Advertising API
1-Minute Review
The Neato D8 intelligent robot vacuum is designed to clean every inch of your home and deep into corners thanks to it's D-shape design.
The D8 can navigate any room with ease-even cleaning under beds, couches, and other hard-to-reach places. With lidar navigation built right into the device itself, no additional mapping is required for each new room or area cleaned.
Its powerful suction picks up dirt, dust mites, pet hair & dander from carpets as well as fine particles like sand or ash from hard floors that are too small for you to see but big enough to cause allergies. The included HEPA filter traps allergens inside the robot so they don't float around in your home after being cleaned by this little guy!
You get a lot of great features for the price you pay. The battery life is surprisingly long at 100 mins per run and it's easy to keep charged with the return to home feature and the included charging station. It has been designed from the ground up to work well on hardwood, tile floors, rugs, and carpets alike – no matter what kind of flooring your home has!

Works for 100 mins straight & can cover up to 750 sq. ft on a single charge.
Dirt bin can hold up to 0.7 liters that ensure you're not spending too much time emptying it.
Multi-surface, extra wide brush for more effective cleaning.
The specialized app software allows you to control the robot from your smartphone.
The purchase includes two extra filters for easy replacements.
Only comes in the color black which doesn't look very appealing to some people.
Can be a bit noisy at times.
Smoke & dirt can build up in the fan over time. Make sure to brush it out regularly or you will be replacing the filter more often.
While in operation it may get stuck sometimes & needs a manual reboot.
Neato D8 Intelligent Robot Vacuum Cleaner
Neato D8 Intelligent Robot Vacuum Cleaner–LaserSmart Nav, Smart Mapping, No-Go Zones, WiFi Connected, 100-min runtime, Powerful Suction, Turbo Clean, Edges, Corners & Pet Hair, XXL Dustbin, Alexa.
Last update on 2023-09-29 / Affiliate links / Images from Amazon Product Advertising API
Let's take a closer look
How it works
The D8 works using lidar technology,  a laser-guided system to map out your home and clean it efficiently. It's the same technology that is being used in self-driving cars! After a few runs, it will have a complete map of your home and be able to comfortably navigate around, sucking dirt as it goes.
Via the MyNeato companion app, available via the Google Play store for Android devices and app store on Apple, you can set cleaning schedules, mark virtual no-go zones and have complex control over your robot cleaner. Connecting the vacuum is pretty straightforward with the in-app guide. Just connect to your home wi-fi, then enter your wi-fi password when prompted and let the magic happen.
Once it is connected, you can also use the voice commands via Amazon Alexa or google home assistant. Of course, for maximum enjoyment, just make sure you give your new robot vacuum an excellent name!
Once the vacuum is up and running it will use its onboard intelligence to clean the floors in a methodical way. It is suitable for all floor surface types, from hard floors to carpets.
When compared to the previous generation of Neato vacuums, The D8 enjoys a longer battery life, averaging up to 100 minutes on a single charge.  And thanks to the smart mapping and the floor plan memory, when it runs out of juice it will take itself off to recharge and resume from where it left off.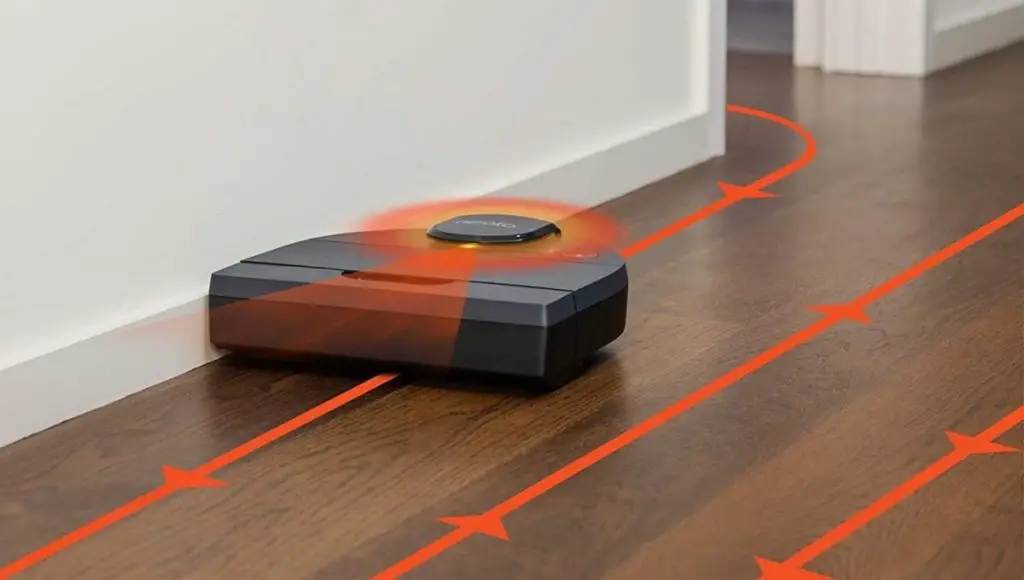 Key features
Neato D shape design allows the robot to get into corners and along walls where dirt can hide, unlike round robot vacuums. Its ultra-high performance filter will trap allergens as small as 0.03 microns so you don't have to worry about those floating around your house after cleaning! No more sneezing or coughing because of dust bunnies!
With a spiral combo brush that is 70% bigger than other round vacuums, its unique design allows it to clean more efficiently especially on carpets! It comes with a side brush which ensures that dirt and dust are picked up from tight spaces too.
Limitations
While The Neato D-shape design means it gets deep into corners, it does also mean that it makes it difficult for this robot vacuum cleaner to turn around tight corners if there is a lot of furniture blocking its way. It can also be a bit on the noisy side if you're planning to use it at night and sleep in the same room.
Ease of set up and use
The Neato D-shape design makes it easy to clean along edges and corners where dirt hides. The Neato D8 intelligent robot vacuum cleaner is programmed with laser navigation which allows it to map out your home for efficient cleaning!
With the specialized MyNeato app, you can control this robot from your smartphone so there's no need to be inside the house while it's working or carry it around when you need to adjust its cleaning schedule. The D-shape design also allows this device to get under furniture where dirt and dust can accumulate. The robot is designed to go around objects as it cleans which means there's no need for you to keep moving your furniture every time it's time to clean!
Reliability
This vacuum cleaner comes backed up by a one-year warranty on parts & labor, six months for battery & brush roll. Whilst some users have reported having used it for more than a year, its reliability is lesser than its successors like D9 & D10.
Ongoing Maintenance
Thanks to the return to home and restart, it is easy to forget about keeping an eye on maintenance aspects.
Be sure to check and empty the dustbin regularly. Obviously, this depends on how large your home is, but as a really rough guide, my apartment is roughly around 1000 sqm (or 100 sqm), I have my vacuum cleaning every day and have to empty the bin every three days to keep it cleaning at its best.
Every time you empty the bin also do a simple visual check at least once a week, ensure the sensors are kept clean and the filer isn't clogged.
You'll likely need to clean the brush at least once a week. This is because a lot of fine hair gets stuck in its brush & over time it can build up to cause problems, especially if you have pets, long dog hair can get a bit cloggy. So make sure you remove fine hairs on the brushes manually once a week.
Other than that, it is keeping an eye on the part and replacing them when they get worn.
Extra Purchases and ongoing costs
No major purchase is required with this vacuum cleaner. Even though you may need a new battery at some point which you can get on their website in the accessories section. But this will be needed after some time with considerable use & not something you may need straight away.
A couple of alternatives to consider
There are many other options for the D8 that can be considered but we have finalized the below two as the ideal like for like replacement for this product.
If you have a slightly large budget then we would recommend the upgraded version of this model, the Neato D9. The Neato D9 Vacuum Cleaner is an innovative product designed with advanced features that help keep your home tidy without any additional effort from you!
This device has a full suite of sensors that allow it to move around freely without bumping into furniture or walls so that everything gets cleaned! It also includes an Ultra-Performance HEPA-style filter which traps 99.5% of allergens inside making sure only clean air comes out when the machine finishes vacuuming! This product has a slight edge over the D8 as it is the successor.
With 200 minutes of runtime and the Quick Boost feature, you'll be able to complete bigger jobs faster than ever before! Also features Zones & No Go zones as well. And if that wasn't enough it's also compatible with Alexa/Google Assistant so you can control your machine hands-free from anywhere.
This vacuum cleaner will take care of your floors while you do other things like watch TV or read books. The Neato D9 uses laser-guided navigation, which allows it to trace its route without human interaction. Its powerful motor means this robot vacuum does a better job than any cheap plastic competitor ever could, especially on carpets and hardwood floors.
If you are looking for a cheaper alternative then the Robovac G30 Edge is worth checking out! The RoboVac G30 Edge by Eufy is an affordable vacuum cleaner designed with smart features to make vacuuming easy and convenient.
This robot vacuum can easily navigate through your home without getting stuck on cords, furniture, or rugs. With powerful suction, this automated floor cleaner picks up dirt from any surface including hard floors & carpeting so you never have to worry about picking up after yourself again! Let this highly rated vacuum do all of the work for you while you enjoy life outside of chores!
The RoboVac G30 Edge does it all for you. This smart vacuum will automatically clean your floors every day at a set time to make sure they are always spotless. No more bending over or spending hours trying to get the job done yourself!
Plus, with the push of a button, this robot can be directed to clean specific rooms or areas of your home—so your living room won't get too dirty while you're busy in the kitchen cooking dinner. It also has an anti-drop sensor that prevents it from falling down stairs or off ledges so you don't have to worry about picking it up after it when it inevitably falls into something like water (it happens). And if that isn't enough, this little guy works on hard floors as well as carpeting which makes cleaning even easier than before!
Read the full Eufy G30 Edge review
FAQs
How well can it handle long hairs? Do they get stuck?
The Neato D8 is equipped with a powerful motor that works hard to suck up long hairs and debris from your floors. However, if they do get stuck there are two cleaning modes – an eco mode for hard floors, and the max power mode which offers higher suction on surfaces such as carpets or rugs. Also, we would recommend you use the max power mode only on carpets u0026amp; rugs and not on hard floors as this is more suited to remove dirt from these surfaces.
What type of battery does it use? How long can it clean for without having to recharge?
Neato D8 comes with a rechargeable Li-ion battery! On a single charge, this cleaner can clean for up to 100 minutes.
What type of filter does it use? After how much time does it need replacing?
The D8 includes an Ultra-Performance HEPA filter that traps around 99.5% of allergens to ensure efficient cleaning. The standard time after which a filter needs to be changed is around 2-3 months.
What other accessories come included? What do they do?
The D8 comes with two extra filters for efficient replacements. They also come with a charging base u0026amp; a cleaning tool with a side brush u0026amp; its spiral combo brush.
How strong is the suction power? Can it be used on carpets as well as hard floors and rugs? Does it leave a trail of dirt behind or does it clean up 100% after itself?
Its powerful motor gives you superior cleaning with an impressive high-performance suction! Even though Neato hasn't given an official number as to how much suction power it has but they claim that it is enough to get the job done. It can be used on all flooring types including carpets, hard floors, and rugs. This vacuum cleaner does not leave a trail of dirt behind after it's done with its cleaning.
What is the noise level when in use?
Although a quiet machine that noise levels can vary based on the settings you're running them on. If on the Eco mode the voice can be comparatively lesser. However, if you're running the device in turbo mode then you can observe a noticeable increase in the noise levels as it uses more power.
Final thoughts
The Neato D8 is a great vacuum cleaner for most homes and will surely be able to pick up any dirt or debris from your floors. It's the perfect device if you're looking for an automated cleaning solution that can save you time & effort on keeping your home clean! With its impressive suction power, it makes cleaning even easier than before! So if you're looking for a robotic vacuum cleaner go no further and simply buy the Neato D8!
Emma Marie is a valued writer at the Little Robot Shop. She studied robotics and deeply understands technology, which shows in her writing.  She consistently produces high-quality content, making her a perfect fit for the Little Robot Shop team.
While not writing, Emma works in a popular electronics retail chain. Emma also enjoys running and has two dogs with whom she loves spending time.