If you're looking for a great automatic pool robot I really advise you to have a look at the Dolphin Sigma Pool Cleaner from Maytronics. It is a top of the line model, with a price tag to suit, however it is packed with features and offers an incredible clean.
In this Dolphin Sigma review, I will take you through my overview, the pros and cons of this great little machine, and anything else I think you need to know about this cool thing we call Dolphin Sigma.
Coming Up

Affiliate disclosure: The links to tours or accommodation in this post are affiliate links. This means if you purchase after following one of these links, I make a small commission at no cost to yourself. Think of it like a win-win.
Other cool features
Weekly Scheduler & On-board Gyroscope
60-Second Dolphin Sigma Review
If you're short on time and can't read the full dolphin sigma review, just check out this portion.
Pros and Cons
Before we get to the full dolphin sigma robotic pool cleaner review, let's go over some pros and cons about this machine:
This thing is a dream come true when it comes to scrubbing the walls clean – the water leaves a little line behind and this gets rid of that like a dream.
The cable does not tangle easily.
Getting this thing running for the first time only takes about 15 minutes.
This unit is so easy to use, even those people who are not typically tasked with caring for the pool can easily set this up and get it running.
Even after we open the pool for the season and the algae and other debris has settled in after the fall and winter, this machine has cleaned it up with absolute ease every time.
Has a suction rating of 4500 gallons per hour.
Goes well in pools up to 50 feet, which is great – I don't know anybody with one much bigger.
No caddy included, which would have been helpful to keep it out of the elements. Although, they can be purchased separately
Sometimes, the remote control-that is, the
Bluetooth controls on your smartphone that you use to guide the robot-has some pretty poor response time. I end up over-turning the machine and have to go around the same spot a few times to clean it.
This thing gets stuck on the drain plug as if it was a car that accidentally drove over a rock and got stuck. If it goes over that drain plug, you'll probably have to give the cord a quick tug to move it. You sometimes have to supervise the robot as it works.
Summary: An expensive – click here to check price – but top quality product from Maytronics with all the features you would expect from a premium product. It gives you complete control through the remote and Bluetooth integrations, however, if you are smart with the timer settings, you'll never even need to bother it again. It is the ultimate "set up and forget" way to clean your swimming pool.
Full Maytronics Dolphin Sigma Review
This machine features some pretty big top-loading cartridges that really help you in the effort to take control of the pool and its cleanliness. The filters help the robot suck up more debris, and trap more as the cleaning cycle goes on.
Another thing I like about this dolphin sigma pool cleaner is that it has triple motor power. And, it features some pretty serious quad brushes, too.
The 24 volt DC motors send their power over to brushes that scrub hard and bring users the highest flow rate of all the pool cleaning robots out there.
If you have an old pool cleaner-perhaps you inherited one with your home when you bought it or was given it by a well-meaning uncle-consider replacing it with the Dolphin Sigma, because this is engineered to run much more efficiently – 90%, as a matter of fact – than the old fashioned pool cleaners.
The brushes really do a great job of agitating and then removing even the most stuck-on of all the algae and dirt from the pool surfaces. Meanwhile, the filters do a great job of getting that debris picked up whether it is coarse or ultra-fine.
It really gets the annoying water lines out of the pool, too. This cool robot wastes no time in getting right up there and scrubbing all the walls, tiles, floor space and of course that water line. It has excellent suction and sticks to the walls with ease. If it hasn't been cleaned thoroughly for a while, it may take a few run-throughs to completely clean that waterline, but once gone, it will be gone for good.
The strong-grip tracks that this machine features, as well as the gyroscope that is built right in to help the Dolphin Sigma, go around your pool with ease and efficiency.
Turning is pretty easy, and the way it crawls up the walls make you feel impressed and confident in your investment (and believe me, this thing is an investment but really worth it).
Let's talk more about that gyroscope. This is not like one of those robots that more or less takes a random path around the pool. This gyroscope, known as SmartNav, uses algorithms to clean the pool floor.
It really follows an exact path that covers all of your pool but uses as little power as possible. SmartNav tells Sigma where it has already been, so that means it won't waste power or time going over the same spots again and again.
The gyroscope is also what enables it to crawl up the walls, turn, tilt and otherwise get around.
The cleaning cycle on this machine is about 2.5 hours. You can absolutely set this machine to go on its own, so you need not be home when you want to get this machine up and running.
You can use the Dolphin Sigma's weekly scheduler tool to set when you would like to have the pool cleaned, and it will go to work for you. This is perfect to keep on top of your pool cleaning if you are away on vacation or have many commitments such as kids' baseball tournaments throughout the summer. You can just set it up and forget about it.
If you want to see how the Sigma shapes up against another one of Dolphins premium robotic pool cleaners, you can read our Dolphin Sigma vs Premier post where two of the most popular robotic pools cleaners are compared.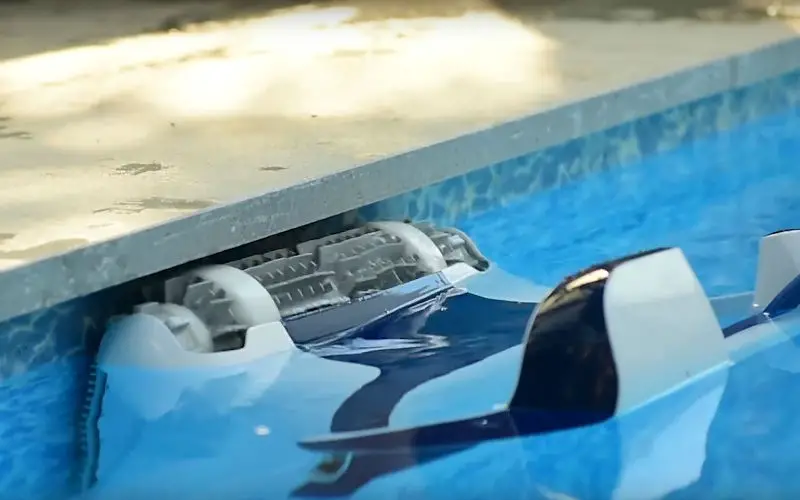 Looking after you Dolphin Sigma
If looked after properly, it is expected that your Dolphin Sigma will last upwards of 8-years and the great news is there is very little ongoing maintenance to worry about.
It is important to regularly clean the filters, which as they are accessed from the top, is a pretty straightforward procedure. Simply pop the top, remove and rinse.
Aside from that be sure to give the Dolphin sigma regular visual inspections paying close attention to any wear on the tracks or for debris that may have gotten into the impeller. If this is the case, you can simply open it with a screwdriver and remove the debris.
One other really great thing you should be aware of is the fact that this pool cleaner comes with a three-year warranty. So, while you are absolutely making an investment in this dolphin sigma pool cleaner, you are definitely protected should something happen to your machine.
Storing your pool cleaning robot out of season
If the Pool Cleaner will not be in use for an extended period, perform the following storage steps:
Disconnect the Pool Cleaner from mains
Ensure that no water is left in the Pool Cleaner
Takee out the filters and thoroughly clean them and let them dry. Once dry insert back in place
Carefully roll up the cable and check for any twists
Store the Pool Cleaner up side down, in a protected area out of direct sun / rain / frost such as a garage or shed
Maytronics Sigma FAQs
Can this be used in a vinyl pool?
Yes, it is suitable for all standard pool surfaces
Does this come with the caddy?
No, caddy must be purchased separately. Check here for Dolphin Universal Caddy price.
How does this do on steps?
This robot is not designed to clean steps, although it will try and they will be cleaner if not perfect. We'd recommend giving your steps a quick go over with a pool broom from time to time before the Dolphin Sigma starts a cycle to ensure they are kept clean.
Does it clean in an organized pattern? Or does it randomly clean?
While it may look random, the onboard AI software actually maps the pool to figure out the best cleaning route and to ensure it knows which spots may need a little extra attention. Let's call it organized chaos cleaning.
Does it pick up leaves?
Yes, very well
What are the ideal operating temperatures for the Maytronics Sigma?
All Dolphin robotic pool cleaners are best used in temperatures between 43 and 93 degrees.
Can you leave the power supply out in the weather?
The power supply is water-resistant but not waterproof, so if you will not be using for a few days, be sure to cover the power supply. Also. do not leave the power supply in standing water and of course, do not allow the power supply to be submerged in the pool.
Can you leave the Dolphin Sigma in the Water?
Yea, it is safe to leave the Sigma pool cleaner in the water when not in use. However, (when adding chemicals to the pool) please remove it until the proper chlorine and PH balance are obtained.
Can I use my Dolphin pool cleaner with an extension cord or surge protector?
While you will find reports of people using an extension cord, Maytronics warn against using one and if it breaks while you are, it will almost certainly invalidate your warranty.
Closing It Up
If you are looking to go ahead and buy a robotic pool cleaner, you can do so by clicking here. All in all, it is just like every other product out there: is a very awesome product that will absolutely do a fantastic job, but definitely has a few drawbacks here and there.
All in all, I would absolutely recommend this for anybody with a fiberglass, gunite/plaster or vinyl pool. Aside from the gyroscope, the timer is a fantastic addition that means it is perfect for just cleaning when the family is away or has to focus on other tasks.
If you are still unsure about which robotic pool cleaner is right for you, be sure to check out our robot pool cleaner buyers guide and top 12 comparison reviews.
You may also be interested in
If you can't quite stretch to the Dolphin Sigma, the Dolphin Z5i robot pool cleaner may well be the right model for you.
The Blue Wave Aquafirst robotic pool cleaner offer performance that exceeds it's reasonable price tag.