The iRobot Roomba 981 is an automatic vacuum cleaner that is capable of handling any surface ranging from carpets, floors, and even wooden tiles. It offers custom scheduling which allows for flexible cleaning times, and it even has extra options to deal with allergens and furs. 
The vacuum can be monitored and controlled through an app in which a virtual map of the room is seen. It also offers over 10x of suction power compared to its predecessors. 
In this iRobot Roomba 981 review, we will take a look at the product's strong and weak points, features, performance, and reliability to see if it's a robot cleaner worthy of your budget.
*The product links in this post are affiliate links, which means that if you purchase after following one, I make a small commission from the sale at no additional cost to you. Please see our disclosure page for more information.
You may also enjoy:
Quick Comparison
Last update on 2023-09-29 / Affiliate links / Images from Amazon Product Advertising API
1-Minute iRobot Roomba 981 Review 
The iRobot Roomba 981 is an advanced vacuum cleaner that those with a busy lifestyle will surely love to have in their own homes. It combines powerful suction with pristine visual localization and mapping, making it a device that can systematically clean your unit in neat rows.
In simple words, it vacuums thoroughly while trying to reduce the need for human intervention, and it can exterminate even the hardest of dirt on your surfaces. 
The robot vacuums strong points lie in the hardware, while its weak points are more related to reliability and software/data processing.
However, human intervention can always correct such errors, but it will be a bit of a hassle to the side of the user. If you are considering buying the iRobot Roomba 981, you should be aware that it has its fair share of strengths and issues.
Let us take a look at some pros and cons of the device. some boons and banes of the device.
10x more powerful suction compared to previous models
Localization and mapping through iAdapt and vSLAM
Can be controlled using the pp
Capable of cleaning even with human presence
Sale
iRobot Roomba 981 Robot Vacuum
iRobot Roomba 981 Robot Vacuum-Wi-Fi Connected Mapping, Compatible with Alexa, Ideal for Pet Hair, Carpets, Hard Floors, Power Boost Technology.
Last update on 2023-09-29 / Affiliate links / Images from Amazon Product Advertising API
Full Review
How Does It Work? 
The iRobot Roomba 981 automatically cleans any surface through the use of suction mechanisms and native sensors. Through the iAdapt 2.0, it creates a map of the whole house so that it can create efficient and logical pathways. You can choose different vacuum modes to fit the level of dirtiness that you are dealing with.
Once the mapping is complete, the Roomba 981 vacuums the unit on a row-by-row basis. This way, no spot is left behind and everything becomes as clean as it can be. It docks itself once it depletes battery life during cleaning. After charging, the robot returns to where it stopped to finish the job.
Performance
The vacuuming power of the iRobot Roomba 981 is topnotch. It is capable of cleaning even the dirtiest rugs or carpets in your home, thanks to its strong suction. It also works on uneven surfaces, making it a versatile cleaner for any setting. It sucks more dust, dirt, and gunk compared to other vacuums in its range. 
In terms of noise generation, the device does make some sound, but not to the point where it scares pets. This makes it a great robot even with the presence of animals around the house. 
It might take some time for the vacuum to finish a whole area, as some reports say that it fails to locate where it left off. However, this is a case-to-case basis as not all people had this experience.
Ease of set-up and use 
The robot is very easy to set-up and use. Before the first operation of the device, you need to remove protection strips and make sure that the contents of the package are complete. Afterward, you should make sure that plugs and cords are not in the cleaning area as this could cause problems with the vacuuming function.
If you want to connect the device with the iRobot Home App, install the said application on your smartphone through Playstore or iOS App store. Afterward, sign-up to your account and link the robot to your Wi-Fi router and mobile device. 
In the app, you can see recommended schedules as well as extra cleaning options that can be used for additional value.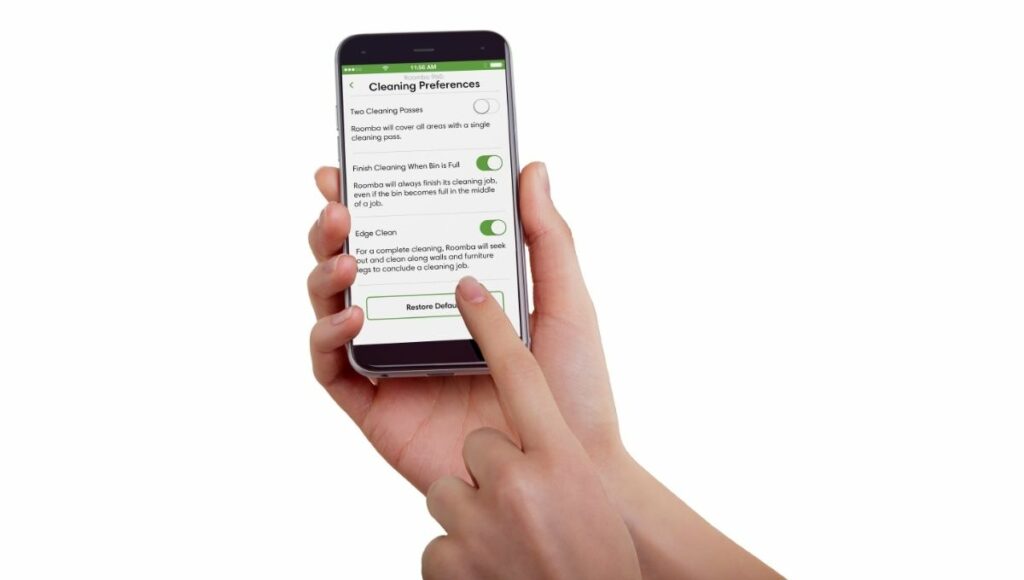 Reliability
The Roomba 981 has a maximum working life of 120 minutes and an estimated charging time of 180 minutes. This makes it a good device in terms of battery life.
However, it poses some issues regarding its automatic charging capabilities. Many user reviews complained about the need of dragging the robot to the dock since it does not always manage to navigate back properly.
Another issue regarding reliability is that it can get stuck frequently. External factors such as sunlight and shade may affect this failed operation as the robot works through visual imagery. When the robot gets stuck, a beeping sound is created which means that human intervention is necessary.
Even if Roomba 981's mapping can be seen on the app, there is a need to remap the whole area every time a new cleaning session is initiated. This can be very annoying to deal with.
In terms of hardware, the device's cleaning performance is top-notch.
Ongoing Maintenance
To maintain the device, there is a need to clean the dust bin as well as wheel, sensors, brushes, and extractors. If you notice that your robot is underperforming, too much dust and dirt might be in the filters, so remember to clean them every week especially if you have pets in your home.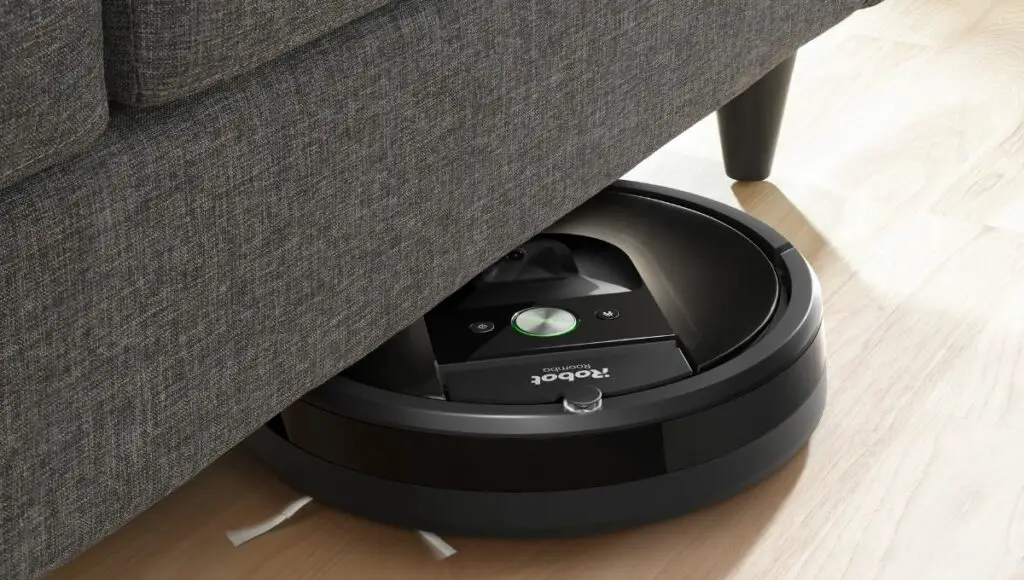 Key Features
Let us take a look at some major selling points of the device in this vacuum cleaner review
iRobot Home App Control
The iRobot Roomba 981 can be controlled using the iRobot Home App which extends the functionality of the device to a whole new level. Using the app, you can schedule cleaning times and set preferences according to your needs all year-round.
Great Pick-up and Section 
The robot uses strong suction and cleaning power using its Dual Multi-Surface Rubber Brushes which pulls out any debris, dirt, gunk, or fur from surfaces. According to the company, it has 10x more power than previous models. It even has an Edge-cleaning brush tailored to accommodate the sides of your unit.
The Roomba 981 uses visual localization sensors to adapt to its environment. At any given time, it captures thousands of image data and measurements to enhance its unit coverage. The iAdapt 2.0 system, creates logical paths to clean your house efficiently.
Pet-friendly
Do you have pets in your home? This is not a problem for the Roomba 981! The robot is capable of picking up all types of fur, and the company ensures anti-entanglement technology against pet hair. It also helps in reducing house allergens thanks to the HEPA filters installed in the device.
Non-stop cleaning
There is no need to worry about unfinished tasks even with low battery life using this robot. The moment that its energy depletes to critical levels, it automatically docks to the charging station. After charging, the device is designed to continue cleaning where it left off. This means that there will be no need to worry about any type of interruptions when using the device.
Extra Purchases and Ongoing Costs
Extra purchases for the product are dependent on your needs. You might want to replace filters or bins every once in a while, but it is on a case-to-case basis. Since the Roomba 981 does not have mopping capabilities, you can purchase a Braava Jet M6 to do the job for you. This automatic mopping robot can work together with the vacuum in a logical manner, keeping your surfaces clean and shiny.
FAQs
Can the vacuum adjust to different floor surfaces?
Yes, the iRobot Roomba 981 is capable to adapt to different cleaning environments thanks to the smart sensors attached to it. It will adjust its height to keep in contact with any uneven surface, so there is no need to worry.
Does it support Google and Alexa?
Yes, the Roomba 981 is readily available to use in conjunction with Google and Alexa. Using such devices, you can use voice control to schedule cleaning or even stop any ongoing process.
Does it work on shag rugs?
Yes, the Roomba 981 can work well with rugs thanks to its high clearance that can tackle even carpets and other clothed surfaces.
Does it support a no-go zone through the app?
No, there are no virtual boundaries available for the iRobot Roomba 981.
Can I connect more than 1 iRobot to my app?
Yes! The app is capable of handling up to 10 vacuums at the same time. However, there is a need to follow guidelines for Alexa/Google connectivity for multiple devices.
Final thoughts
The iRobot Roomba 981 has great hardware, but it has its fair share of problems especially in terms of software. 
It does not follow the intended operation at times as stated by multiple customer reports. However, it does good in terms of its powerful vacuuming capabilities.
If you are willing to expend extra effort to compensate for this robot's software, then it might be a good cleaning companion for you. Would I recommend it?
Hard to say, there is no doubt it is a powerful machine, but for just a small amount more you can get a much better machine, for example, the self-emptying Roomba i6+, if I were able to spend the extra, I'd probably choose that.
Emma Marie is a valued writer at the Little Robot Shop. She studied robotics and deeply understands technology, which shows in her writing.  She consistently produces high-quality content, making her a perfect fit for the Little Robot Shop team.
While not writing, Emma works in a popular electronics retail chain. Emma also enjoys running and has two dogs with whom she loves spending time.