The Maytronics Dolphin brand has many powerful robotic pool cleaners in its arsenal. However, it is still a very challenging job to select the perfect one as each model has its fair share of strengths and weaknesses.
In this comparison slash guide, we will see the major similarities between the Dolphin Quantum vs Triton, also from Dolphin, to determine which one suits you more. 
By the end of the article, you should be able to get a glimpse of what product will benefit you and your swimming pool.
*The product links in this post are affiliate links, which means that if you purchase after following one, I make a small commission from the sale at no additional cost to you. Please see our disclosure page for more information.
At a glance
Filter Description
Extra Large Basket, Top-load
Extra Large Basket, Top-load
Filter Description
Extra Large Basket, Top-load
Filter Description
Extra Large Basket, Top-load
Last update on 2023-12-06 / Affiliate links / Images from Amazon Product Advertising API
The quick answer
The Dolphin Quantum is created for pool environments that face many weather conditions. It is designed to have specific cleaning capabilities thanks to its Multimedia system. It is also more advanced than the Triton in terms of navigation and brushing, making it a good companion for a heavy pool cleaning process.
However, if you want a more affordable solution, then the Triton can also do the trick. It may not have sophisticated features, but it still provides a great complete clean on the pool surface. The device is designed for light to moderate cleaning tasks.
Product Overviews
Dolphin Quantum Robotic Pool Cleaner
The Dolphin Quantum robotic pool cleaner is an autonomous companion designed to give the pool a complete clean. It boasts a very large top-load cartridge of 400 square inches meaning that it packs some serious storage. Not only that, but it is also capable of vertical climbing due to the HyperGrip technology that helps it stick to any surface.
This robot is also capable of boosted brushing with the help of HyperBrush dual brushes that makes cleaning a breeze. It navigates through innovative SmartNav 2.0 to create optimal routes for a faster and more efficient process. 
When it comes to saving energy, the quantum is your ally since it is equipped with modern pressure and suction cleaners that are designed for low consumption.
Read the full review: Dolphin Quantum Review
Sale
Dolphin Quantum Automatic Robotic Pool Cleaner
DOLPHIN Triton PS Robotic Pool Vacuum Cleaner - Ideal for In-Ground Swimming Pools up to 50 Feet - Powerful Suction to Pick up Small Debris - Extra Large Easy to Clean Top Load Filter Basket
Last update on 2023-12-06 / Affiliate links / Images from Amazon Product Advertising API
Dolphin Triton Swimming Pool Cleaner
The Dolphin Triton can also be considered as the younger brother of the Quantum. It has the essentials packed in a lightweight unit but lacks a bit of the more advanced features. The Triton Plus model includes Wi-Fi integration, but the regular PS model has none.
You should take note the Plus is much pricier than the other model. It makes use of great filtering capabilities to give the pool a complete service. One can even make use of schedules to automate the process.
The model has a quick-release system that drains water out of the robot in a convenient manner. It also makes use of CleverClean technology for navigation and even has multiple cleaning modes for specific pool purposes. Like Quantum, it uses HyperGrip technology to climb vertical surfaces.
You can read more on this model in our Dolphin Triton Review.
Sale
DOLPHIN Triton PS Robotic Pool Vacuum Cleaner
DOLPHIN Triton PS Robotic Pool Vacuum Cleaner - Ideal for In-Ground Swimming Pools up to 50 Feet - Powerful Suction to Pick up Small Debris - Extra Large Easy to Clean Top Load Filter Basket.
Last update on 2023-12-06 / Affiliate links / Images from Amazon Product Advertising API
Side by side comparison
What they do the same
Both products are manufactured by a trusted company called Maytronics. This is a leading robotics institution that has created thousands of robot cleaners in the past. As they come from the same source, they have similar features which distinguish them from other brands.
Anti-tangle Cord
The Dolphin Quantum and Triton both have an anti-tangle cord to help with movement underwater. This greatly benefits the user as it reduces any chance of cord criss-cross that may lead to internal damage. It is also good for maintaining zero risks of electrical hazards during the cleaning process.
Every robotic pool cleaner should have anti-tangling features since it enhances durability. Thus, Maytronics made sure that their robots are not behind power cord innovations in the industry.
Fine to Ultra-Fine Filtration
The Maytronics brand excels well when it comes to filters and filter cartridges. The products can be inserted with fine to ultra-fine filters that greatly help in trapping allergens or contaminants scraped by the brush. This enables algae and even bacteria pick-up that is not visible to the naked eye. With this feature, no dirt or debris can escape the container once it is sucked in.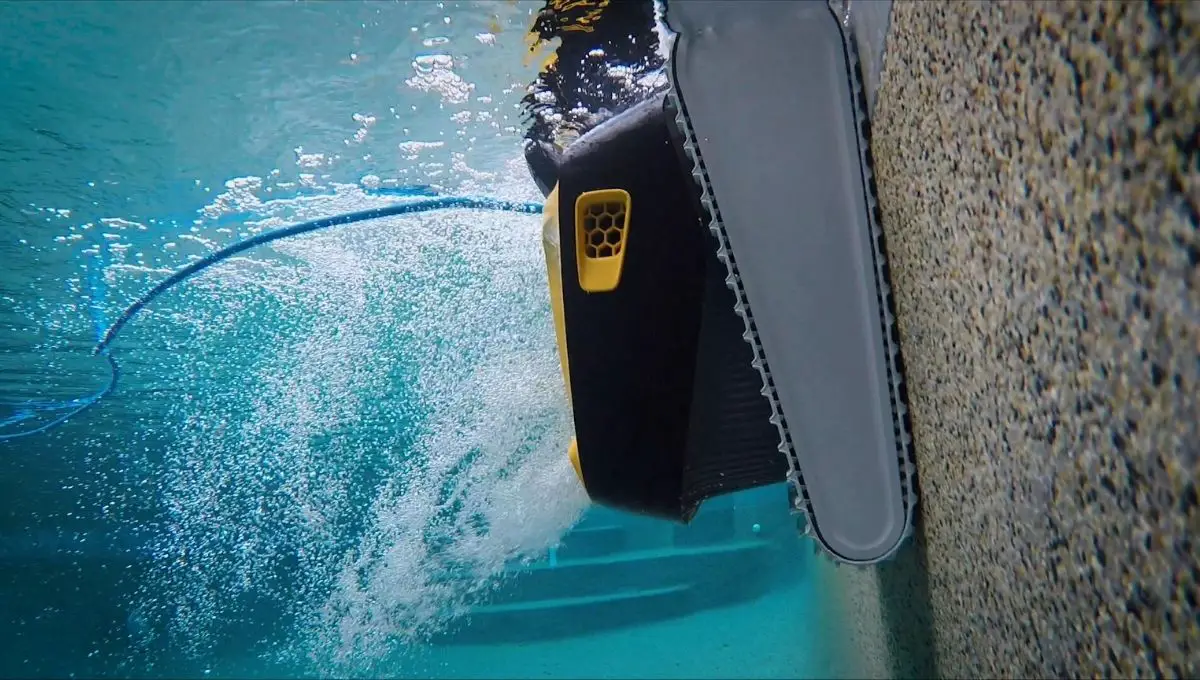 Vertical Movement HyperGrip
HyperGrip is the blend of water jet-propulsion and rubber traction to keep the Dolphin Quantum and Triton from falling off vertical climbs. Instead of using unreliable wheels that tend to break away from walls, they use tracks to stick to the surface. Not only that, but both robots are also very nimble even when traversing vertically. This makes water line cleaning a very easy and effortless process.
Easy to Remove Filters (Top-load)
With the help of Extra-Large Bag Cartridges and Baskets for the collection of dirt, leaves, and other contaminants, there is no need to worry about capacity when using these devices. They are even placed on the top-load of the robot meaning that one can take them out easily in case disposal is necessary. Any user can snap the panel for quick maintenance.
Key Differences
Multimedia
One of the greatest differences between both robot cleaning devices is that Quantum supports cutting-edge Multimedia cleaning. 
This allows users to attach either a micro-filter cartridge for fine cleaning, an oversized bag for large debris such as leaves and branches, or regular bags for normal cleaning circumstances. This gives you a chance to adjust to any situation depending on your environment and weather.
The Dolphin Triton is only capable of handling disposal bags, and none of those oversized or micro-filter cartridges. Thus, the robotic pool cleaner has limitations when it comes to the cleaning experience.
Cycle duration
Each cleaning process done by the Dolphin Quantum can last up to 2 to 2.5 hours depending on the model that you choose. On the other hand, the Dolphin Triton PS can only handle 2 hours at most.
While one might view the Dolphin Triton PS as more advantageous due to the speed, users should know that thorough cleaning is more important than a fast one. Thus, the time that Triton spends in the pool might not be enough to cover everything.
Brush Cleaning: HyperBrush vs Active Brushing
Even if both robot pool cleaner devices come from the same company, they have different brush boost systems.
The Quantum's HyperBrush enables the unit to spin twice as fast as ordinary brushes to dislodge any stubborn material attached to your floors or walls. The robotic pool cleaner is designed to battle biofilms which are microorganisms that deteriorate a swimming pool by disrupting chlorine balance.
On the other hand, the Triton makes use of Active Brushing which uses intense force to scrape dust or dirt on surfaces. The robotic pool cleaner is not designed to combat any type of algae or bacteria and only serves to remove all types of contaminants.
Navigation: SmartNav 2.0 Vs. CleverClean
When it comes to navigation, the Dolphin Quantum uses a more advanced SmartNav 2.0 system which is a clear upgrade from the Dolphin Triton's CleverClean Technology. This enhances the Dolphin Quantum robot's capability in terms of making informed decisions on logical paths and routes to take. It also improves cleaning processes since missed spots will become rare.
FAQs
How do you clean the cartridge filters of both pool cleaners?
This is a very easy task. You can open the top-load of the Quantum and Triton by snapping the panels and pilling out the canister. Afterward, you can dispose of the content in a nearby trash bin, and then return the cartridge to the device. The robots are designed to optimize maintenance through instantly removable filters.
Is Maytronics a good brand?
Yes, the company is one of the world's leading robot cleaner distributors. It is one of the most reliable since they have spare parts for any component defects that your robot may have.
Do the robot pool cleaners have a warranty?
Both Quantum and Triton have 2-year warranties for the benefit of customers. However, this can be extended through coupons, discounts, or additional payments.
Can the robotic pool cleaners be left on the pool?
Yes, the robots can be left in the pool for some time. However, you should remember that the contents of the cartridge and basket need to be emptied for optimal operation and this should be done regularly.
Do the robots have app control capabilities?
Only the Triton Plus model can be equipped with smartphone control. The Dolphin Quantum is only available for remote operation.
Final thoughts
Based on the features of both devices, the Dolphin Quantum wins the match-up. It has superior and more advanced software and hardware features, but it does come at a significantly higher price point.
However, the Dolphin Triton still has everything that you need for an efficient robotic pool cleaner. It may have limited software features, but it performs very well especially in vertical cleaning and suction.If you have some cash to spend on your next robot, the Dolphin Quantum will prove to be a very good buy. However, if you are a bit low on budget, then the Triton can also provide you a cleaning process worthy of your money.
Emma Marie is a valued writer at the Little Robot Shop. She studied robotics and deeply understands technology, which shows in her writing.  She consistently produces high-quality content, making her a perfect fit for the Little Robot Shop team.
While not writing, Emma works in a popular electronics retail chain. Emma also enjoys running and has two dogs with whom she loves spending time.