Thanks to its 400 square inch filter, Dolphin Quantum has one of the largest cartridge filter capacities for a robotic pool cleaner in the market today.
What's more, it employs mapping and allows for programming. Dolphin Quantum also has patterned movement, ensuring you spend less time tuning it while having minimal reason to worry as it works.
In this Dolphin Quantum review, we'll take a close look at this premium robotic pool cleaner and by the end, you will have a much clearer idea if it is the right pool cleaner for you. So let's get going.
*The product links in this post are affiliate links, which means that if you purchase after following one, I make a small commission from the sale at no additional cost to you. Please see our disclosure page for more information.
You may also like:
Quick Comparison
Dolphin Nautilus CC Supreme
Filter Type
ultra-fine cartridge filters
Ultra Fine Cartridge Filter Set
Filter Description
Extra Large Basket, Top-load
Micro-cartridges, standard cartridges and oversized leaf/debris bag
Twin Cartridges - Extra Large
Cleaning Time
Quick - 1.5 hour, Standard - 2.5 hours, Enhanced - 3.5 hours
Scrubbing Brushes
Dynamic Dual Scrubbing and Center High Speed Scrubber
Filter Description
Extra Large Basket, Top-load
Filter Type
ultra-fine cartridge filters
Filter Description
Micro-cartridges, standard cartridges and oversized leaf/debris bag
Dolphin Nautilus CC Supreme
Filter Type
Ultra Fine Cartridge Filter Set
Filter Description
Twin Cartridges - Extra Large
Cleaning Time
Quick - 1.5 hour, Standard - 2.5 hours, Enhanced - 3.5 hours
Scrubbing Brushes
Dynamic Dual Scrubbing and Center High Speed Scrubber
Last update on 2023-05-13 / Affiliate links / Images from Amazon Product Advertising API
1-Minute Dolphin Quantum Robotic Pool Cleaner Review
The Dolphin Quantum boasts advanced features like Power Jet 3D Mobility to facilitate wall climbing, SnapLoc filters to ease maintenance, and HyperGrip continues tracks for better traction, the Dolphin Quantum cements itself as one of the best robotic pool cleaners.
The robot graces the heights of automation as it allows programming enabling users to schedule cleaning times. Its lengthy extension cord makes it suitable for large pools.
With these features making the Quantum stand out from other robots, its relatively high purchasing price is easy to overlook.

Easy to use with convenient carry handle
Energy efficiency lowering running costs
Large filter tray to minimize emptying
SmartNav 2.0 technology for timely and effective cleaning
[amazon box="B07TKNFHVZ" title="Dolphin Quantum Automatic Robotic Pool Cleaner" description="Dolphin Quantum Automatic Robotic Pool Cleaner with Extra-Large Filter Basket and Intense Waterline Scrubbing Power, Ideal for In-ground Swimming Pools up to 50 Fee
Let's Take a Closer Look
iframe src="//play.vidyard.com/n1jLQ12exho3NUqBRy2RtP.html?" width="640″ height="360″ frameborder="0″ scrolling="no" allowfullscreen="allowfullscreen">
How it Works
One of the Dolphin Quantum's impressive specs is the exceptional vertical climbing ability, thanks to its PowerJet 3D Mobility bot. The technology combines powerful vortex jets on the sides and top of the unit to facilitate hassle-free lateral movement. In effect, it ensures that your pool floor and walls are thoroughly clean.
The Dolphin Quantum moves with enhanced navigational accuracy due to the additional thrust coming from the vortex jets enabling it to completely remove debris from the walls, floors, walls, tile line, and corners.
The Dolphin Quantum robotic pool cleaner maintains traction on any slippery surface because of the included rubber tracks. This feature is most handy when the pool cleaner is moving up the walls.
The Dolphin Quantum has dual scrubbing brushes ensuring deep cleaning when dealing with vertical surfaces like stairs and walls. Not to mention, these brushes spin twice as fast as the typical brushes to rid the pool's surface of the most stubborn grime.
Performance
Most of the people who first purchased this pool-cleaning robot quickly fell in love thanks to its vectored thrust, yet enjoyed by other pool cleaners at the time. Though more robotic pool cleaners can now climb pool walls just like it, it remains a nice feature given its efficiency at covering every angle.
And not all robotic cleaners can reach the very top of the pool and get rid of the dirt at the waterline. So, with this unit, you are getting a machine better equipped at keeping your pool clean.
Key Features
Extra-Large Filter Capacity
If you want to use as minimal effort as possible to clean your pool, the Dolphin Quantum may be the most suitable robot for you. With an industry-leading cartridge capacity of 400 square inches, the extra-large filtration system takes convenience to a whole new level.
If you are a new pool owner with a filthy pool, such a capacity minimizes the time you have to take out the robot to clean the filtration system.
Variable Micron Filtration
Another exciting element about Quantum is its range of filters allowing you to select a perfect micron filter depending on your cleaning needs. The Quantum has four filters.
The quick-change filters are perfect if you need to change the media within seconds.
Its NanoFilter is perfect for small debris such as fine algae of up to two microns.
While the standard filter best suits optimal suction, the oversized filter for large debris is a superb choice for quick removal and cleanup operations.
Intense Cleaning Brushes
While just about any pool cleaner can do a good job cleaning loose debris, quite a number tend to skip tricky areas. We find the Dolphin Quantum's engineering appealing because, unlike traditional cleaners that ride over pathogens challenging to remove, it provides a deep clean.
Its dual scrubbing brushes work on algae, bacteria, and biofilm firmly attached to your pool's wall to provide enhanced performance.
Armed with twice as much speed as ordinary brushes, the Quantum infuses more effort than most pool cleaners to dislodge tough messes.
With its intense cleaning aimed at eliminating biofilm that destroys the water quality making pool owners use more chlorine, Quantum not only ensures efficient cleaning but might also help in reducing your pool maintenance costs.
Coupled with the SmartNav 2.0 technology, the brushes scout across your pool's surface to get rid of as much dirt as a robot can eliminate.
Excellent Navigation
One of the challenges you may encounter with many robotic pool cleaners is maintaining traction because of the water between the track and your pool's surface.
So, what is wrong with a few slips here and there? The more your robotic pool cleaner slips, the more energy gets lost. Moreover, by slipping, your robotic cleaner gets off the course, which means some areas remain uncleaned.
The Dolphin Quantum pool cleaner features HyperGrip rubber tracks to improve contact on slippery surfaces and lower skidding chances.
With its rubber tracks, the pool cleaner gets better directional control and climbs over obstacles like drains with ease.
The robot also comes with a geometric shape to lower rolling resistance while improving traction, weight distribution, and wall climbing capabilities.
Ergonomic and Lightweight Design
The Quantum dolphin robotic pool cleaner comes with a low-lying frame. Its proximity to the ground allows the robotic pool cleaner to have improved mobility. Because of this, the Dolphin Quantum cleaner moves across the pool walls and slopes with minimal resistance.
What's more, it features a minimalistic casing to cater to only essential structural components.
Dolphin Quantum's architecture lowers its weight but still offers a sturdy robotic pool cleaner able to cruise through the water with ease and stability.
A firm carrying handle positioned at the front of the pool cleaner allows you to carry the Dolphin Quantum with ease.
The fast water release system ensures the quick removal of excess weight to keep the robotic cleaner lightweight even after completing the standard cleaning cycle.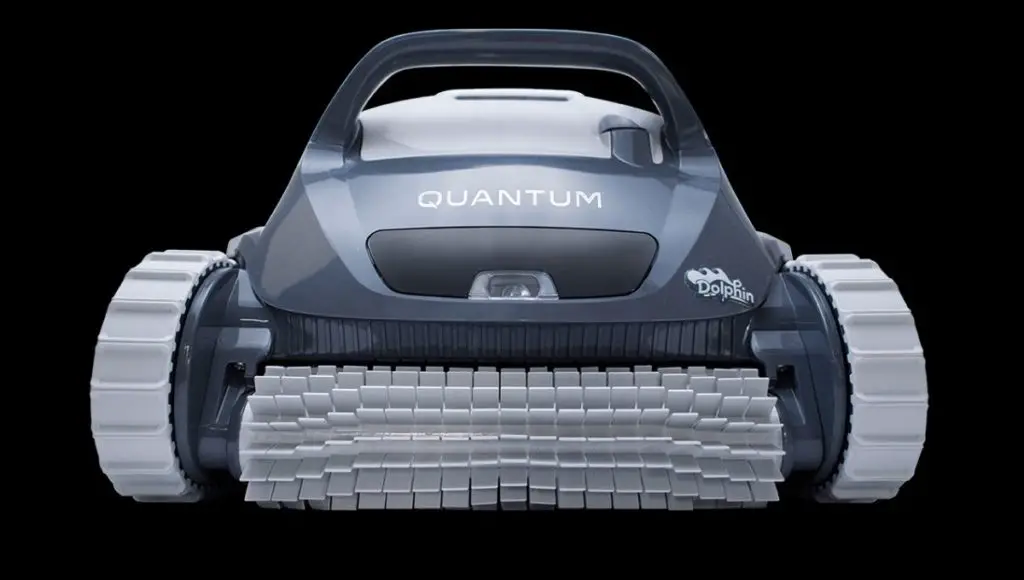 Limitations
While the lengthy cord allows covering up to 50-feet pools, it may get tangled with prolonged use. So, you may need to untangle to avoid its damage and ensure the pool cleaning robot lives up to its cleaning capability.
Given the high cost of purchasing the Dolphin Quantum, some feel it should include other features found in similar high-end models like a remote control.
A minor disadvantage is its two-year warranty. Although some robots have a more extended period, the Dolphin Quantum robotic cleaner still holds up well with proper maintenance.
Ease of Set up and Use
The Quantum Dolphin boasts many patented features, including PowerJet 3D Mobility and DC motors to make the user experience much better while lowering energy consumption.
Given its large dirt storage capacity and variable micron filtration, programmable operation, and intelligent movement, the Dolphin Quantum is a worthwhile investment and minimizes strain on swimming pool owners.
Unlike some other robotic pool cleaners with tedious maintenance needs, including turning them belly up, the Quantum only needs you to pull up the lid latch with your index finger, get the tray out, rinse the filters within the tray, replace your filter tray, and close the lid.
Reliability
This robotic pool cleaner uses SmartNav 2.0 technology to reach all the corners of your pool. The Dolphin Quantum moves in a patterned rhythm to quicken cleaning and improve efficiency.
Its precise pool mapping system ensures the pool cleaner avoids overlapping paths to cut the cleaning time.
Given its ability to sense obstacles like drains and ladders, the Dolphin Quantum robot doesn't get stuck halfway like some robotic pool cleaners can have a tendency to do. The microprocessor-controlled scanning mechanism ensures adequate cleaning of your swimming pool.
In addition, the Quantum has a sturdy design that allows it to look and work well for a lot of years.
If you can't watch your robot aimlessly wander across your pool surface, missing some areas, consider getting the Quantum Dolphin robotic pool cleaner. It offers an excellent option to get your pool's entire surface adequately worked on.
Extra Purchases and Ongoing Costs
It may not be as affordable as some robotic pool cleaners like the Dolphin Escape, but that is due to product design differences.
Although you spend on electricity bills just like other robotic pool cleaners, the Quantum robotic cleaner offers swimming pool owners an affordable solution post the upfront costs.
The pool cleaner only requires 180 watts of power, which can help you save up to 90% on energy expenses than a pump-driven pool cleaner.
With only two hours needed to complete the cleaning cycle, the Dolphin Quantum minimizes the time necessary for pool maintenance to ensure you lower your electricity bills.
FAQs
Is there any reason why the Quantum isn't ideal for an above-ground pool?
The Dolphin Quantum is an in-ground pool cleaner and not a suitable option for above-ground pools. For starters, vinyl liners can get damaged by concrete pool cleaners. Also, you need adequate traction, which may not be great in a pool with vinyl or plastic walls.
How do you clean the cartridge?
Open its top, and the canister falls out. The filter snaps apart easily, and the falling of debris from the bottom on its own makes cleaning a cinch.
Does the Dolphin Quantum map your pool?
The robot uses SmartNav 2.0 technology and continuous rubber tracks to map out, follow the most efficient path, and minimize cleaning time.
Will it be OK for a large in-ground pool?
Yes, the Dolphin quantum can handle a pool of up to 50 feet.
Does it come with a caddy?
No, though, it is compatible with Dolphin's universal caddy.
Conclusion
While there may be a few individual issues with the Dolphin Quantum, the main one is its pricing. That aside, it does an excellent job in climbing walls, stairs, and obstacles and covering the entire surface area of your pool to rid it of dirt and different-sized debris, including fine ones like algae.
It's time to get your new Dolphin Quantum robotic pool cleaner for superb clinging capabilities!
Emma Marie is a valued writer at the Little Robot Shop. She studied robotics and deeply understands technology, which shows in her writing.  She consistently produces high-quality content, making her a perfect fit for the Little Robot Shop team.
While not writing, Emma works in a popular electronics retail chain. Emma also enjoys running and has two dogs with whom she loves spending time.