You do not have to endure crappy robotic pool cleaners and neither do you have to manually do the job yourself. Shelling out hundreds of bucks on pool maintenance week after week isn't the best option either. You need a pool robot that's reliable, efficient and gets the job done without any stress on your part. 
If this is what you're looking for, then meet Dolphin Proteus DX4. This mid-range Dolphin pool robot promises to automate your pool cleaning, so you never have to worry about it – but does it deliver? That's what we explore in this Dolphin Proteus DX4 review. 
Maytronics Dolphin is one of the leading robotic pool cleaner brands for residential swimming pools, and this is one of the mid-range pool robots in their exotic collection of automated pool cleaning machines.
*The product links in this post are affiliate links, which means that if you purchase after following one, I make a small commission from the sale at no additional cost to you. Please see our disclosure page for more information.
Filter Type
Single Click Basket - Large
Single Click Basket - Extra Large
Cleaning Time
Quick - 1 hour, Standard - 2 hours
Filter Type
Single Click Basket - Large
Filter Type
Single Click Basket - Extra Large
Cleaning Time
Quick - 1 hour, Standard - 2 hours
Last update on 2023-09-28 / Affiliate links / Images from Amazon Product Advertising API
1-minute Dolphin Proteus DX4 review 
When it comes to pool cleaning, efficiency is key and the Dolphin Proteus DX4 robotic pool cleaner gives you just that. This underwater cleaning machine is designed to automatically clean in-ground pools of up to 50 ft in 2 hours, and it comes with a 2-year warranty. 
This automatic pool cleaner unit is equipped with a powerful motor, strong suction, an active scrubbing system, and an excellent filtration system. Together these systems work to rid your pool of all forms of dirt and debris. 
A control unit with an intuitive control panel enables you to program this robot and you can choose between scheduling it to clean every day, every other day or every third day of the week. 
The price sits in the middle of the in-ground pool cleaners from Dolphin, although when compared to products designed for large pools, it offers exceptional value.

Cleans both pool floors and walls
Great navigation
Large top-access filter baskets
User-friendly with intuitive controls
Programmable weekly scheduler
Great value
A 2-year warranty
Dolphin Proteus DX4 Robotic Pool Cleaner
The Dolphin Proteus DX4 robotic pool vacuum cleaner features powerful wall climbing capabilities to scrub the floor and walls of your pool no matter the pool shape or surface type.
With the Dolphin's PowerStream technology, your pool surface gets incredibly clean. As the cleaner moves vertically up the wall, water is propelled out in multiple directions creating a constant grip....
Last update on 2023-09-28 / Affiliate links / Images from Amazon Product Advertising API
Dolphin DX4 reviews
In the world of pool technology, robotic pool cleaners are the fairy godmothers for pool cleaning consistently our performing other options such as suction pool cleaners. Whether you have a backyard or an in-house pool, you simply cannot rely on skimmer poles and pool brushes for scrubbing your pool surfaces and scooping dirt off the pool water. 
Now, that is one boring and tedious task. A pool robot will clean up your pool within a fraction of the time it will take you to do it manually, not to mention saving you the stress and back-breaking work of bending over your pool with a scrubber attached to a pole and actually exerting yourself.
When thinking of automatic pool cleaners, a brand that saliently stands out above the pack is the Maytronics Dolphin, and one excellent gadget among their impressive collection of robotic pool cleaners is the Proteus DX4.
In this pool cleaner review, we'll take a close look at this particular device – a robotic pool cleaner that is beautifully constructed with a lightweight body and amazing features to automate pool cleaning and maintenance. 
The mid-range robotic pool cleaner feature an active brushing system, PowerStream technology, top-loading filtration basket, 60-foot swivel cable, multi-function power supply control, and a 2-year limited warranty from Maytronics.
This pool robot is designed to completely clean up a messy pool in just about 2 hours, and it's specifically designed for in-ground pools of up to 50 ft. It offers you what you've always wanted; more time enjoying your pool and less time worrying about cleaning it.
How the Dolphin Proteus DX4 robotic pool cleaner works?
To clean the pool, Proteus DX4 uses a high-speed active scrubbing brush powered by an energy-efficient motor. This active scrubbing brush vigorously attacks dirt and grime stuck on the surface and dislodges them with powerful frictional force.
With the high-speed scrubber at work, the powerful motor circulates about 3735 gallons of pool water per hour through an integrated filtration system, leaving behind clear debris-free water.
The Dolphin DX4 sports the PowerStream Mobility System creating multi-directional water flow ensuring an excellent grip on vertical surfaces and superior wall climbing. It sends powerful jets of water in different directions thus providing a strong and steady grip on vertical surfaces as the robot works on the pool walls, up to the waterline. 
Overall, if you're looking for a robotic pool cleaner that offers floor, walls, and waterline cleaning capabilities, this device from Dolphin could be an excellent choice.
Proteus DX4 comes with 2 extra-large top-loader filter baskets; a fine filter for filtering off large and small debris and an ultra-fine filter basket for capturing very tiny dirt particles. With the superior filtering capacity of these baskets, this pool robot gives you a stunning pool with crystal clear water after every clean. 
While cleaning, DX4 cuts to the chase and gets the job done without pathetically wandering about and making ridiculous turns. It's a smart gadget and acts exactly that way, all thanks to a Precision Navigation and scanning software for effective pool scanning and mapping, taking care of everything from pool walls to the waterline. 
This Dolphin pool robot uses the first 20 minutes in the pool to create a digital map of the pool and detect the most efficient and fastest cleaning route to save time and energy. In addition to saving energy, this precise navigation tremendously reduces missed spots and debris.
Like most other Dolphin pool cleaners, Proteus DX4 features the infamous patented anti-tangle swivel cable. This swivel technology ensures a smooth and glitch-free movement throughout the pool cleaning. As the robot makes turns while cleaning, this 60 ft long cable keeps it going without interruptions by making complimentary twists and rotations, without tangling. 
For convenience, the DX4 comes with a programmable timer for scheduling cleaning times weekly, and you can schedule the robot to clean every day, every other day, and every third day.
Performance
This robotic pool cleaner from Dolphin beautifully cleans out dirt and debris from a large in-ground pool within 2 hours. The fine filter basket is able to capture large floating debris, a small sticks, twigs, small stones, bugs, and leaves. 
While the ultra-fine filter basket does an excellent job of capturing fine dirt particles like sand and every tiny particle that gets blown into your pool. It cleans the entire surface of the pool, floors, walls, and up to the waterlines. These robotic pool cleaners even give a shot at cleaning the pool steps whenever they can but you will still have to scrub those every once in a while. 
In all, the DX4 Dolphin pool cleaner is an excellent mid-range pool robot, although not without flaws — of course, this is to be expected. While this machine works at picking up debris and generally keeping your pool clean, it doesn't excel at cleaning pool surfaces with a pebble finish. It works better on smooth surfaces, that is where it actually shines. 
Unlike some other robotic swimming pool cleaners, this gadget never gets stuck on pool drains which is an added advantage. It does an excellent cleaning job and works flawlessly, but despite that, it doesn't completely eliminate the need to scrub some parts of your pool (especially the steps and tanning shelves). 
Overall, it can keep your pool floor and walls exceptionally clean, offer waterline cleaning for swimming pools up to 50 ft (with a 60 ft cable needing to be plugged into a power supply) and navigate around your swimming pool without much hassle.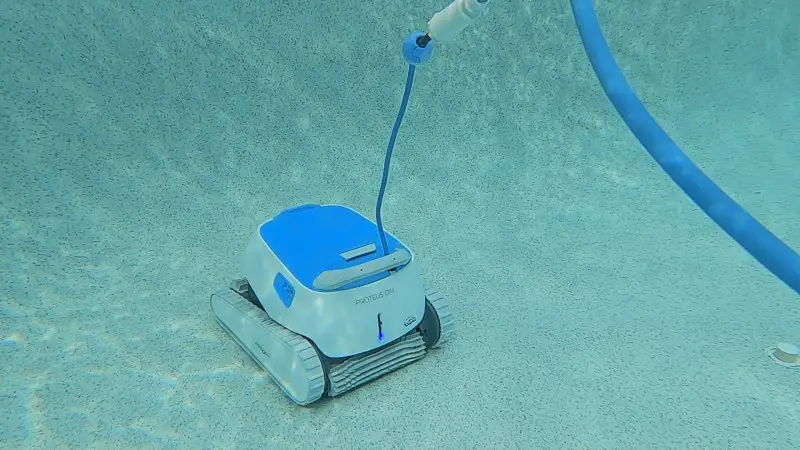 Ease of Set-up And Use
The gadget requires absolutely no form of set-up, it works right of the box. Between unpacking your Dolphin Proteus DX4 to getting it to run the first cleaning cycle in your pool takes less than 10 minutes, including the time it will take you to browse through the user's manual. 
This Dolphin robotic pool cleaner doesn't have Bluetooth or Wi-Fi connectivity, therefore it doesn't work with a mobile app, and neither does it have a remote control. It comes with a power control unit that connects to the robot and a power supply. The control panel has 4 buttons; 1 power button, and 3 buttons for programming your device and setting your preferred cleaning schedule. 
1 button sets the robot to clean every day of the week, another button sets it to clean every 2 days and the last button sets the robot to clean every 3 days. Proteus DX4 weighs 16.5 pounds and it drains pool water as you pull it out of the pool. This Dolphin pool cleaner is a pretty simple gadget and works really well.
Reliability
Dolphin Proteus DX4 is a sturdily built gadget and quite reliable for automatic pool maintenance and it comes with a 2-year warranty from Maytronics. Despite this, the DX4 can fail to work if there are hairs stuck up in the impeller motor.
When this happens, and it doesn't very often neither does it happen in every DX4, it doesn't mean that your gadget has broken down, but since it comes with a warranty, you'll have to contact Maytronics to handle the glitch because trying to fix it yourself may void the warranty.
Ongoing Maintenance
Properly taking care of this pool robot will increase its longevity and thankfully, doing this is pretty simple. The Dolphin Proteus DX4 automatic robotic pool cleaner is a simple gadget specifically designed to be low maintenance.
The major maintenance here is to always clean out the filter baskets, and since they are top loaders it's very easy to access and bring them out. 
These baskets are also large enough to contain lots of debris, meaning they won't need to be emptied immediately after every cleaning cycle. You can empty its ultra fine filters after every few days and properly wash them with running water or water from a jet spray. Also check for wear and promptly replace worn parts. 
Maytronics Dolphin also provides the dolphin proteus dx4 troubleshooting guide that is designed to help you resolve any technical issues that may arise. It covers topics such as resetting your dolphin proteus dx4, troubleshooting network connection issues, and diagnosing common problems. The guide, which can be downloaded, also provides tips on optimizing your machine for optimal performance, as well as ways to improve battery life and prevent hardware damage.
Finally, to make sure your robot reaches and exceeds it's expected lifespan, be sure to follow the proper recommendations for off-season storage.
Extra Purchases And Ongoing Costs
If you order the Dolphin Proteus DX4 pool cleaner and it arrives, simply unpack and start using it, there are no extra purchases you need to make. Except, of course, you need a pool caddy.
The Proteus DX4 does not come with a pool caddy, this shouldn't be a major concern because this pool cleaner is relatively lightweight and easy to carry. 
But if you still prefer the convenience and easy mobility that comes with a caddy you can get one as an extra. At some point in the life of the robot, you'll have to replace one or two parts, these parts do not cost a lot of money and are quite easy to find and replace. 
What about the Dolphin Proteus DX3 review?
If you're looking for a more cost-effective robotic pool cleaner that can still provide you with a clean pool, it might be worth checking out the Dolphin Proteus DX3.
While it doesn't offer as much range or as much cleaning power, the Dolphin Proteus DX3 is an excellent choice for anyone looking to save a little extra cash. You can also look out for our review of Dolphin Explorer E50.
FAQs
Will the DX4 fine filter capture pollen, sand, and tiny dirt that's settled at the bottom of the pool?
Yes, Proteus DX4 does a great job of picking up dirt, sand, pollen, and other fine materials that settle on the pool floor. Initially you may have to run a few cleaning cycles to get all the dark pool dirt, but it ultimately gets everything out and your pool floor will be shiny and spotless.
Since the robotic cleaner has a weekly schedule is it OK to leave in the pool until the filter needs to be cleaned?
Yes, it is okay to leave this robot in your pool between cleaning cycles and only take it out to clean out and wash the filter baskets. But, first ensure that the temperature of your pool water is right for the robot, if your pool water isn't freezing cold then you have no problems. 
What is the difference between Dolphin Proteus DX3 vs DX4?
The major difference between these robotic pool cleaners is that the Dolphin DX3 pool cleaner is designed for small in-ground pools and will clean pools of no more than 33 ft while Dolphin Proteus DX4 is designed for large in-ground pools of up to 50 ft. Also, the Proteus DX3 comes with only a 12 months warranty while the Proteus DX4 has 24 months warranty.
Does the Dolphin Proteus DX4 robot clean pool steps?
Not very well, but it climbs walls and cleans other parts very well. For the steps, you will have use a brush to clean them yourself. 
Can it be used for fiberglass and vinyl in-ground pools?
Yes, it cleans in-ground pools with fiberglass walls and vinyl liner. This Dolphin pool cleaner works well on different surfaces including gunite, concrete, tile, fiberglass or vinyl-lined, it also works well for saltwater pools. 
Does it include the Dolphin Proteus DX4 caddy?
No, the Proteus DX4 doesn't come with a caddy. Although it weighs only 16 pounds, making it one of the lightest pool robots you'll find, you can get a pool caddy as an extra purchase.
It the Dolphin DX4 suitable for above-ground pools?
No. The manufacturer recommends this model for in-ground pools only, not an above-ground pool. Check out this post if you are looking for an above ground robotic pool cleaner
Where can I find the Dolphin Proteus DX4 manual?
Final thoughts on the Dolphin Proteus DX4
This is a great option for anyone looking for a simple and reliable pool robot for a large in-ground pool. It's a mid-range robot and doesn't have some of the extra convenience of high-end pool robots like the Dolphin Nautilus CC Supreme or Dolphin Triton PS plus. 
But it does an excellent pool cleaning job and each cleaning cycle will leave your pool dirt-free and shiny, giving you the free time and peace of mind that comes with a reliable and efficient pool robot. It's worth every dime you spend on it and it's an investment you will enjoy for a long time.
Matt is the founder of the Little Robot Shop, who has spent much of the last decade hacking home cleaning with various robots and devices to make keeping his home clean as easy as possible. Not an easy task with two young children.
When not working on the Little Robot Shop website or YouTube channel, he works as technical support and product specialist for a fast-growing digital company. He does his best to get his younglings to code, which will be an essential skill in the future.
Dolphin Proteus DX4 Robotic Pool Cleaner
The Dolphin Proteus DX4 robotic pool vacuum cleaner features powerful wall climbing capabilities to scrub the floor and walls of your pool no matter the pool shape or surface type.
With the Dolphin's PowerStream technology, your pool surface gets incredibly clean. As the cleaner moves vertically up the wall, water is propelled out in multiple directions creating a constant grip....
Last update on 2023-09-28 / Affiliate links / Images from Amazon Product Advertising API