The Maytronics Dolphin Mercury is an automatic robot pool cleaner capable of handling lengths up to 50 ft. It has several cleaning cycles to help users depending on their needs. Robotic pool cleaners should offer uncompromised performance and this one certainly does. It is also endorsed as an energy-efficient and power-saving device.
In this Dolphin Mercury pool cleaner review, we will look at what makes this robot worth buying such as its advantages, operation, and ease of set-up. This will help you in choosing your next pool companion to help you with the dirty work.
*The product links in this post are affiliate links, which means that if you purchase after following one, I make a small commission from the sale at no additional cost to you. Please see our disclosure page for more information.
Quick Comparison
Filter Type:
Single Click Basket - Extra Large
Single Click Basket - Extra Large
Filter Type:
Single Click Basket - Extra Large
Filter Type:
Single Click Basket - Extra Large
Last update on 2023-12-06 / Affiliate links / Images from Amazon Product Advertising API
1-Minute Dolphin Mercury review
The Dolphin Mercury robotic pool cleaner greatly reduces stress and hassle when cleaning the pool, as it does its job in a very efficient manner. This robotic pool cleaner has several features including cycle options, waterline cleaning, spot cleaning, and schedules which can greatly help a user in terms of control.
This pool cleaner also fully removes the need for manual brushing or scrubbing thanks to its superior waterline pool cleaning. Despite that, it has several limitations when it comes to large pool size and complex design.
It may not have the finest software, but it has serious cleaning power meaning that it can perform its job well. If you have an in-ground swimming pool with less than 50 feet in length, then you should add this robot to your shortlist.

• Low power costs resulting in cheaper expenses
• Wi-Fi ready and can be controlled through the app
• Great cleaning power
• Quick-clean mode
Last update on 2023-12-06 / Affiliate links / Images from Amazon Product Advertising API
Let's take a closer look
How it works
The Dolphin Mercury robotic pool cleaner automatically cleans the swimming pool surface with the use of brushes and a suction pathway. It uses sensors to navigate the entirety of the pool for efficient pathing. You can choose several modes to fit your needs at any given time.
The Mercury uses patented multi-directional jets to retain its grip on vertical surfaces such as walls and waterline cleaning. This results in more efficient cleaning of the waterline that helps in giving it a shiny and glossy look. Furthermore, the brush, suction pathway, and filter work well for a complete clean.
Another great strength of the Dolphin Mercury robotic pool cleaner is its two modes namely the quick and standard. The quick mode allows for fast operations that will only last for an entire hour, and this is suitable if a user needs a quick clean of the swimming pool.
This robotic pool cleaner comes with an application that provides users with additional controls and options. Using either Bluetooth or Wi-Fi connection and the MyDolphin App, you can signal the robot to stop or start cleaning and create a cleaning cycle schedule. You can even choose to control the robotic pool cleaner using your smartphone as it has a manual steering feature.
The Dolphin Mercury robotic pool cleaner is different from your normal suction cleaner or pressure-side cleaner which needs other apparatuses to operate. The robotic pool cleaner has a plug-and-play system meaning that you only need to find an electrical socket as a power source and drop the robotic pool cleaner in the pool. It will start taking care of your swimming pool floors and walls immediately.
It is at home on all types of in-ground pool types from gunite to vinyl swimming pools, pebbletec material, tile and everything.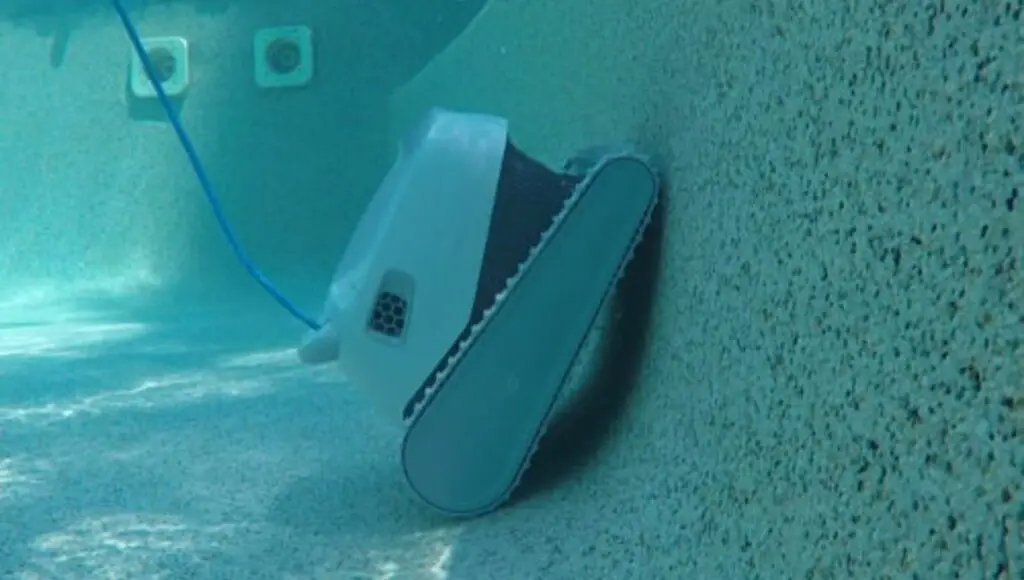 Performance
The cleaning performance of the Dolphin Mercury robotic pool cleaner is amazing. It can cover up to 50 feet in length and has a powerful suction power of 4000 GPH. It can clean tile line as well as swimming pool floor without any problems unlike other side suction cleaners available in the market.
If you have a party coming up and would like a fast cleaning session, the Dolphin Mercury has you covered. It has a useful Quick Clean Mode which cuts the standard cleaning time by half! This way, your swimming pools will be ready in just an hour.
Cable tangling is a common issue for pool cleaners. However, this is not the case for the Dolphin Mercury as it has a full revolution swivel cord to aid its navigation throughout your pool.
This helps in smooth operation during the pool cleaning process and ensures that retrieval of the robotic pool cleaner will not be a hassle. It also prevents internal wires from breaking or snapping. With this, nothing can stop the robotic pool cleaner in doing its job.
Limitations
One of the limitations of this Dolphin Mercury robot cleaner is that it does not do well against very large swimming pools. If the length exceeds 50 feet, the anti-tangle cord will be unable to compensate for the distance, and the two hours of operation in Standard Mode will not be enough.
There are also reports where the robotic pool cleaner was unable to clean complex pool design traits that are different from regular ones. In such cases, the robotic pool cleaner refused to climb surfaces and find the waterline.
Another drawback of the product is that the robotic pool cleaner is unable to map the whole surface since it has no scanning or Smart Navigation that other Dolphin models such as the Dolphin Premier or Sigma have.
Ease of set up and use
The Dolphin Mercury has a very straightforward set-up. Before the operation, you need to review the contents of the package. It should contain the Mercury Dolphin Robotic Pool Cleaner, Power Supply Unit, Container, Cartridge Filters, User Manual, Quick Start Guide, Anti-tangle Cable, and a Registration Card. Once that you have confirmed the completeness of the package, you can then take the Dolphin robotic pool cleaner out of the box.
Insert the end of the cable into the Dolphin robotic pool cleaner, and turn it clockwise until it locks. Insert the other end to the power supply and make sure that it is tight. A locking mechanism is kept in place to ensure connectivity. You should secure this with the screw included in the purchase. Once this process is done, you can start using the Dolphin robotic pool cleaner immediately.
You should also install the app on your phone for better control. For Android Devices, find MyDolphin Device Plus on the PlayStore. For iOS users, search the same keyword in the AppStore. Sign-up on the app and connect your robotic pool cleaner using Bluetooth or Wi-Fi. This will give you additional features such as schedules, manual steering, and cycle modes.
Reliability
The Dolphin Mercury has a total operating time of 2 hours per standard cycle. However, this might not be enough for swimming pools exceeding 40 ft. Another set of cleaning is needed for such cases.
When it comes to tidying up bottom floors, walls, and waterlines, this product is very reliable. The robotic pool cleaner has brushes and filters that work well together for the best clean. The filter basket is fairly large, so it does not need constant emptying except when it is very full. This makes it a robotic pool cleaner that is capable of multiple runs before disposal.
The robotic pool cleaner's storage system can quickly be accessed with just a click. Not only that, but it is also a large one meaning that it can store a lot of debris at any given time. This is accessible from the top of the device, and it greatly helps in reducing maintenance time.
Overall, this robotic pool cleaner is a reliable device even if it lacks some important software features.
Ongoing Maintenance
Maintenance of the device involves removal and cleaning of the filter basket, dismantling of panels, and taking care of the impeller.
To remove the filter basket, open the cover and lift it up. There is a latch designed to release the main lid, and this makes removal of debris possible. Once the dirt is disposed of, you can spray the filter with a garden hose.
Panels should be cleaned periodically. To do this, dismantle it using your thumb while pressing on panel 1. Continue the process with panels 2, 3, and 4. You can then clean the filters with a garden hose, and reassemble it starting with panel 4, then 3, 2, and 1. Don't forget to reinsert it on the device.
You should always check for dirt and debris trapped in the impeller. Dismantle the robotic pool cleaner using a screwdriver, but do not use electric ones. Clean the housing, and then proceed to reassembly.
You can check out their website for some extra maintenance tips and know what you should understand before buying a robotic pool cleaner.
Extra Purchases and ongoing costs
The Dolphin Mercury is a plug-and-play device. This means that you won't need to purchase additional items for it to function.
The ongoing costs are fairly low thanks to its energy-efficient system. You only need to pay 5 cents per hour in electricity bills, and this is a huge advantage compared to other robot pool cleaners.
Yes, this robotic pool cleaner might be expensive, but you will get bigger savings in the long run.
FAQs
What are the ideal temperatures for the Dolphin Mercury robotic pool cleaner?
The robotic pool cleaner should operate between 43 and 93 degrees of temperature.
Why are there dents in my climbing rings?
This is a normal condition due to shipping. Once the rings are filled with water, they will return to their original dent-free form.
Does it have a remote control?
Yes, there is a remote control feature that can be accessed through the MyDolphin application. You should install the app for additional controls over your Dolphin Mercury robotic pool cleaner.
Does the Dolphin climb walls?
Yes, the robotic pool cleaner can climb walls and even clean your waterline using its jet stream system that can grip vertical surfaces.
How much debris can be collected before emptying the unit is necessary?
The robotic pool cleaner unit has an extra-large container, but it is hard to determine the exact volume of debris collected due to different external factors. However, you can rest assured that it will be able to handle multiple pool cleaning processes.
Conclusion
The Dolphin Mercury robotic pool cleaner, while lacking in some advanced software features, boasts amazing cleaning power through its powerful hardware. It is easy to use, maintain, and it removes the need for manual labor. 
If you have a pool area not more than 50 feet in length, and not too complex of a design,  then this robotic pool cleaner model will be a great cleaning companion.If you want to see some more options, be sure to check out our post on the best robotic pool cleaners as well as many other reviews in our pool cleaning category.
Emma Marie is a valued writer at the Little Robot Shop. She studied robotics and deeply understands technology, which shows in her writing.  She consistently produces high-quality content, making her a perfect fit for the Little Robot Shop team.
While not writing, Emma works in a popular electronics retail chain. Emma also enjoys running and has two dogs with whom she loves spending time.