Pools get dirty and have to be cleaned, not once, not twice, not thrice, but week after week. This becomes worse when your backyard pool has no cover and your landscape design includes trees and shrubs, which very easily turns a pool into a dumpsite for dry leaves, twigs, small branches and all sorts of debris and dirt particles, thus making robotic pool cleaners indispensable. 
The Dolphin Advantage is an entry-level pool cleaning robot designed to automatically maintain small and medium-sized in-ground and above ground pools up to 33 feet. This pool robot is all about getting the work done, as you would see in this Dolphin Advantage review, no extras, only basic features for excellent pool cleaning.
*The links in this page are affiliate links, this means that if you purchase after following one, I make a small commission from the sale at no additional cost to yourself. Take a look at our About Us page for more info on this.
Dolphin Advantage review in 1-Minute
The Dolphin Advantage robotic pool cleaner is a smart machine designed for automatically cleaning small in-ground pools of no more than 33 ft. It uses the combined action of a single high-speed scrubber, strong suction and a large filter basket to rid your pool of all forms of debris and dirt particles.
Its powerful motor and internal pump are able to circulate about 4000 gallons of pool water per hour. And within 2 hours of standard cleaning, the Advantage will leave the waters of your pool completely dirt-free, and your pool surfaces spotless and sparkling as new. Using a programmable weekly timer, you can schedule this pool robot to either clean daily, every 2 days or every 3 days.
Pros
Excellent at cleaning both pool floors and walls
Advanced navigation
Large top-access filter basket
User-friendly with intuitive controls
Programmable weekly scheduler
Cons
No Bluetooth or Wi-Fi connectivity
No app or remote control
Doesn't clean above the waterline
Doesn't efficiently clean pool steps
Last update on 2021-02-09 / Affiliate links / Images from Amazon Product Advertising API
Dolphin Advantage robotic pool cleaner review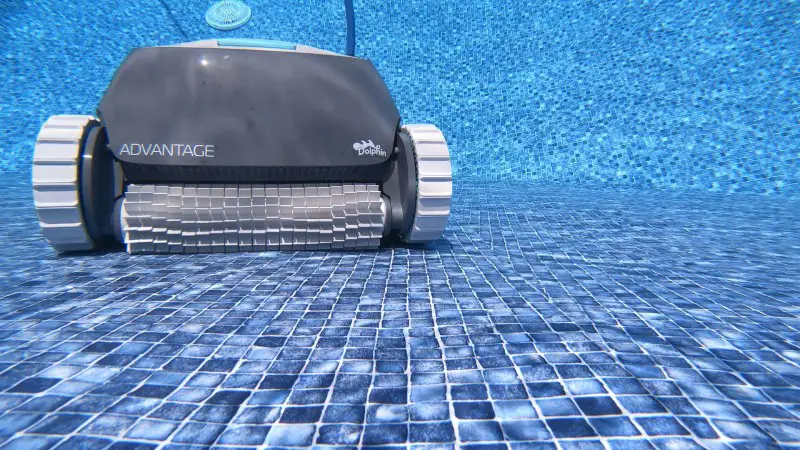 It feels great to have a pool at home. This way, you don't have to go to public pools whenever you want to immerse yourself in fairly deep water and relax.
Yeah, it's great to have a private pool at your residence, but it doesn't feel so great when the pool is a mess with a ton of debris and foreign particles floating around.
Pool cleaning is the nightmare that comes with owning a pool, yet it must be done because you wouldn't want to swim alongside leaves, twigs and tree branches. This is where robotic pool cleaners come to your rescue. These gadgets have become a must-have for every pool owner, they are designed to take care of your pool cleaning and maintenance while you focus on having more fun and relaxing moments in your pool.
For starters, the Dolphin advantage robotic pool cleaner is an entry-level pool robot specifically designed for medium and small sized in-ground pools no longer than 33 ft. This smart gadget automatically cleans your pool with the aid of a single front high-speed scrubber, powerful motor, strong suction, and a large filter basket.
A typical cleaning cycle lasts for about 2 hours after which you'll clearly see the bottom of your pool and the beautiful reflection of the bright blue sky with no dirt or debris to mar it. The Advantage offers you the convenience of selecting a cleaning routine, and with a button you can schedule the robot to either clean every day, every 2 days, or every 3 days.
How The Dolphin Advantage Robotic Pool Cleaner Works
This pool robot combines the actions of an intense scrubbing brush, powerful motor and suction with a large filter basket to automatically rid small in-ground pools of dirt and debris.
The Advantage sports an active scrubbing brush with knife-like bristles that cut through even the most stubborn dirt stains and algae on the walls and floors of the pool. With each slash, this thick and intense bristles gradually and steadily dislodges dirt and debris.
A strong suction sucks up the loosened dirt particles and channels them to the filtration system. The filtration system of the Dolphin Advantage consists of a single large fine-mesh filter basket that is conveniently positioned at the top of the robot for easy access through a latch.
The large filter basket is able to capture and contain various sizes of dirt and debris, including very small dirt particles. With the brushes hard at work, this pool bot effectively clings to the slippery walls and floor of the pool, thanks to the excellent rubber tracks which promote stable under-water movement.
A powerful motor delivers the much-needed power to the brushes as the robot works to rid the pool of debris and grime. At the same time, it circulates about 4,000 gallons of pool water per hour, leaving the waters of your pool as pristine and spotless as possible.
The Dolphin Advantage also features the infamous Maytronic CleverClean technology. With this navigation software, the robot first scans and creates a digital map of your pool before proceeding to clean following the shortest possible route. This ensures efficient cleaning and in turn saves time and energy, these sensors are also able to detect objects in the pool and avoid them.
The Advantage is able to seamlessly move through the pool, thanks to the intelligent navigation system and non-zero-radius turning which permits the robot to freely turn through 360° without the power cord getting tangled up.
Despite being an entry-level robotic pool cleaner, the Dolphin Advantage is packed full with exotic features for efficiently getting the pool cleaning job done, it's an excellent and effective automatic pool robot.
Performance
The Dolphin Advantage may be a budget and entry-level pool robot but it sure does an amazing pool cleaning job. The powerful motor drives the grippy rubber tracks as the brush effectively dislodges dirt, it's quite simple. The robot cleans floors, climbs walls and scrubs them pretty well.
A major drawback of the Advantage is the fact that it doesn't come with the anti-tangle swivel cable. Although it features a special tangle-free navigation system, this doesn't effectively prevent the power cord from tangling up every once in a while, and you may have to set aside a few minutes to carefully untangle these wires, it's nothing you can't handle but still not convenient.
As an entry-level robot, the Advantage doesn't come with any of the exotic features like smartphone connectivity via Bluetooth or Wi-Fi for remote control, neither does it have the waterline cleaning function. The absence of these features aren't deal-breakers, and you'll have to manually scrub your steps and waterline whenever you find the time.
Sometimes you may notice that the robot missed a few areas during the first cleaning cycle. When this happens, simply run a second cleaning cycle and this time it'll scrub these spots and pick up every particle it previously missed. Generally, the Dolphin advantage does a good job cleaning small in-ground pools.
Ease of Set-up And Use
Maytronics describes all her robotic pool cleaners as "plug and play" and the Dolphin Advantage is no different. This robot works right out of the box, and it requires no special skill or technical support before you can get it running.
Simply, unpack the gadget, unwind the power cord, plug it into a power outlet, place the robot with some of the cable in your pool and press the start button. This robot has neither a smartphone app or a remote control.
You can only control it using the control unit which is simple enough, it has a power button and other buttons for scheduling your robot to either clean daily or weekly, depending on your preference.
The programmable weekly scheduler has 3 settings which includes; every day, every other day and every third day of the week. For this scheduler to work, the Advantage will have to always sit at the bottom of your pool.
Reliability
Dolphin Advantage is a simple pool robot designed to automatically clean a small in-ground pool with very little input from humans, and it does that excellently well. It's an impressive robot and can clean swimming pools of any shape within its size limit.
Dolphin Advantage is also built with high quality materials and will last for a very decent number of years. With the robot, you won't have to worry about unnecessary breakdowns and unplanned expenses. However, it requires some effort on your part as frequent cleaning and proper maintenance will only make it perform better and last longer.
Ongoing Maintenance
To keep getting top-notch performance from your Dolphin Advantage, you'll have to take proper care of it. Luckily, this robot is pretty simple and doesn't require so much maintenance.
First, you can leave your Advantage in the pool to clean day after day, but ensure you take it out of the pool at least once or twice a week to clean out the filter basket. Doing this is very simple as the pool robot has just a single top-access filter basket. You will gently pull out the basket and thoroughly wash it with running water from a garden hose.
You also need to pay attention to wearable parts like the scrubber and filter basket, and ensure you replace any worn parts immediately. This will keep your robot at its best at all times and help it last for as long it should.
Extra Purchases And Ongoing Costs
The Advantage pool robot comes with every part you need to get it started, so no extra purchases required. It also has some parts that will certainly get worn out with continuous use, and to ensure that the performance of the robot isn't compromised, these parts will have to be replaced when need be. Replacement parts like scrubbing brushes and filter baskets are readily available on Amazon, and they don't cost so much. These parts are also easy to change, and you can figure out how to quickly replace them yourself without technical support.
Dolphin Advantage FAQs
Does the Dolphin Advantage have a remote control?

This Dolphin robot doesn't come with a remote control, it only has a control unit which is very simple to use. Also no mobile app, but you can the weekly scheduler to schedule cleaning times and it works really well.

Is the Dolphin Advantage good for an above ground pool?

The Advantage is a robot specifically designed for small to mid-sized in-ground pools. And there are other Dolphin models specially made for above-ground pools, however, this unit will work just fine in above-ground pools with very sturdy walls because this pool robot climbs walls up to the waterline.

How do you get it out of the pool?

You can get the robot out of the pool by gently pulling the power cord until you get hold of the robot's handle. Then pull the robot out of the pool by the handle and drain the water. Note that the Advantage does not float to the top when it's done, it will remain at the bottom of the pool so you always have to gently pull the cord to get it out. 

Does it get stuck on the drains at the bottom of the pool? 

No, the Dolphin Advantage usually doesn't get stuck on the drains at the bottom of the pool. But when it does, it'll take a few minutes to work itself out of the drain. Pool drains are no problem for the Advantage.  

Will the Dolphin Advantage robot clean the corners of a kidney-shaped concrete pool? 

Yes, the Advantage is an amazing pool robot and it's able to get all the corners of any pool shape (within the specified pool size; no more than 33 ft) and it scrubs, cleans and climbs really well. 

Does the power cord to the unit sink to the bottom of the pool?

No, it does not. The power cord floats behind the robot as it scrubs the pool surfaces, this ensures that the cable never gets in the way of the robot. 

Can you leave this unit in the pool in between cleaning cycles?

Yes, you can leave the Advantage in water all the time, especially if you're using the programmable weekly scheduler. However, you will have to take out the robot at least once a week to empty the filter basket and thoroughly wash it using running water from a garden hose. You may also need to allow the power cord to dry out because it can start to get sticky when left in the water for too long. While leaving your Advantage in the pool in between cleaning cycles, make sure you remove it when you want to swim, it's not advisable to swim with the robot in the pool. 
Final Thoughts on the Dolphin Advantage
Manually cleaning your pool may be a very tedious and tiring chore but it's much better than the frustrations and stress that comes with a crappy pool robot.
Robotic pool cleaners aren't meant to be endured but enjoyed, and if you're going to invest in one of these gadgets to automatically clean your pool (and you should), then get one that'll actually get the job done without any stress on your part.
The Dolphin Advantage is a pool robot that will totally take away the frustrations that come with unreliable pool robots, even as an entry-level robot it'll put a big smile on your face after each cleaning cycle. With the Advantage comes peace of mind!